Two and a half years ago, the raw rock band Showbread was laid to rest - or, more accurately, the band members unceremoniously beat it to death - in an effort to focus on the members' families, church, and podcasting. But although the body is dead, the spirit of Showbread lives on, inhabiting a new vessel known as
The Bell Jar
. After a pre-order period where they basically held the album hostage (they claimed they would've actually destroyed the masters and not released the album if they didn't sell enough to fund the production), The Bell Jar's debut is finally here.
Per the album's liner notes, The Bell Jar appears to be a three-piece act, consisting of the brothers Joshua and Patrick Porter - two founding members of Showbread - as well as their friend Whitney DePaoli. In some ways, it's almost as if the band had just continued on with another new line-up, as I Infest, Therefore I Am is a perfect follow-up to Showbread Is Showdead. That being said, The Bell Jar does indeed take strides to be its own thing. One big change the keen observor will notice is the lack of guitars. Much like Death Therapy's debut last year, the only guitar you hear on I Infest, Therefore I Am is the bass guitar; the difference here, though, is that the bass always sounds like a bass, while anything resembling an electric guitar is the work of a synthesizer. But it's all composed in such a way that the heavier, rockier parts still pack a punch. An untrained ear could listen to the intense sounds of "Suck Abyss, Succubus!" or "Make Me A Eunuch" and be none the wiser. Other tracks, however, aren't as rock-based, focusing instead on dark, pulsing electronic and industrial with hints of new wave. For instance, "Hurt People Hurt People" sounds like what I imagine would happen in a Depeche Mode/Marilyn Manson merger.
Thematically, The Bell Jar is rather diverse, with no clear ongoing theme throughout the half-hour of your time it demands. The album's prologue almost seems to set it up as a concept album about a monster attack, which makes sense with the following track being "Suck Abyss, Succubus!" and the final track being a cover of "Suddenly, Seymour" from Little Shop of Horrors. But as we traverse through the next nine tracks, we see other topics discussed as well. "Toxic Shock Syndrome," which is perhaps the most accessible track from a musical standpoint, also feels accessible lyrically, as the band sings/screams about the frustrations of the work force, particularly in relation to a company that really doesn't seem to care about its employees as much as it might care about the bottom line. (I can personally relate to this.) "Snake Eating Whore" tackles digital addiction, as Whitney DePaoli cuts straight to the issue and bluntly sings, "Put down your phone, your little god, and let it die, and let it go." This idea goes hand-in-hand with a few other tracks that deal with the meaninglessness of worldly possessions. You see this echoed in the aptly-titled "No Amount of Material Possessions Can Save You From Death" ("Go ahead and pile up your trash, miserable world of dirt and ash, impressive hoard, intricate hive, and in the end everyone dies") and the uncompromising "Make Me A Eunuch" ("Father God in the heavens, take from me my thorn, make me a eunuch...better to bleed than to burn"). Of course, the latter example isn't explicitly dealing with material possessions, but it is focused on eternal things and a desire to lose all for the sake of God.
Pretty much the only other thing you will find that carries across the album is material of a slightly unsettling nature. I wouldn't go so far as to say that any of it is creepy, nor is there anything vulgar or inappropriate, but the audio of someone weeping during "Hurt People Hurt People" and the excerpt from an interview with a man with catatonic schizophrenia in "Where Is His Head? In the Sea?" are both a little unsettling. But, let's not fool ourselves... that's probably what the band was going for.
For people like myself, The Bell Jar's debut was a highly-anticipated one. As with each Showbread release, I had no idea what to expect going in, so I just pressed play and beheld. Admittedly, with The Bell Jar, I did have to process what I heard quite a bit after the first listen (and do some research), but each new listen was better than the previous one. I Infest, Therefore I Am is an excellent album that's full of surprises, twists, and turns. If you happily followed Showbread until the end, you'll be especially pleased by The Bell Jar's debut, but I would also recommend it to music fans who can appreciate something that's a bit out of left field.
- Review date: 8/18/18, written by
Scott Fryberger
of Jesusfreakhideout.com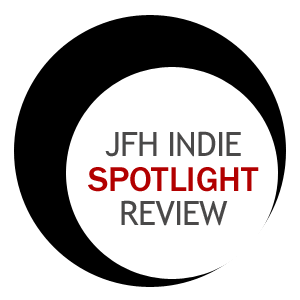 Record Label:
None

Album length:
11 tracks: 26 minutes, 59 seconds

Street Date:
August 14, 2018

Buy It:
iTunes

Buy It:
AmazonMP3
Prologue (0:48)
Suck Abyss, Succubus! (2:37)
Hurt People Hurt People (4:08)
Toxic Shock Syndrome (2:17)
Snake Eating Whore (2:59)
Where Is His Head? In the Sea? (1:27)
The Fall of Dubai (1:51)
No Amount of Material Possessions Can Save You From Death (0:43)
The Mummified Remains of a Close Personal Friend (2:49)
Make Me A Eunuch (1:25)
Suddenly, Seymour (5:55)