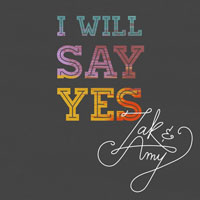 The worship experience is something that many a mainstream church takes very seriously; providing music that is personal, inclusive and above all else relative to the society for which it is ministering to. Indie duo
Zak and Amy
, are bringing their translation of worshipful music to the masses with their latest release,
I Will Say Yes
. Opening the album is the semi-epic "You're Welcome Here," inviting the Holy Spirit to let His glory fall. Musically, the track has all of the elements for a climactic moment but by the time it hits, it feels like a lackluster hyped moment. "I Will Say Yes," "How I Love You," "All Power" and "Can You See Him Now?" continue with the same tone but with a stronger flow and performance. "You're the Only One" shows a softer acoustic side to the duo, which is a welcomed sound; Zak's vocals fit this style very well. However, the song, at first listen, gave a message that wasn't discernable if the track is a love song to a spouse or an affectionate ballad to the Lord. The only line that truly makes the message crystal clear is the line, "
All my hope is in you, oh Lord
." If that one line was removed, it would be a solid love song for a coffee shop performance. The album concludes with two remixed tracks, "The Light" and "Everything I Have," that may have been considered to not cohesively flow with the rest of the album. On the contrary, in my opinion, they seem to continue in the same thread and don't truly seem like remixes. The former track has elegantly layered synths that complement Amy's vocals very well and match the lyrics well as she sings of glorifying the Lord while going through "the fire." The latter, and final, song has a more ethereal sound that plays off theme of surrender very well. Musically it may seem melancholy but the introspective reflectiveness in the lyrics makes it a strong ending for the album. Overall the production quality of
I Will Say Yes
is extremely high; Zak and Amy have the musical fortitude to create a solid release. Unfortunately, the album doesn't truly grasp the listener by the shoulders and make them want more. It's lyrically steady but not solid; they feel more like simple overly-personal prayers that are set to music. Some critics of that opinion may reference the book of Psalms in comparison but while the psalms may reference the emotional response of the writer, they even more so reflect on the character of God. There is a time and place for those moments, but it felt like this album somewhat drowned in them. Nevertheless, Zak and Amy are solid artists that we'll more than likely hear from again in the future. This may not be the best introduction to the group but the future is bright for these two. - Review date: 11/21/15, written by
Ryan Barbee
of Jesusfreakhideout.com
JFH Staff's Second Opinion

Zak and Amy Huffman are a husband and wife duo doing worship music. The couple's (founders of the Spirit of Adoption Ministries) debut album is called
I Will Say Yes
. The album features super clean production and a set of ready-to-go worship songs. Seven of the tracks are brand new, while the final two are remixed versions of songs from their first EP. For the most part, the album stays pretty mellow, though the middle of "All You Want is Me" gets slightly more intense. Each song has a beautiful sounding composition, but the acoustic guitar in "You're the Only One" stands out just a little above the rest. Any one of these songs could easily be introduced into a church worship setting. The biggest complaint on the record may be the song lengths; 7 of the 9 tracks are very near or over the 5 minute mark ("How I Love You" goes beyond 8 minutes). These would definitely need to be trimmed to incorporate into most corporate worship settings. Zak and Amy have put both their heart for God and their heart for their ministry on display. Their love for our Savior is apparent in the music and lyrics and all proceeds from the album will go directly to the Spirit of Adoption Ministries. Fans of worship music will definitely be interested in
I Will Say Yes
. - Review date: 11/20/15,
Michael Weaver
of Jesusfreakhideout.com

Record Label:
None

Album length:
9 tracks

Street Date:
January 22, 2015

Buy It:
iTunes
You're Welcome Here (5:10)
I Will Say Yes (4:51)
How I Love You (8:07)
You're the Only One (3:45)
All You Want Is Me (4:43)
All Power (5:07)
Can You See Him Now? (5:37)
The Light (Remix) (3:30)
Everything I Have (Remix) (4:47)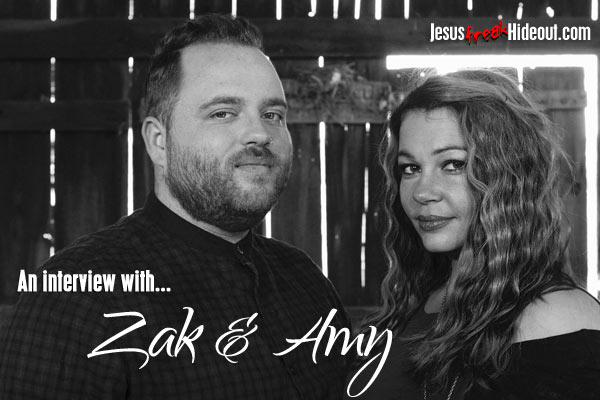 JFH (Ryan Barbee): I would ask how you all formed the band name, but that's rather obvious. *Wink!* So let me ask, how did you two meet and what inspired you to make music together?
Zak Huffman: Oh yes that reminds me! We are now under new management. Pursuant to this, we are now called "Love Displayed". We came up with this name because we feel that what the world needs now more than ever, is Love Displayed. Not just talking about it, but displaying it. Also, that is the one true witness test given to us as Christians. They will know we are Christians by our Love. Regardless of what title is by our name, is our Love being displayed?
JFH (Ryan): What is the inspiration behind the I Will Say Yes?
Zak: I Will Say Yes is a proclamation. As the bridge states, no matter what it takes, no matter what it breaks, we will say yes to Him. We will not allow fear to control our decision making. We will say yes when He puts the task before us.
JFH (Ryan): I saw that you all worked with Ian McIntosh to make this album. What was the recording process like?
Zak: Ian was such an awesome professional to work with. He was very encouraging, creative and helpful throughout the entire process. He gave a lot of creative input without stomping on our creativity and overall vision of the album.
JFH (Ryan): What's your favorite song from the album and why?
Zak: Musically, I would say our favorite song is "You're The Only One" as it is very upbeat and chill to listen to. It's a great song to listen to with the windows down on a warm day. Lyrically, I think our favorite is "All Power." We do a lot of missions work in 3rd world countries and the bridge really hits home for us. "All the lowly, and the broken, He came to set the captives free. Not by might or power but by My Spirit says the Lord." Such a powerful statement!
JFH (Ryan): What do you both hope to accomplish in the future with your music? What's the big vision for Zak and Amy Huffman?
Zak: We hope to continue in our music full force. We love to meet our brothers and sisters all over the world and worship with them. People often say we are the type of people that become "instant family". Well, we feel that's pretty easy considering we are all The Body!
JFH (Ryan): If you could on tour with any band/artist, and I mean ANY band/artist, who would it be with and why?
Zak: This is a hard question! We love so many artists from all genres! I suppose it would be Kari Jobe. Her fan base is broad but it seems when people go to her events they are hungry for worship! We are not entertainers, but rather worship leaders who want to engage with the Holy Spirit and each person at the event!