Nautical rockers
Rusty Shipp
have been making waves since their debut LP,
Mortal Ghost
, released in 2017. They won over the hearts and minds of the JFH staff and became the highest rated truly-indie artist in our staff picks (taking the number two spot) and dominated the 2018 JFH Awards (as voted by readers) -- beating out industry stalwarts like Project 86 and Demon Hunter, all while toppling Kevin Max for Artist of the Year. Since then, it seems as if Rusty Shipp has set sail on a path that has been generating a lot of excitement. Two years later, the Nashville band is back with their LP/EP hybrid,
Liquid Exorcist
. The album teeters the line with 10 tracks, but only 5 are actually full songs; the other five tracks are transitions to tie everything together and provide a unique flow.
Liquid Exorcist
is a concept album that has a Navy theme running throughout and focuses on mines. The album art captures the theme well with the cool looking submarine, a few naval mines, and the souls of those lost because of the mines. So just how does this new release hold up to an album that was as successful as
Mortal Ghost
?
"Mine Factory" opens the album with a short instrumental to get the juices flowing. The track builds from quiet to loud and raucous before fading into "Liquid Pendulum" with its blistering guitar lead intro. The song sets up the album's theme as Russ sings, "Mine fields in the ocean ticking like a liquid a pendulum. Count down to their explosion casing out spirits like an exorcist." The song has a great riff running throughout, but it really starts grooving pretty hard around the bridge. "Mind Sweeper" is a more mellow transition and leads into the guitar delay that almost mimics a submarine's ping to start "Detonator." "Detonator" carriers a strong surf rock sound with loads of reverb and delay on the clean guitar leads. Long time fans will definitely get some memories from the Hold Fast to Hope EP or the "Sinking Scarabs" single. The song is an absolute blast to listen to and the guitar solo is one of the best musical moments present on the album. "SS Naronic" makes a return with "SS Naronic (reprise)," but it doesn't sound anything like the original. Instead, the transitional piece sounds much more like something the Beatles would include at the ending of one of their songs. Speaking of the Beatles, Mortal Ghost featured a Beatles cover in "Helter Skelter." It was a phenomenal addition and had many wondering about another cover. The Rusty Shipp crew doesn't disappoint this time around as they take on Audioslave's "Show Me How to Live." The late Chris Cornell wasn't known as a religious man, but this song has always had major spiritual undertones. While Cornell isn't one that many can pull off in a positive way, Russ and the band really do this song justice.
Following an excellent cover is the best transitional piece in "Blow Your Mine." Its super chunky riff gets you moving, and the guitar leads are once again incredible. "Hundred Crosses" follows and brings back the strong surf rock sound again. A lot of reverb, clean guitars, and a moving bass line push this one along, but the slower acoustic sections break it up and bring a stronger focus to the lyrics. Russ sings, "There are a hundred crosses floating on the waters. Unlucky sons and daughters; victims of the war. Unsuspecting foes of a boardroom's votes. Show me just one policy worth them dying for." After the most serious song present, comes the most hard rocking -- and my personal favorite. "Breaking Waves" was the album's first single and had a rather impressive run on radio and defeating well established artists in competitions. The song's groove is fantastic and demands that you sing along and bob your head to the music. Finally, the album comes to an end with "Navy Hymn." The song is actually titled "Eternal Father, Strong to Save" and was written as a poem in 1860 by William Whiting and put to melody a year later by Rev. John Bacchus Dykes. It was British written, but is still sung at the US Naval Academy in Annapolis today. While the original version has three verses, Rusty Shipp just play the first verse -- which focuses specifically on the sea. There is a lot of production magic pulled off on this one to give a slightly eerie, but really cool sound.
So the question, "Can Rusty Shipp top Mortal Ghost?" is a tough one to answer. I think it will depend on your musical taste. If you were a fan of Mortal Ghost because of the raw rock and roll, grunge, and punk sounds, you may not dig Liquid Exorcist as much. However, if you were a fan of the more surf rock stuff they did prior, as well as their previous LP, this could be your favorite release by the band. I will say this: The guitar riffs are super catchy, the surf rock stuff is on point, and the transitions are so dang cool in the way they blend the entire experience together. Liquid Exorcist is a lot to take in for what is a relatively short listen. The music is layered more than you may think at first listen and the lyrical theme is concise. The production level has definitely gone up from any previously released material, but they managed to maintain that raw and energetic vibe when it matters. The band came out swinging hard for their follow-up and have proven they weren't just some one-album-wonder who got lucky.
- Review date: 11/6/19, written by
Michael Weaver
of Jesusfreakhideout.com
JFH Staff's Second Opinion
After 2017's
Mortal Ghost
, Nashville's resident nautical rock band
Rusty Shipp
gained momentum, popularity, and a bit of a cult following. Naturally, the anticipation for their follow-up was high - including amongst the JFH staff.
Liquid Exorcist
is a shorter album, with almost as many interludes as actual songs, but it's still packed with solid rock songs that show the band's maturity and focus. "Hundred Crosses" might even be the best song the band has ever written. All their influences coalesce into a terrific song that centers around the evils of mankind and also touches on the heartbreak and senselessness of war. "Detonator" and "Breaking Waves" are both excellent and are terrific choices for radio hits, and the cover of "Show Me How To Live" is one-of-a-kind. As Michael said above, it's hard to replicate Chris Cornell, but Rusty Shipp truly made the song their own while staying true to the original.
Liquid Exorcist
is a stellar follow-up to
Mortal Ghost
, proving that these guys are on their way up. - Review date: 11/8/19, written by
Scott Fryberger
of Jesusfreakhideout.com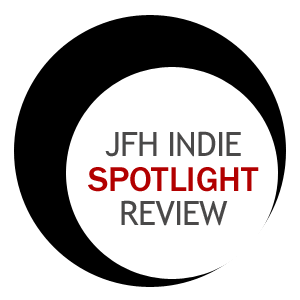 Record Label:
None

Album length:
10 tracks: 26 minutes, 29 seconds

Street Date:
November 7, 2019

Buy It:
iTunes

Buy It:
AmazonMP3
Mine Factory (0:41)
Liquid Pendulum (3:55)
Mindsweeper (1:04)
Detonator (4:32)
SS Naronic (Reprise) (1:06)
Show Me How to Live (4:02)
Blow Your Mine (1:19)
Hundred Crosses (4:54)
Breaking Waves (3:41)
Navy Hymn (1:15)