Since Extol's last album in 2013, there have been a small handful of adjacent bands from the Extolverse. While they've more or less been pretty stylistically similar (blistering and technical progressive death metal), longtime Extol frontman Peter Espevoll also had something else in mind: dark orchestral pop. His first venture under the name Hrada is called Mirrorland, which comes courtesy of Mythic Panda Records.
Now, calling it "pop" might be a bit of a stretch - as much of a stretch as using the lane for a Tommee Profitt album. While there are certainly captivating melodies and catchy bits ("Sanbenito" and "The Jig Is Up," for instance), not much about Mirrorland would land it on pop radio or playlists. There are no mega hooks or big dance breaks. Instead, the album relies on slower tempos, beautiful string sections, and haunting lead vocals and harmonies (it's hard not to get lost in those of "Our Only Hope" and "The Girl and the Raconteur"). The album even finds a way to throw curveballs; the jazzy "Daydrinker" features acoustic guitars and free-spirited piano, while the peaceful music box of "Into Mirrorland" makes for one of the best instrumentals of the album. It's a varied album, for sure, but it's cohesive and simply breathtaking at every turn, thanks to the small group of musicians who contributed (including Andreas Skorpe Sjøen of Fleshkiller and renowned Norwegian music and film creator, Åsmund Janøy).
There are a few times during the album where it almost feels like a concept album. Not only do the interlude titles contribute to this feeling, but the album title itself, as well as some of the lyrics. "Sanbenito" is a key culprit ("Blood moon's up in the city tonight / that's when his men comes to fuss and fight / blood runs cold in streets outside / as his men comes to shine the light"), as is "The Girl and the Raconteur" ("You need to quiet down and listen carefully / don't interrupt our most compelling raconteur / he's reading from the tales of perpetuity / and it is brimming full of fortune but the moral's more obscure"). But it's more likely that it's just cryptic lyricism as opposed to a fully fleshed out story. There are even plenty of references to God throughout, including a cover of Extol's "Pearl" ("Hear these words / My soft voice speaks only truth / I will reveal Myself to you / I'll see you through / You are beautiful, My love / Walk with Me / All you'll ever need, I am"). The song translates to Hrada's style extremely well, which makes more sense if you remember that it's perhaps Extol's least heavy songs.
Admittedly, Mirrorland was a bit of a grower. I first experienced it with the single "Gospel Oak," and it didn't grab me right away. Only after spending time with the full album did it start to reveal itself to me as a beautiful piece of art. It's an interesting album with many layers and loads of intricate melodies and stories to tell. If you haven't given it a try yet, make sure to spend some time with it and see if it grows on you, too.
- Review date: 11/3/23, written by
Scott Fryberger
of Jesusfreakhideout.com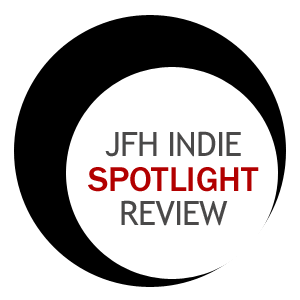 Record Label:
Mythic Panda

Album length:
12 songs: 40 minutes 45 seconds

Street Date:
May 19, 2023

Buy It:
Bandcamp
Gospel Oak (4:55)
Our Only Hope (3:44)
Into Mirrorland (1:34)
Sanbenito (3:57)
The Jig Is Up (3:17)
The Girl and the Raconteur (3:23)
Daydrinker (4:37)
Winter Skies of Mirrorland (1:29)
Tainted Mirror (3:03)
Pearl (4:48)
Leaving Mirrorland (1:39)
Something Human (4:14)