I first heard the name Jetty Rae when Heath McNease's side project with the singer/songwriter, Pen Pals, came into the spotlight. Upon hearing some of their work together, I decided to check out Jetty's solo work. What's developed since then has been a casual following of her work that has resulted in several appearances by her on our annual free indie compilation, Songs We've Been Trying to Tell You About (And Others We Haven't), and the occasional standout single here and there ("Queen of the Universe" is still just so good).
I received her latest solo album, Time Traveler, some months ago when talking to her team about contributing to the latest Songs... compilation, and I've found myself being drawn to it over... and over... and over. It's probably no secret that I've become pretty jaded towards today's mainstream Christian music, so I find myself returning to old albums from yesteryears (and instrumental movie soundtracks from composers like Hans Zimmer, Michael Giacchino, and Lorne Balfe, to name a few). I've been finding myself throwing Time Traveler on to listen to quite a few times, without the intent to dissect it for review purposes (a chore that has had me distancing myself from reviewing music over the years because I found it stealing the joy from music I otherwise loved, and I also found it more difficult to critique in general).
It's gotten to the point where Jetty's soft and even sultry vocals, and her folksy styling have just become such a comforting and soothing listening experience. This 10-track album does kind of pass by briskfully, but it never feels rushed, and it has the intimate vibe of a coffehouse set or a fireside chat. I haven't found myself scrutinizing the lyrics or trying to decode each message behind the songs, and have just let Rae float me along on her musical cloud. With each listen, I keep thinking it'd be a disservice to readers (and Jetty) if we never covered this album, as it's quickly become one of my favorites of 2022.
The album opens with "Sad Omen," a bluesy track that uses percussion and layered vocals to create quite a vibe. There's a little more of a bite to this one than sweetness, but the gears quickly shift with the following title track, where we get a hint of a southern twang as Jetty sings over the strum of an acoustic guitar. It's got a country road trip feel to it that whisks the listener away. Some vocal layering and light instrumentation join her, painting a summery, welcoming picture. "Bad Loop" is another standout number that uses a loop effect to capture the impression of things repeating, as she laments about feeling stuck. She uses a bit of a falsetto and lets her voice soar during the bridge that just further showcases her range and versatility as a vocalist. (I must note, however, that the song does unnecessarily use the word "d*mn..." at one point: "round and round, keeps on rolling, doesn't give a d*mn how I feel / I'm so tired of this big wheel.") Strings and an acoustic propel "Terlingua" into highlight territory as well, and "Better Now" is a melancholy offering that talks about a girl who's escaped a toxic relationship for a more healthy direction in her life ("Being brave in this civil war doesn't mean she's broken like she was before / She's not bitter, she's just better now"). And those who checked out last year's Songs We've Been Trying to Tell You About, Vol. 10 will recognize the following track, "Dragon's Lair."
"Ghost" may be one of my favorite tracks on Time Traveler; it's another intimate acoustic number, and this time, Jetty utilizes the softer side of her voice for a more tender delivery. The song does build before its finish, with a great string-driven section and melodic climax. To close the record is "High Places" (which was also the closing track on this year's Songs We've Been Trying to Tell You About, Vol. 11), a dreamy acoustic ballad that draws inspiration from the allegorical Hinds' Feet on High Places, by Hannah Hurnard. Jetty had written the song about five years ago as a tribute to her father after he passed, who is of Native American heritage (this explains the howling at the end of the track which, without knowing the backstory, sounds entirely random and out of place, but it's a direct reference to her father's culture, specifically the Karuk tribe). It's a beautiful way to wrap the record, especially on a spiritual note.
Time Traveler is a tight, 10-song musical journey that certainly doesn't reinvent the proverbial wheel, but is nevertheless a beautiful indie folk record that showcases a sadly underappreciated talent in Jetty Rae and is well worth your time and attention. Definitely check this one out.
- Review date: 9/1/22, written by
John DiBiase
of Jesusfreakhideout.com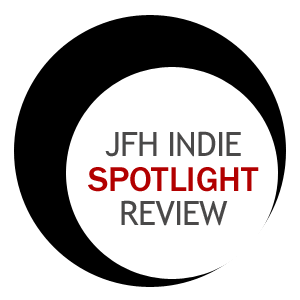 Record Label:
None

Album length:
10 tracks: 37 minutes, 11 seconds

Street Date:
September 1, 2022

Buy It:
iTunes

Buy It:
AmazonMP3
Sad Omen (3:15)
Time Traveler (3:36)
Waiting On The Wind (3:50)
Bad Loop (3:16)
Terlingua (3:42)
Better Now (3:33)
Dragon's Lair (4:26)
Smoke In Your Hands (4:03)
Ghost (3:19)
High Places (4:15)