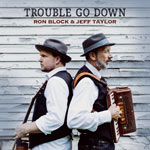 Ron Block & Jeff Taylor
Trouble Go Down
Street Date:
October 21, 2016
Style:
Bluegrass / Folk
Official Site:
Official Website
Buy It:
iTunes
A spirit of collaboration permeates bluegrass, a genre that tends to feature talented multi-instrumentalists who are capable of jazz-like improvisation and versatility. Ron Block and Jeff Taylor are two such profoundly gifted instrumentalists, and their debut collaboration is a harmonic convergence of the highest order.
It would take pages to describe the musical pedigree surrounding these two artists. Block has armloads of Grammys with Alison Kraus and Union Station. Taylor's graced legendary stages with legendary players, including his work with The Time Jumpers. Block's a maestro on banjo and guitar, and Taylor on piano and accordion.
Trouble Go Down features songs brought to the table by one of the pair and then arranged or matured collaboratively. The album is peaceful and reflective, but never sleepy. It's also not all instrumental. For several originals, the pair turned to brilliant lyricist Rebecca Reynolds, who previously partnered with Block for Walking Song.
Opening track "Like a River Glorious" is a fine invitation to the album. Recorded live in Block's studio with Block on banjo, Taylor on guitar and accordion, and Barry Bales on bass, the lesser-known hymn sparkles. The arrangement is simple enough to be pleasant and accessible, but the nimble playing and the lovely interplay of instruments create a space for emotion. The song also hints at another quality of the album: it is deeply and personally devotional. The songs quietly lead listeners to the throne of grace without relying on overwrought melodrama.
Block and Taylor, not surprisingly, invite a few friends along for the production, and of course they're fine additions. Lead and harmony vocals are added by Suzanne Cox and Ellie Holcomb. Sierra Hull brings her effervescent mandolin and Stuart Duncan his wise fiddle. And on "His Love Will Bear You On," the sense of collaboration and community is profound. Lead vocals feature Skye Peterson, daughter of Andrew Peterson, who was introduced to many by way of Andrew's video for "Be Kind to Yourself." The song opens with Taylor's piano, and the production creates the sound of a live recording at a recital, which is exactly right. Block joins Skye for the chorus, a gentle invitation to a pilgrim who's lost his peace. Instrumentation adds layers and complexity for Block's second verse. Voices are then subtly added in harmony, then lead, and then a whole congregation, and by the a cappella conclusion we've moved from a recital to a bountiful church choir. It's tempting to pick out voices in the all-star choir (see the liner notes), but it's best to let them blend in community like one might imagine the choirs of angels do.
Finally, a word about Reynold's lyrics. They're unlike anything else you'll hear in Christian music. There is King James English over Kentucky bluegrass, and it works. There is vivid and poetic imagery, personal emotion, and brilliant metaphor. To wit: "The fog angels bathe in a choir of praise / Yield to the sun as it rises / Sighing in silent reprises / O, Lord / Welcome everything broken, and everything beautiful / Trembling and holy, and drifting and brave." These are extraordinary words from the most underappreciated lyricist in the genre.
Trouble Go Down is not so very bluegrass and not so very acoustic folk as to be pigeon-holed. Instead, it's a brilliant album that deserves attention, an offering to step back from a busy and harried life to find peace and a hiding place.
- Review date: 10/21/16, written by
Mark D. Geil
of Jesusfreakhideout.com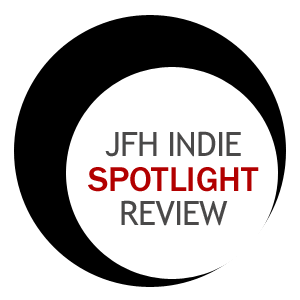 Record Label:
None

Album length:
10 tracks

Street Date:
October 21, 2016

Buy It:
iTunes
Like a River Glorious (2:13)
Gather Ye (3:35)
Trouble Go Down (feat. Suzanne Cox) (4:04)
I Am Hidden Away in the Bosom of Christ (4:33)
Come Away With Me (3:33)
O, How I Love Jesus (0:34)
Alight Thou in Me (feat. Ellie Holcomb) (4:09)
Everything Broken and Everything Beautiful (feat. Ellie Holcomb) (4:05)
Leaning on the Everlasting Arms (1:42)
He Leadeth Me (2:45)
Jesus Loves Me / What a Friend We Have in Jesus (3:21)
íTis so Sweet to Trust in Jesus (2:21)
His Love Will Bear You On (3:46)
Doxology (0:55)