Jonas Woods
may not be a well-known name among Christian music fans, but he has been active in the industry for over 15 years. He founded and fronted Farewell June, which saw one national release and opened for Petra during their Farewell Tour (where I saw them perform). Today, he flies as a solo artist with the support of his wife and kids and is now promoting his latest album,
Whispers
, a collection of nine tunes digging into various areas of life and dabbling in different genres.
You could break the themes down into three categories: love for his children, love for his wife, and spiritual musings. That first topic opens the record with "The Light is Always On," a country-tinged rocker that feels worthy of Drew Holcomb. "Paper Kites" shares the age-old struggle of letting kids grow up but with the resolution to enjoy the time we have with them now while it lasts. This one feels like an Andrew Peterson cut and Woods' voice almost mimics Peterson's soft tones. Love songs for his wife also take their turn with "Totally Still" (which musically echoes The Civil Wars), showing the hard times of marriage, while "Because a Girl Loves a Boy" (add some horns and here's a Michael Buble song) reveals the more tender and playful side.
The final category is spiritual musings, which takes up the most space on this record. "Love is Patient" dwells on the value of God's love with a poppy folk sound reminiscent of Ben Rector. "Words" offers a more quiet reflection on trusting in God "even though I'm not brave." "Hold My Tongue" is a bluesy tune of application, examining the world's tendency to be all talk and no action and resolving to be slow to speak. The album closes out with the title track, which was curiously split into two parts. The main part is soft and meditative, while "Part B" introduces a full band. Since the tracks come back-to-back, it's kind of head-scratching why they are split as they flow together well and aren't jarring enough to warrant separation. But that is more of an organizational nitpick.
The references to other artists and genres should give you a sense of how variegated this record is. Woods does a good job mimicking the styles without sounding like he's ripping them off. If anything, they come off as homage. While the record fits together sonically, it can be a little jarring to go from a bluesy rocker to a swinging pop number. There are also times where the vocals get drowned in the mix, but these moments are not often enough to undermine the experience. Overall, this is an impressive outing for Woods and shows the range of topics and genres a Christian artist could cover making this an indie effort worth checking out.
- Review date: 4/10/19, written by
John Underdown
of Jesusfreakhideout.com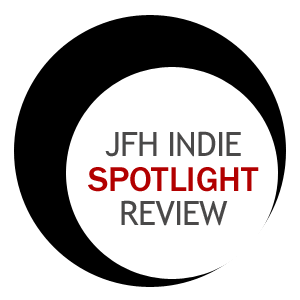 Record Label:
Old Bear Records

Album length:
9 tracks: 34 minutes, 16 seconds

Street Date:
April 19, 2019

Buy It:
iTunes

Buy It:
AmazonMP3
The Light Is Always On (3:52)
Love Is Patient (3:31)
Words (5:30)
Paper Kites (4:46)
Totally Still (3:45)
Hold My Tongue (3:24)
Because a Girl Loves a Boy (3:54)
Whispers, Pt. A (3:46)
Whispers, Pt. B (1:48)