Sophie Stiles
is a singer songwriter from Oregon who is offering up her coffee house style of acoustic music. While her folk inspired songs feature full instrumentation, each one would play nicely with just a single guitar. Stiles' six-song debut,
Chartreuse
, is a nice introduction to not only her music, but her heart as well. The most interesting tracks present on the album revolve around Biblical figures.
Chartreuse
opens with "The Calling of Jeremiah." Sophie takes a look at the Prophet Jeremiah's calling to go speak to Israel as a child. She looks at his fear of speaking to the Jewish people, and his realization that God has given him the words to speak. Known as the "Weeping Prophet," Jeremiah's actual calling is often overlooked, but Stiles looks at his trepidation and acceptance in an interesting light. Musically, the track is also top notch -- especially when the playful piano enters around the 3:20 mark. The second track to explore a Biblical figure is "Hagar's Song." Hagar's circumstances are also often overlooked. Sarah and Abraham's ill-advised plan to obtain an heir with a slave Hagar is well-known, but what happened to Hagar and Ishmael after Isaac was born isn't talked about as much. Stiles picks the story up at Genesis 21:14 as Hagar is sent away. The lyrics explore Hagar's fear and God's revelations to her in the wilderness. While these two songs are considered the best due to their uniqueness and story-telling, "Mountain" is also a really great track with more of an upbeat sound. The song talks about God's unwavering love and compares his presence to that of a mountain. "Your Love" is a moving keyboard based song (but opens with guitars towards the end) talking about Jesus' sacrifice and shed blood. While it's a solid addition, it would have benefitted from picking up with the guitars much earlier in the runtime. "When My World Falls Away" and "Lock and Key" are both nice sounding slower songs, but they don't quite reach the levels of the aforementioned numbers, though the picking pattern on the guitar in the closer is an attention grabber. Stiles, herself, has a fantastic voice perfectly suited for this type of music. While Sophie has more of a velvety type voice, often singing in lower registers, she has solid range and some nice falsettos. Overall,
Chartreuse
is an enjoyable listen from front to back. Some songs are extremely strong, but a couple don't quite hold up as much in the mix. Overall, this is a great introduction to Sophie Stiles. Her talent is a bit raw, but unmistakable after just one listen. I personally can't wait to see with Miss Stiles has for us next. - Review date: 9/19/17, written by
Michael Weaver
of Jesusfreakhideout.com

Record Label:
None

Album length:
5 tracks: 16 minutes, 17 seconds

Street Date:
September 1, 2016

Buy It:
iTunes

Buy It:
AmazonMP3
The Calling of Jeremiah (4:23)
Mountain (4:39)
Hagar's Song (4:20)
When My World Falls Away (3:36)
Your Blood (3:36)
Lock and Key (3:00)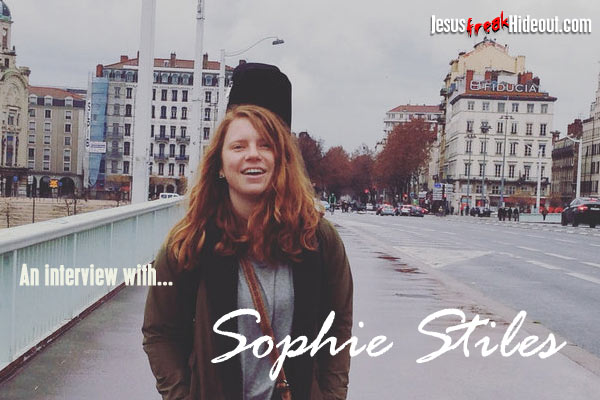 Jesus Freak Hideout (Michael Weaver): How long have you been playing guitar and when did you start trying to write your own music?
Sophie Stiles: I first picked up a guitar when I was 14, but I plateaued pretty quickly once I got to the level where I could use it to write songs with. Piano has always been my true comfort zone, but for some reason I default to guitar for songwriting. I think I was about 8 years old when I started writing songs, if you can call them that-they were rough. "The Calling of Jeremiah" was sort of my first "keeper," and that was when I was 16.
JFH (Michael): The album artwork for Chartreuse is subtle, but killer! I love the simply drawn mountains, the font on the album title, and the way the "t" stands up like a cross. Did you do the drawing yourself, or did someone else do it for you?
Sophie: My good friend- her name's Alex Apland- is an accomplished potter, and she does these trademark mountain designs on mugs. The name "Chartreuse" is a tribute to a mountain in France that has inspired me over the years, so I asked Alex if she would translate that into album art. I really like the simplicity.
JFH (Michael): My favorite songs are easily "The Calling of Jeremiah" and "Hagar's Song." I think these are Biblical figures we all know, but the parts of their stories that you tell are often overlooked. Jeremiah isn't looked at as a scared child and Hagar isn't usually seen as a slave banished with a child. Your perspective on both of these stories is fantastic. What drew you to these stories?
Sophie: Both of those songs are centered around the character's personal encounter with God. The way that God spoke to them made me do a double take and see them in a different light. Also, I found myself in similar places emotionally and spiritually- needing to know that God sees me and still cares for me like Hagar, feeling called to things I was afraid of like Jeremiah. That definitely gave me a fresh perspective on their stories.
JFH (Michael): As a fellow guitarist, I find the picking pattern used on "Lock and Key" to be really interesting. I've been having trouble putting a finger on the exact reason, but it really stands out to me. Can you talk about writing that song?
Sophie: I remember I was sitting in one of my college classes working out lyrics and I was starting to form a melody for them in my head. When I finally sat down with a guitar, I found myself picking an accompaniment to what I had already composed in my head. So that pattern sort of just fell into place!
JFH (Michael): After talking about a few of your songs, could you talk about some of your musical inspritations?
Sophie: I love Rich Mullins, and he's someone that would always slam as many words as he could fit into a musical phrase. I've always adored that. Bethany Dillon played a big role in helping me find my musical identity, and Brooke Fraser is the artist I continue to be most inspired by.
JFH (Michael): Are you going to be doing any sort or touring, or live shows?
Sophie: I've started playing some local shows with my band, and it's been really fun. My dream is to tour, so if anyone needs an opener...spread the word!
JFH (Michael): Our God is capable of all things, but what do you hope He is able to do through this release?
Sophie: This EP carries a lot of honesty in it. If there's any musical calling I have, it's to say something that's honest, and then proclaim truth over that honesty. I've found a freedom that comes from being real with where I'm at, and then letting Jesus speak truth over that confession. I hope anyone who hears these songs can experience that.