The Crossing Crew
is the brainchild of the Texan singer/songwriter James Paul Moravec, who builds all his songs on his own and brings in other musicians for the finishing touches. With a handful of releases to his name already, Moravec's ready to unleash the next Crossing Crew album,
Child Faith
. This collection of songs is rather interesting, because it takes us through a variety of different genres before we reach the final track. If not for the distinct vocals and production, you might even think that this was a playlist of different artists. The first two songs fit pretty well together, with a very heavy 90s-flavored acoustic sound, but then Moravec also gives us a taste of reggae ("Riptide Wrangler"), bluegrass ("Writing on the Wall"), 90s alternative ("Heart of Gold"), and more. Each track has something unique about it; whether it's Spanish guitar, brass, or banjo, it can be a bit of a wild ride. The creativity and willingness to try different things is the best thing about The Crossing Crew's music, but it's unfortunately overshadowed by low production quality. Every song sounds like a compressed version of an original recording (save for a large amount of "Teach Your Children Well"), making it a challenging listen. And sadly, the lack of production seems rather intentional, given a bio that reads: "
I confess to being as good a songwriter as I am a poor sound engineer. So I place each song here as I abandon it along the way; lacking the patience, the talent, or the budget to take them further
." Had Moravec possessed those three qualities,
Child Faith
may have turned out as a fun and quite enjoyable album to digest. But as it exists now, it's a rather arduous listen. - Review date: 8/14/19, written by
Scott Fryberger
of Jesusfreakhideout.com
JFH Staff's Second Opinion
The Crossing Crew is a folk and Americana based pop/rock band out of Texas, fronted by James Paul Moravec. There's a good chance that you've never heard of the band, but Moravec has been extremely prolific since 2015; 2017 saw four albums and 2018 saw another three. Moravec holds to the moniker of "certifiably amateur" when it comes to him making music. Musical and songwriting talent are certainly present, but Moravec's laissez-faire attitude when it comes to recording and production is definitely peculiar. "Teach Your Children Well" is possibly the best example of the overall talent on this release. The song is a super catchy number with a great electric guitar lead line at the end. "Gonna Be Fine" and "Early Risers Anthem" are also solid tracks, but the songs all suffer from the lack of production value. The best way to describe listening to the finished album would be to equate it to listening to a demo recording. The roughly thrown together recordings is an interesting approach, but it does allow for more songs to be put out for people to enjoy. If you are a fan of Americana and folk music, and aren't a stickler for crystal clear production, The Crossing Crew may be a band worth checking out. - Review date: 8/24/19, written by
Michael Weaver
of Jesusfreakhideout.com

Record Label:
None

Album length:
10 tracks: 30 minutes and 39 seconds

Street Date:
July 1, 2019

Buy It:
iTunes

Buy It:
AmazonMP3
Running All The Time (3:18)
Teach Your Children Well (3:02)
Riptide Wrangler (2:47)
Gonna Be Fine (3:50)
Early Risers Anthem (2:00)
Heart of Gold (3:13)
Say You Say Why (3:21)
Writing on the Wall (3:22)
Five and Dime (2:26)
Racing Angels Home (3:20)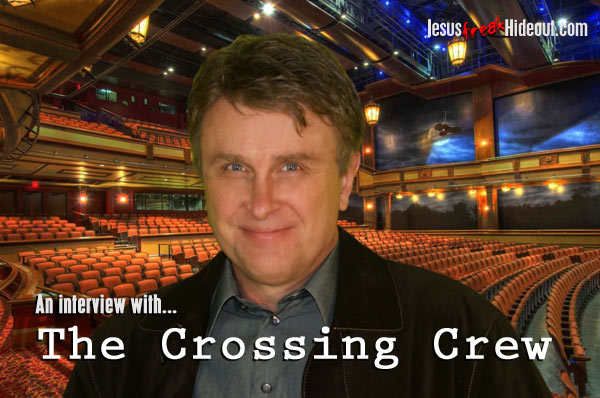 Jesus Freak Hideout (Scott Fryberger): Your album, Child Faith, is extremely stylistically diverse. Can you tell me about your background as music fan and as a musician?
James Paul Moravec: Thank you. Your comment on my musical styling is a welcome compliment. I do not try to sound like any musician or mimic the latest genre. As a songwriter, the song in my head finds its way to an arrangement that fits how the song feels at the time. I don't wrestle with that side of it much so my library of songs reflect folk, country, blues, rock, pop, swing, and so on.
JFH (Scott): How many people are typically involved when creating and/or recording your music?
James: I use modern tools to build a song, including sampled instruments, loops, and musicians. If we were to play live, the band would be 5-6 artists.
JFH (Scott): Are you looking to sign to a record label or do you want to stay independent?
James: My mission is the simple messages in my music; hoping to inspire an uncomplicated Christian faith. If that resonates with a label, OK!
JFH (Scott): What are your top 5 albums of 2019 so far?
James: Other than finishing 17 songs so far this year, I have been listening to older recordings as my aim is to deliver a similar warmth and saturation in my digital recordings.
JFH (Scott): What do you hope to accomplish with Child Faith?
James: Find my audience. I know there are a few out there.
JFH (Scott): Do you have long-term plans for The Crossing Crew?
James: Many songs in the works. Collaborate with others? For sure. Perform? Possibly.
JFH (Scott): If you were asked to pick one song from Child Faith to play for a new listener, which would it be?
James: "Teach Your Children Well" The verse is so on message that I had no choice but to repeat it twice.
JFH (Scott): I'm curious about the track "Early Risers Anthem." Can you tell us the story behind this track?

James: In my family, I am the early riser. My early morning enthusiasm is nauseating to other family members. Tried to capture that in a simple tune. The beauty of the song is it also reflects the true joy of life - launching forward into each day with a peaceful confidence.
JFH (Scott): Would you like to add anything else?

James: Child faith accepts Christlike love in its purest form - simple and accessible!