Joshua Mills
is a multi-faceted, and multi-talented, artist. Mills has been a worship leader for 15 years, a speaker, and is an ordained minister. Including his newest album,
Christmas Miracle
, Mills has recorded six studio albums and two live albums. While some of the material is original, most of the songs are Chirstmas covers; many are lesser known, or at least lesser covered, songs. Frank Sinatra's "The Christmas Waltz," Meghan Smith's "It Snowed," "Marshmallow World," made popular by Bing Crosby, and Peter Yarrow's (Peter, Paul and Mary) "Light One Candle" are all examples of songs one who is not a connoisseur of Christmas music could possibly mistake for originals. What's more fun than these somewhat obscure covers is the medley of "Come on Ring Those Bells/Christmas Vacation." The first song of the pair is by Evie (recorded in 1977), but the second is taken right from the soundtrack and end credits of the classic Christmas movie of the same name (originally sung by Mavin Staples). There are also some pretty nice original cuts to go along with these covers. "Precious Baby" and "Gift of Love (Heaven's Kiss)" are excellent additions, and the acrostic formed in "C-H-R-I-S-T-M-A-S" is a sweet little reminder of the true meaning of Christmas.
Christmas Miracle finds Joshua Mills going for more of a classic Christmas feel for a good bit of the album, but there is also plenty of current pop, and even worship, music present too. Overall, it makes for a nice mix of sounds this Christmas season as there is a little something for differing musical tastes. Mills has put together a solid mix of songs that you likely won't find anywhere in your current playlist; unless of course you are a fan of one of the original artists. It's still a little early in the year for Christmas music, but Joshua Mills is trying his hardest to get you in the spirit of the season. Pick up Christmas Miracle for an enjoyable listen this Christmas.
- Review date: 10/21/14, written by
Michael Weaver
of Jesusfreakhideout.com
JFH Staff's Second Opinion
Christmas music is something that must be approached joyfully but cautiously. There are some artists who are meant to make it, while others should avoid it entirely. Veteran worship leader/recording artist Joshua Mills most definitely has the vocals for the holiday season. Songs like "It Snowed," "Gift of Love," and "Christmas Time Is Here/O Christmas Tree" really showcase the purity of his voice.
For worship leaders looking for new songs, "Precious Baby" and "Gift of Love" would make for excellent songs to be sung during church gatherings during the upcoming holiday season. On a slightly disappointing note, the covers of the holiday classics honestly don't feel up to par and end up lacking much worth to the album. This is because it sounds like a heavy emphasis was placed on Mills' vocals, but the instrumentation feels neglected - which leaves each track sounding a little empty. Overall, this is a decent Christmas album, however, from start to finish, the music doesn't match the quality of Mills' vocals and that keeps that whimsical nostalgia from coming to fruition. Make no mistake; Joshua Mills is an artist that is meant for Christmas music, this album just doesn't hit the mark completely. Nevertheless, for the Christmas music lover seeking a new assortment of songs to add to your holiday collection, you will be pleased. - Review date: 10/19/14,
Ryan Barbee
of Jesusfreakhideout.com

Record Label:
None

Album length:
15 tracks: 47 minutes, 42 seconds

Street Date:
October 14, 2014

Buy It:
iTunes

Buy It:
AmazonMP3
The Christmas Waltz (3:06)
It Snowed (3:43)
This Christmas (2:57)
Precious Baby (feat. Grace Williams) (3:55)
Marshmallow World (2:10)
Come on Ring Those Bells / Christmas Vacation (feat. Meka King) (2:59)
Angels from the Realms of Glory (feat. Beckah Shae) (4:07)
Gift of Love (Heaven's Kiss) (4:13)
C-H-R-I-S-T-M-A-S (3:34)
Light One Candle (feat. LaRue Howard) (3:34)
Let the Season Take Wing (3:41)
The Nutcracker: Dance of the Sugar Plum Fairy (2:48)
Huron Carol ('twas in the Moon of Wintertime) (3:39)
Christmastime Is Here / O Christmas Tree (3:07)
Holiday Greeting (0:09)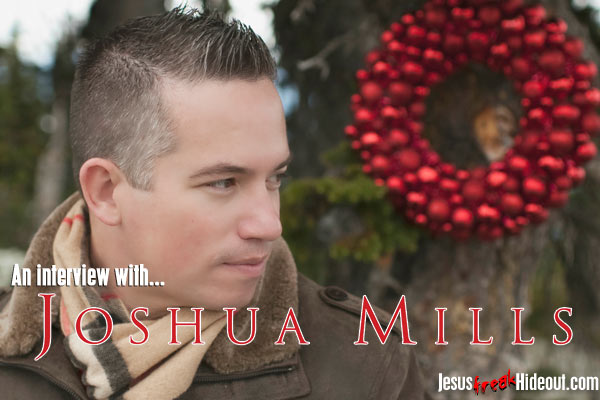 Jesus freak Hideout (Michael Weaver): How challenging was it to record this album in several different cities and studios while traveling?
Joshua Mills: You know, it would've been more challenging trying to get the entire album recorded in one location! Being that I'm constantly in motion, it seemed like the natural thing to do, to record this album in different studios as I would find time to work on it. The highlight of that for me was being able to meet so many amazing and gifted people all over the country. Eric Mosher, who engineered the songs at The Warehouse in Vancouver, had previously worked with Michael Buble on his Christmas album. So he was passing along some tricks of the trade as I recorded with him there. Things like that made the overall recording experience for this album quite rewarding.
JFH (Michael): You're an extremely busy person. How many days a year would you say that you're on the road?
Joshua: It would be easier to tell you how many days I've been at home this year. Ha. My life is lived on the road. I've been on 5 continents this year (some of those a few times each) and I've had the privilege of singing and leading worship in over 60 different nations throughout my career. I feel extremely blessed.
JFH (Michael): The album is musically diverse. You go from the really classic feel of a Sinatra cover in "The Christmas Waltz," to something really pop heavy like "Marshmallow World" (which actually reminds me of All Star United). Where does the majority of your musical influence come from?
Joshua: I was raised in the church, so my very early musical influences were listening to the records of Keith Green, Amy Grant, Michael W. Smith and other early CCM artists. Later on, I discovered that I really loved music... and that included many different styles and artists. I've been personally impacted by the modern worship movement coming from Vineyard Music and Hillsong, but my private music collection includes everything from U2 to Katy Perry as well. I appreciate diversity in music and I wanted this Christmas album to feel like a holiday celebration of sound. I think the major thing that sets this album apart from the others is that I wanted it to be deeply spiritual, but also extremely fun... and the choice of musical styles are a major part of making that happen.
JFH (Michael): "Come on Ring Those Bells" is a fairly obscure song. I did some digging and it appears it was first recorded by Evie in 1977, however I did find another more recent cover or two. You came up with, in my opinion, the brilliant idea of putting that song together with "Christmas Vacation." What gave you the idea, and are you also a fan of the movie?
Joshua: So... growing up in the church, that Christmas album by Evie was always playing during the holidays. I originally sang this song when I was ten years old in a Christmas cantata. When I began making song choices for this album... it was one of the first songs included for the project. But it wasn't until we were driving in the car, listening to the track that had been created for the album, when my son, Lincoln, spoke up from the backseat and said "hey Dad... this almost sounds like that Christmas Vacation song!"... we've watched that movie almost religiously every year on Christmas Eve, and it still gives me a good laugh... so I called my producer, Jack Shocklee, and asked if he would be able to do a mash-up of the two songs together... and I think the combination turned out to be a really fun holiday song!
JFH (Michael): When it comes down to it, "Precious Baby" and, especially, "Gift of Love (Heaven's Kiss)" are my favorites. Tell us a little about those two songs.
Joshua: Well, I wrote both of those songs specifically for this album. "Precious Baby" came from a place of deep worship, where I wanted to acknowledge God's son as a miracle through all seasons of life. The lyrics move from the Shepherd's seeing Him as the Precious Baby, Emmanuel, to the Wise Men adoring Him as the Precious Boy who is a Child King and the Promised Lamb, and finally to us personally recognizing Him as Precious Savior in our heart. Because that song carried a very worshipful tone, I asked my dear friend and fellow worship-leader, Grace Williams, to join with me on that track. I'm very happy with the way that song came across in the final mix... it carries the proper reverence for Christ that should be an integral part of all of our holiday celebrations. The song "Gift of Love' really carried that theme a bit further. I had been meditating upon the scripture John 3:16... it had been swirling in my spirit for days... and I was flying home from South Korea, about 20,000 feet in the air, and all of a sudden the initial words and melody came for this song. My son Lincoln let me put a voice recording on his phone (literally singing mid-flight) and when I got home my wife, Janet and I worked on fine-tuning the final lyrics and the result is what you hear on the album. To me, the song "Gift of Love" can speak to so many different areas of our life journey... but the greatest gift was when God gave us His all through sending His son, Christ Jesus, as the hope for humanity.
JFH (Michael): I read that "C-H-R-I-S-T-M-A-S" was a song that your family used to sing together; I've personally never heard of it. What do you know about its origins?
Joshua: This song was sung by my Mom and her sisters every year at our family Christmas dinner. That's the only thing I really know about it. It was one of their favorite Christmas songs that they grew up singing in Sunday School and it just became a part of our holiday heritage. Another family tradition was listening to my Grandfather read the Christmas story, before we opened any gifts, as we sat around the Christmas tree. So that's why I asked my Grandfather to read a passage from Luke on the intro to this song. I was so glad to be able to include these meaningful traditions on this album... hopefully it will become part of the holiday celebrations of many more families that listen to it as well!
JFH (Michael): "Light One Candle" was written by Peter Yarrow and is a song that spoke for freedom of Soviet Jews; it's known more as a Hanukkah song. What went into the decision to include this one on the album?
Joshua: You know, I love the holiday season so much I felt like I needed to include something that spoke deeper to the roots of our Christian faith and celebration. This year, Hanukkah, the festival of lights, ends on December 24th... so it literally leads us right up to Christmas... the day when we celebrate the light of the world coming to earth. When I recorded this song it meant so many things to me... but one of the main messages I wanted to convey through singing it on the album was to encourage people to not give up through adversity... we must make the most of every moment and light one more candle by inspiring faith as we let our light shine before all men.
JFH (Michael): Are you planning to tour any for Christmas Miracle this year?
Joshua: I won't be touring with the album this year, but I will be hosting a special one-night concert with my good friend, Beckah Shae, in London, Ontario, Canada (my hometown) this November 29th. It's called "Christmas Miracle: A Holiday Celebration" and I encourage you to come if you're close by! Tickets are available online: www.joshuamillsmusic.com
JFH (Michael): Now for the difficult question… What is your favorite Christmas song ever? If I really sit down and think hard, through all of the old and new, I always seem to come back to "O Holy Night." I personally like the version done by Seven Day Jesus from 1998.
Joshua: I know I should have a much more spiritual answer... but my favorite Christmas song is "The Christmas Waltz" and that's why I included it as the very first track on the album. I grew up listening to the Karen Carpenter rendition as my mom always had that album in the Christmas rotation. Growing up, we wouldn't listen to Christmas music until we brought home the Christmas tree and began decorating it... so just hearing that song brings me back to all those wonderful holiday memories of my childhood. On the "Christmas Miracle" album I wanted this song to sound like a holiday music box opening up, inviting the listeners into a wintery wonderland of child-like joy. As far as a more worshipful carol, my favorite would be "O Come All Ye Faithful"... I didn't record it on this album though, because I needed to save some songs for the next one ;-)