Though it's rare, it's always interesting to see a band make a drastic switch in genre. Houston natives
One Way Home
released an EP in 2013 that matched the sounds of groups like Selah, but for 2016, they made the change to a bluegrass/folk sound. And that's what you get when you listen to their latest full-length album.
Front Porch
is drenched in bluegrass familiarity: mandolin, banjo, acoustic guitar, light percussion, and soaring vocals. One of the things that stands out the most is the band's gift for creating catchy and wonderful melodies, both musically and vocally. I love the fun, upbeat guitar melody in "Crossroads" that demands repeat listens, as does the vocal melody in "Surrender" (Although the latter is very radio-friendly in its approach, it's still enjoyable). One Way Home also shines in their musicianship, as they display a great deal of talent on their respective instruments of choice; whether it's fast-picking a banjo or gently strumming the mandolin for a soft ballad, they just seem to get it right. All that being said,
Front Porch
is not a perfect album. Though the vocals all sound pretty good together, individually they can also be a little pitchy sometimes. Additionally, some of the music suffers from a lack of originality. As with almost any genre, it can be hard to make something stand out from the crowd, but there are a few songs here that are a little too similar to other artists' work. "Trouble" is very similar to Crowder's "Lift Your Head Weary Sinner (Chains)," while the fast-paced "Truth" sounds an awful lot like Mumford & Sons' "I Will Wait." They have their differences, indeed, but those songs instantly came to mind upon an initial listen. One Way Home has provided us with a solid album in
Front Porch
, and they really have such potential to become a household name. Some work on the vocals and originality could push them in that direction in an instant. - Review date: 9/4/16, written by
Scott Fryberger
of Jesusfreakhideout.com

Record Label:
None

Album length:
10 tracks: 43 minutes, 24 seconds

Street Date:
April 22, 2016

Buy It:
iTunes

Buy It:
AmazonMP3
Front Porch (4:54)
Trouble (3:20)
Love Found Me (4:43)
Savior (4:36)
Crossroads (4:15)
Reason (3:28)
Surrender (3:35)
Beautiful Heart (4:12)
Truth (3:56)
Hopeless (6:25)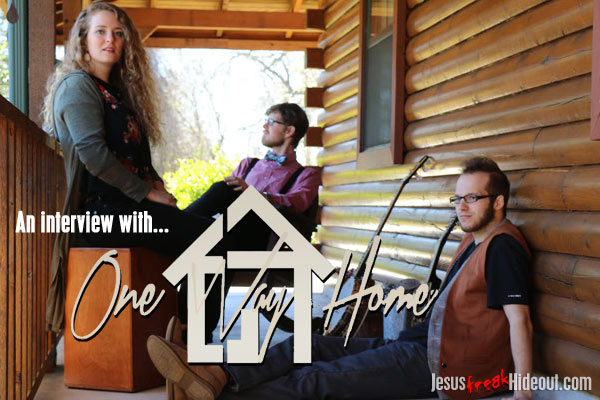 Jesus Freak Hideout (Scott Fryberger): How long has One Way Home been together, and how did the band form?
Justin Smith: One Way Home (with our new sound) formed about one year ago in September 2015. My wife, Leslie, and I - with our good friend, Phil - joined together to try something different musically. We wanted to stand out and be unique without losing the quality of live performances. So we started with something we were good at: harmony. From there, we just worked with our strengths. From guitar and dobro to mandolin and banjo; from adding stomp boxes we built to tambourines, glockenspiel, and other percussive elements. It took many, many hours of practicing and working together to solidify something we were happy with. We are always learning.
JFH (Scott): Does everyone have their own role in the band, or do you all collaborate on everything?
Leslie Smith: Yes! We collaborate on creating music. We really have to with the uniqueness of our style. No one element is more important than the other. Justin writes the lyrics and pitches ideas to us, and then we spend hours working through instrumentation.
Phil Alley: When we are working on music, we have to figure out piece by piece what we want, since we all play multiple instruments live, and there are only three of us.
Justin: I enjoy our collaboration, though it can be tough at times. I think it really grows us musically and personally. For instance, I stomp on a box while playing guitar and singing simultaneously throughout a lot of our set. But when I'm not doing those three things, I need to find other elements to thicken the sound. This style we play has forced me to become a better musician all around.
JFH (Scott): What are some of your favorite musical artists?
Phil: Mumford & Sons.
Leslie: NEEDTOBREATHE, Kelly Clarkson, and musicals.
Justin: Tom Petty, Eric Clapton, NEEDTOBREATHE, Nickel Creek, and classic rock.
JFH (Scott): What is one of your favorite portions of Scripture and why?
Phil: Psalm 23.
Leslie: Psalm 71. The progression of affirming the holiness and standing of God, my refuge, my righteousness, my rock, and pleading to not be far from me. Verse 8 is the plea of my heart that I would always, above all else, with tongue and heart, worship God alone. Verse 17 is a story of my life, with the promise and foreshadowing of verse 18. It closes with a proclamation in verses 23 and 24.
Justin: 1 Peter 3:14-15. I find great strength and exhortation in this text. It pushes me to know that I must stand ready and willing to defend my faith at any point and on any matter, which doesn't come easily. It comes through study and learning. But the end, I think, is beautiful. We must do this as Christians, but out of gentleness and respect. I just love that.
JFH (Scott): Is One Way Home hoping to sign to a major label?
Justin: I would say no. I enjoy what we do and on the scale we do it. It would really depend on the contracts and opportunity. If God opens a door, I won't slam it without first praying and looking at things logically.
JFH (Scott): How long do you typically spend while working on an album?
Phil: Well, it all depends on the writing process. Since Justin writes the lyrics, he could have fifty or so songs. But it could take a few weeks of working every night to have the songs composed and then several more weeks to have them studio ready.
Leslie: Front Porch took from September when we started working on it to April when it was released.
Justin: As long as it takes.
JFH (Scott): Would you like to add anything else?
Phil: Music is what I love and music is all I want to do.
Leslie: I enjoy the freedom and jamability of the Americana style.
Justin: I'm encouraged just to be able to play week in and week out with people I enjoy being around, especially my wife. We are very blessed and we love what we do.