Jaron Micah
is getting an early start in the indie music scene. The 17-year-old singer/songwriter has already put out a self-produced EP entitled
Hold Fast
. His new 5-song EP is largely inspired by his autistic older brother and features a collection of worship songs he has been working on for the past couple of years. He says that despite the challenges of his disabilities, his brother Caleb is the light of his family and has been a teacher in some important areas of Jaron's own life. Jaron's vision for
Hold Fast
is one of hope and encouragement. The EP is largely just Jaron and his acoustic guitar, but there are some sections of additional instrumentation -- such as found in "Blessings Poured on Us," "Sweet Sweet Sound," and "Clarity." Both musically and lyrically simplistic, it's nice to see such a fresh and interesting perspective take root in the world of music. Of the 5 tracks offered up, the clear standouts are the aforementioned "Sweet Sweet Sound" and "Clarity" -- with the closer being my personal favorite. Jaron sings, "
We want to see with clarity. This blinding light is shedding unbelief. And we want to hear with clarity. Just drown out the noise and make our vision clear.
" While this short EP isn't perfect, and Jaron is still obviously a little green, it's still pretty impressive. Jaron Micah clearly has a big heart and wants to spread the love of Christ through music. While some improvements can be made here and there, the overall production is tight. With more work on his craft, Jaron Micah could easily be a name to look out for in the future. Excellent work, young man! We need more people like you in this industry. - Review date: 8/10/20, written by
Michael Weaver
of Jesusfreakhideout.com

Record Label:
None

Album length:
5 tracks: 17 minutes, 17 seconds

Street Date:
June 26, 2020

Get It:
iTunes
Hold Fast (4:03)
Blessings Poured on Us (2:56)
Sweet Sweet Sound (2:59)
Am I Allowed to Ask Why (3:50)
Clarity (3:29)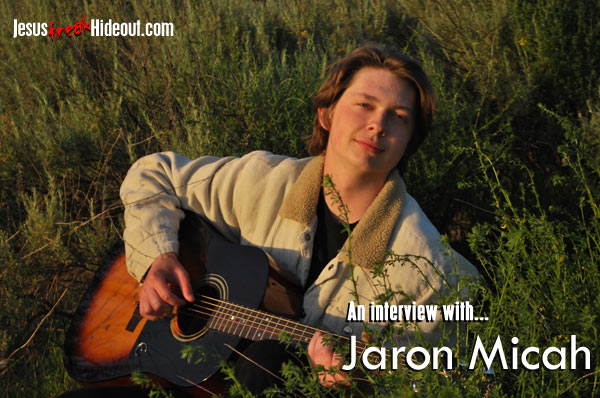 Jesus freak Hideout (Michael Weaver): First off, let me just say how impressive it is that a 17-year-old has grabbed ahold of his dreams that way you have. Bravo! How long have you been playing guitar and singing?
Jaron Micah: Thank you so much for those kind words! Well I have played piano since the age of five, but I picked up guitar and started singing around 11 years old.
JFH (Michael): Playing an instrument is one thing, but where did you pick up things on the production side of the EP? I'm impressed with the sound you were able to capture.
Jaron: Yes, so as I picked up the guitar my creative side started to blossom and I was writing songs by the age of 13. That next year going into high school I started learning about the world of production with my laptop and a cheap studio setup. Through my high school years I grew a passion for arranging music, recording, mixing and mastering it - the whole process of music production! Thank you, yes I believe I definitely found a lot about my artistic style in the making of this EP as every sound was produced in my bedroom studio.
JFH (Michael): My favorite song here has to be "Clarity." I know that you mentioned your brother was a huge inspiration for this EP, but can you talk about where this song came from in particular?
Jaron: Yes, my brother is always an inspiration for my music and often the purpose for which I draw from the heart to write songs. I wrote the last song "Clarity" in the last week of my scheduled recording... I had this prayerful idea one night that in this time of incredible uncertainty we needed 'clarity.' Well that next morning I woke up with the chorus hook and a few lyrics in my head. I grabbed my guitar, found the key and chords, and began to write the main chorus and fill out the song with some verses. I truly believe God gave me this song, most certainly He gave me the spark to create the chorus, which turns into an anthem later in the song with a choir singing it aloud together!
JFH (Michael): Who are some of your musical influences or heroes?
Jaron: I have a ton of musical influences which have impacted my path as a musician and music-lover growing up. The Christian music influences of mine that are most relevant to my EP include Steven Curtis Chapman and Pat Barrett. In terms of secular music, I love Bon Iver, John Mayer, Kings of Leon, Ben Howard, and many other artists with folk / indie flavors.
JFH (Michael): With all of the craziness going on in the world right now, have you found yourself having more time to work on your music?
Jaron: Most definitely - amidst the many challenges this season has brought, one of the biggest blessings was it gave me the time and opportunity to stick my head down and creatively work releasing an EP in essentially two months. Now, it was a lot of hard work and I stayed very busy because I did everything for the project even beyond the music as I published and released it (also created a website to put EP content on - jaronmicahmusic.com).
JFH (Michael): Do you plan on doing music full-time after high school, or do you have other plans as well?
Jaron: Yes, I do. I don't know exactly what the future holds in terms of a specific job in the industry, but my dream is to make money and support myself doing music professionally. My vision is to produce music cutting records for artists being a part of the music creation process. My college plans include going to a college with a commercial music major to give me experience and knowledge of the music business, while improving my musicianship. My dream university as of now is Belmont in Nashville, Tennessee!
JFH (Michael): What do you hope God is able to do through the release of Hold Fast?
Jaron: Great question!... Throughout the journey of creating "Hold Fast", the predominant theme of hope became more and more clear to me through my writing of songs like "Clarity" and the situation in which I was releasing the EP. My hope was for God to use it to encourage people and point people to him during this pandemic of Covid-19. I hope this to be especially true in my surrounding community of Ventura County as my music has been shared in local newspapers as well as on my local country radio station.