Jesusfreakhideout spotlighted Stephen Miller's excellent album Liberating King in 2015. Miller is back now with an EP complete with four new worship songs. In God We Trust is Miller's newest outing and continues his mission of writing songs to worship our Creator. The EP opens with "King of All (In God We Trust)," a mid-tempo track that sells the central theme of the album. "Waves of Grace" follows and focuses on the forgiveness and mercy found through the cross of Christ. Miller sings, "Waves of mercy crashing on me. Your cross has washed my guilt away in waves of mercy," and goes on to describe the blood as, "Another crimson wave comes crashing over me," in the bridge. "Our God Majestic" is up next and talks about God's forgiving nature and His kingdom. "Sanctuary For My Soul" wraps up the short EP and is about how God's presence is a safe place and sanctuary: "God I rest in Your control. Sanctuary for my soul." In God We Trust is just a short snippet of Stephen Miller's ability, but it doesn't quite live up to its predecessor, Liberating King. "Waves of Mercy" and "Sanctuary for My Soul" are in contention for the top spot on the EP, but nothing here reaches the level of "Our Father." The link to Tomlin is also heard much louder on this EP. Overall, if you listened to and liked Liberating King, or you like artists like Chris Tomlin, give Stephen Miller's In God We Trust a listen. You likely won't find it to be the most powerful set of worship songs you'll ever hear, but there is definitely some solid material present. Let's hope Stephen has more music up his proverbial sleeve in the very near future.
- Review date: 10/19/16, written by
Michael Weaver
of Jesusfreakhideout.com

Record Label:
None

Album length:
4 tracks: 20 minutes, 28 seconds

Street Date:
October 18, 2016

Buy It:
iTunes

Buy It:
AmazonMP3
King of All (In God We Trust) (5:21)
Waves of Grace (4:55)
Our God Majestic (4:46)
Sanctuary for My Soul (5:26)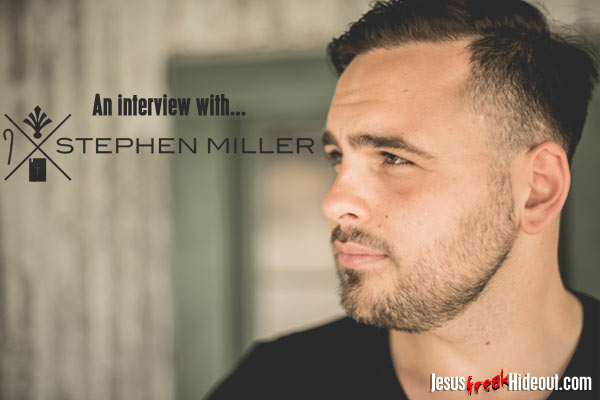 Jesus Freak Hideout (Michael Weaver): What have you been up to in the past year and half since you released Liberating King?
Stephen Miller: Man, it's been a crazy time! We moved to Dallas and I joined the staff of Prestonwood as a worship pastor here. We love it! Feels so much like home and my family is really thriving. I released a second book, also called Liberating King in May and have really been encouraged by how it has been received. Then just this past month, my wife and I began the process to adopt our 6th kiddo - a little 11 year old girl from China. We are really excited about it and can't wait to see what God does!
JFH (Michael): What was it about these four songs in particular that led you to release them as a small EP?
Stephen: I think the urgency of these four songs in particular really felt like they belonged together. With the election and all the craziness that has been happening in our country and our world this year, it felt like the right songs at the right time. I have about 100 other songs right now, and I'll probably do a full length again in the next year and a half or so, but I just felt a sense of urgency to get this message out for this time.
JFH (Michael): There have been a lot of jokes, memes, and videos (see John B. Crist) recently about water references in worship music, but you actually pulled a pretty good one off in "Waves of Mercy." Where did the idea of Jesus' shed blood washing over us like a crimson wave come from and how did you put it all together?
Stephen: Haha! As long as Christian music is being written, there will be people who like to poke fun at it - and sometimes for good reason. Good Christian satire is good for the soul. As for this particular song, I was actually in Florida at the beach and taking a walk along the water when I turned back for a moment to see a mile or so of my footprints. I really tend to connect with God through nature, so as I began to look out on the ocean and the sky and just how boundless and beautiful it was, I was struck by the magnitude of the glory of God and just got caught up in worship for a few moments there. When I looked back the direction from where I had come, the footprints were completely gone. The waves had come one after another and completely washed them away. In that moment I felt as though God was giving me such a vivid picture of his grace and mercy. That no matter what I have done, there is enough grace for it. No matter from where I have come, there is enough mercy for it. Because of the blood of Jesus I can be made clean and whole and new.
JFH (Michael): Are there plans for an upcoming full-length album?
Stephen: I'm not in any rush. I'm having a ton of fun with my church and our Prestonwood Worship projects and I'm having a ton of fun with my family. So I'm not in any particular hurry. But I would guess that I'll get the itch sometime next year.
JFH (Michael): Last time we spoke you were on tour with Citizens and Saints and were gearing up for a tour with Kings Kaleidoscope. How did those tours go, and do you have anything else upcoming?
Stephen: Yeah, man those were fun dates. We love those guys. Such great music and great hearts for the Lord. I don't have any specific plans for a tour anytime soon. But you never know.
JFH (Michael): How has God been able to use you and your ministry to spread his word lately?
Stephen: I think a huge opportunity right now has been with this EP, actually. People have really been freaking out this year. It's like they have lost their minds and lost their trust in God's perfect power and plan. So it's been really humbling to have these songs at this moment in time to really encourage the church that God is completely wise and good and in control and that we can trust him.
JFH (Michael): I'm curious for a little additional insight into Stephen Miller… What's your favorite passage of scripture and why?
Stephen: You know, it's hard to beat Romans 8. The entire chapter is sort of like drinking from a fire hose. Like every Bible I own just has every single verse highlighted. But Ephesians 2:1-10 is a favorite as well, and I think more than any other Scripture, the Lord often reminds me of Matthew 6:25-34 to help me slow down, breathe deep and just rest in his perfection. So that's not really ONE favorite, but I think that's probably okay. Haha!