Throughout human history, mankind has looked up to the sky and asked "Why?" It's a question Creative Soul Records artist
Rachel Moore
became very familiar with; as she struggled through years of depression, illness, and doubt, she kept asking God "Why?" When He inevitably brought Moore the victory He had planned for her, He led her to being a counselor, an author, and then a singer/songwriter. Teaming up with her musically-gifted husband, Rachel Moore began writing songs for a full-length album. Before the album's release, she's testing the water with a couple of singles, the newest of which is called "Insanity." The single is a look into some of the trials she had gone through when she was younger, with the choruses focusing on the need for God to rescue her. Musically, the quieter mood is rather appropriate for the message of the song, though the choruses could definitely benefit from a bit of a louder sound, perhaps with another layer or two of sound. That being said, I do appreciate the music itself, with its atmospheric vibe and plucked violin strings. Where the song really seems to struggle, though, is in the lyrical melody. Specifically, the song almost feels like the lyrics and the music were written apart from each other, with the lyrics being shoehorned into the music to try to make them work together. Combined with some of the less artistic, more straightforward, informational lyrics, it can create some awkward-sounding moments (
"Sought all the self-help books, heard all those profound, only to end up in the lost and found, I had it all an incredible family, nothing at all too depressing, but my mind would not quit stressing me
"). Despite some of the song's weaker portions, the message is easily relatable for those struggling with depression. We'll see how the song fits in with the grand scheme when Rachel Moore releases her debut album sometime in the next year. - Review date: 10/28/17, written by
Scott Fryberger
of Jesusfreakhideout.com

Record Label:
Creative Soul Records

Song length:
4 minutes, 9 seconds

Street Date:
September 8, 2017

Buy It:
iTunes

Buy It:
AmazonMP3
| | | |
| --- | --- | --- |
| Insanity (4:09) | | |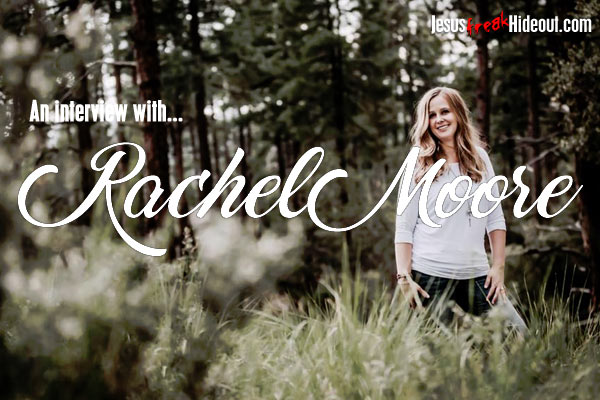 Jesus Freak Hideout (Scott Fryberger): Is "Insanity" the first song you had ever written?
Rachel Moore: "Insanity" is actually the eighth song I wrote. Many years before I could physically sing again, I wrote a book - never published - about my life, what God has taught me through the trials and beauty, and with a purpose to help those reading trust. So, from the chapters, I started writing songs. So "Insanity" was chapter eight in my story.
JFH (Scott): What specifically inspired the song?
Rachel: I went through 25 years of severe depression. Some of my earliest memories are of lying in bed asking Jesus to take me. "Insanity" comes from those years of feeling lost, alone, and hopeless. The end of the song only touches on the amazing grace and love God had for me during it all and the healing only He could give me.
JFH (Scott): Do you have an estimate on the release of a full-length album or EP?
Rachel: I have one other single out right now called "Grafted In," which is about our adoption process of our youngest daughter. As for a full-length album, we are hoping to get that out by the end of next year. This will give my audience a look into my story and view on how Christ took me through it all. I am both humbled and amazed at seeing what He does with it all.
JFH (Scott): Has music become your full-time ministry, or do you have to find a a balance between music and counseling?
Rachel: I have found that God has called me to both counsel through music and pastoral counseling, in which I am honored to have ministered to many throughout the years. The funny thing is that God does all the work; I am simply His servant. My hopes are to someday merge my music and counseling. It sounds odd, I know, but sometimes the things that seem so impossible are the things God uses to reach the unreachable.
JFH (Scott): What roles do you and your husband play in the writing, composing, and recording aspects?
Rachel: I am so thrilled that you asked this question. My husband, Andrew Moore, is amazing. Not only can he sit down and play any tune he hears, but he has the gift to compose some of the most glorious music I have ever heard. So when I started writing my story to sing, he read the lyrics and started creating the music to it. We are by no means professionals, but we have just allowed God to guide. Once I had the lyrics and he did his thing, I recorded my songs on GarageBand and sent them to Eric Copeland from Creative Soul Records. He then produced our music to what I could record vocals to professionally.
JFH (Scott): Is there a recent song or album by another artist that you keep finding yourself going back to?
Rachel: Wow, that is a hard one, because I have a ton of favorites, but at the moment, two artists have my heart, so to say. The first artist would be Crowder. He has such passion. His style and use of the banjo in a lot of his songs are so pleasing to my musician soul. The second would be NF. I love how NF is so real with his songs. He shows the struggles we all fight with and always brings the glory back to God. That is my heart for my music: to touch on the taboo subjects and be real. Real for myself, my family, and those listening, but also share the real love God has for us.
JFH (Scott): Is there anything else you'd like to add?
Rachel: Yes, I would like to add that, even when we think we are so far gone from what we think, the world thinks, or the people closest to us think, we are not. God still loves us, cares for us, and is waiting to hold us. He is just waiting to give us a new song.