Less Than Greater Than
is a rock band from the Oklahoma City area. The band's music is undoubtedly rock and roll, but it also carries a 90's alternative vibe as well. Most of the album has this 90's feel that has the potential to sound dated to some, but just right for others -- especially, for those who, like me, refuse to give up the 90s era of rock music.
Let It Breathe
is the band's second release and is the follow-up to 2000's
Knowledge Boat
(recently remastered and released digitally). The songs on
Let It Breathe
have enjoyable rhythms, crunchy guitars, some nice solos, and the perfect set of vocals to match. The album is more of an EP with only five songs and a relatively short runtime of only twenty-two minutes. In the five songs present, the top track honors would be given to "Tragedy," but the 90s anthem, and title track, "
Let It Breathe
" is a close second place. Both of these songs have the perfect mix of that alt/rock feel and really great solos. The closing track, "Thirty Three" is also a fun listen, but the horns cut the intensity of the song a bit. A searing guitar lead playing the horn part could've really set this one apart from the mix. It's understood that the horns were meant as a fun addition, and they do add a little playfulness to the mix, but I can't help but want to hear that slightly more aggressive version of the song.
All in all, Let It Breathe is a fun listen. It won't appeal to fans of today's modern rock scene as much, but it has massive potential for those rockers clinging to the days when alternative rock ruled the roost. The production value isn't flawless, but it's still produced very well. After a slight volume increase on your stereo, you'll settle into an even and clear listening experience. Less Than Greater Than still remember what it's like to rock and have fun, even after 18 years between releases. Music fans who want to do the same should definitely get some enjoyment out of this one.
- Review date: 6/1/18, written by
Michael Weaver
of Jesusfreakhideout.com
JFH Staff's Second Opinion
Summer time is a wonderful time to listen to both nostalgic hits and explore some new artists that may or may not ever be on your musical taste radar. As an exploratory experience, we have the latest release by
Less Than Greater Than
,
Let It Breathe
. A collection of 5 tracks, this EP is an enjoyable batch of music that feels like it still has the dust of the 90's on it. While some may scoff at a reference to 90's music, others may accept it as a badge of honor. (Note to readers: anyone who would scoff at probably the greatest decade of music has some serious issues.) Songs like "Let It Breathe" and "Thirty-three" have a wonderful sound that would parallel Plankeye or Hokus Pick. Use of stacked vocals, riffing guitars and occasional horns leave each track feeling musically saturated without feeling muddied. Both "Post Office In A Ghost Town" and "Tragedy" give off a throwback vibe reminiscent of the art of REM or Smashing Pumpkins. Less Than Greater Than knows who they are and instead of trying to reinvent themselves for a synth-driven pop world, they are confident with their grunge and melancholy sound. It may not be what's popular right now, but it's honest art in a world of make-up and Instagram filters. Let's be honest, sometimes an off-the-beaten-path album is what you need. I can't say that
Let It Breathe
is an album for today's world, but it's a good reminder of the art that helped keep the music world spinning. So, if you're looking for something different but somewhat familiar, give Less Than Greater Than's
Let It Breathe
a chance. You may or may not find what you're looking for, but it'll be something you haven't heard in recent years. - Review date: 6/9/18, written by
Ryan Barbee
of Jesusfreakhideout.com

Record Label:
None

Album length:
5 track: 22 minutes, 1 seconds

Street Date:
March 23, 2018

Buy It:
iTunes

Buy It:
AmazonMP3
Just Like To Say (4:37)
Let It Breathe (3:43)
Post Office In A Ghost Town (5:35)
Tragedy (3:39)
Thirty-three (4:27)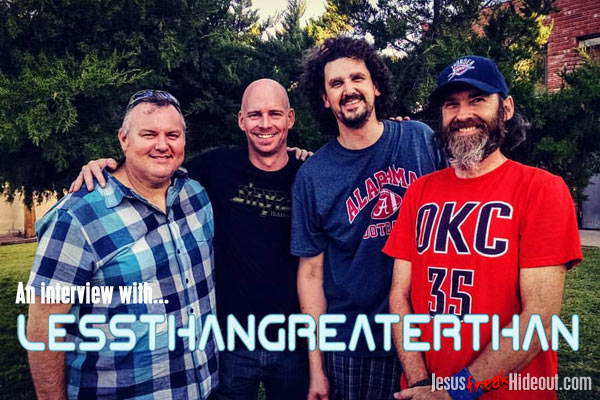 Jesus Freak Hideout (Michael Weaver): Other than the apparent math reference, what's the story behind the band name?
Less Than Greater Than: While each of us had opportunities to play music with Chris Roberts (lead guitarist) separately, our first concert together was at Olivet Baptist Church Youth Ministries Valentines Day banquet in February, 1996. We needed a name, so the youth pastor could put it up on the youth room announcement board. Greg Keithe (bass guitar) had a list of band names that he had been working on, and Less Than Greater Than was one of our favorites. Incidentally, Leo Allard (rhythm guitar) found out our name after the show when he looked at the announcement board and asked who Less Than Greater Than was. Of course, we like that you can write it out like the symbols < >, and for a while we shortened it to LTGT, but in our current climate, that sounds and looks a little too much like just another one of the gender acronyms. We would be lying to you if we told you our name was always said or spelled correctly... Over the years, we've been called Greater Than Lesser Than, Less Than More Than, and once in a church bulletin, Christ Roberts and the Less Than Great band. The meaning of our name comes from a mash up of thoughts: one of John the Baptist near the end of chapter 3 of the gospel of John; one from Paul in his letter to the Philippians in chapter 2; and one from Galadriel when Frodo offers the ring of power to her. There is a real power that can work through us when we don't put ourselves first.
JFH (Michael): The title Let It Breathe obviously brings thoughts of the respirator system to mind, but where did the idea of the lung spaceship come from for the album cover?
Less Than Greater Than: Peter Lewis (drums) had a vision for the idea of lungs, but didn't want them to look static. Anytime we've seen a picture of lungs, it's always been like a "THIS is what lungs look like after you've smoked for 25 years" kinda thing. But breathing is an action, a thing we are all constantly doing, while not thinking too much about it, at least until we have a difficult time doing it. We like the idea that if we just keep breathing, who knows where our lives or our songs will take us. The idea for the lungship came from Jerry Bennett, a comic book artist and friend of ours who designed the album artwork. We tried really hard to keep it from looking like other spacecraft rock album covers. And we love the result!
JFH (Michael): What led the band to release more material after 18 years? Have you guys been playing together this whole time, or did you recently reunite for this project?
Less Than Greater Than: As musicians and artists, it is part of the 'breathing' process, if you will, to write, to collaborate, to perform, and to catalog. Each of us has been writing songs all this time, and that continues to be one of our band's strengths. We chose to lay down the tracks ourselves this time to save money, to go at our own pace, and to get the sounds we have always wanted to hear on our songs. Back when we released our first e.p, Knowledge Boat, music in the church was going through a paradigm shift. We started out as a rock band, but then after a time, youth pastors would ask if we could play some praise and worship songs as well. Of course, we did, and the next thing we knew, our identity became that of a praise and worship band, and by the 2000's, we were playing 150 dates a year for churches, camps, revivals, Disciple Now's, etc. It was an exciting and frustrating time. Exciting because we got to meet so many people and we got to worship the living God alongside them, and frustrating because that 'breathing,' or the process of us being the band we naturally were, had become more and more difficult. We did step back, and totally stopped playing together for a time, as we needed to fight for our identity to become ours again. But we reunited well before this recording, yes, and actually did the recording so we can remind folks of who we are, and hopefully to open some doors for places to play.
JFH (Michael): I hear a strong 90s influence in your music. Who are some artists that inspire you musically?
Less Than Greater Than: The 90's were a great decade for Christian rock! Jars of Clay, DC Talk, Newsboys, Audio Adrenaline, Third Day, All Star United, Sixpence None the Richer, Chagall Guevara, Poor Old Lu, Starflyer 59, OC Supertones … man, we could drop band names all day. For us, when we approach a song we've written, we just really want it to be the best that it can be. Some of the bands we feel have done that consistently are King's X, Collective Soul, and the Lost Dogs. If we were to give you an individual list from each of us, the webpage may never finish loading. But here is a short, one band per person favorite, in no particular order: Thin Lizzy, Switchfoot, The Beatles, the Foo Fighters. Also, we all love licorice, so maybe THAT'S where our true bond lies...
JFH (Michael): My favorite song is "Tragedy," followed closely by "Let It Breathe," can you talk about the two songs a bit?
Less Than Greater Than: Thank you! "Tragedy" - Leo wrote this one by himself. We see people everyday as categories. Evangelical or progressive. Stoner or Prep. Liberal or Conservative, Pro-Choice or Pro-Life. Marvel or DC. Blue collar or White collar. Coke or Pepsi. Target or Wal-Mart. But there is a struggle in each of us to not be put in a box, because once we are placed there, man is it tough to get out! The song speaks to letting people be who they are, because when they try to be something they aren't, the world is robbed of their individuality. And we believe God placed that individual here for a reason. "Let It Breathe" - Chris wrote the music for this one, based on this really cool guitar riff, and then Peter named it. Finally, Leo and Greg fleshed out the rest of the lyrics. This song was truly a collaborative effort! "Let It Breathe" was the one song that we hadn't played out live before we recorded it, as we literally were learning it in the studio. The recording fell into place quite naturally, and it may have been the easiest of the 5 songs to record. The guitar solo is enhanced by some of Jesus' words from the sermon on the mount.
JFH (Michael): Does Less Than Great than have any tour plans at all?
Less Than Greater Than: The main reason for our recording this project is to get it into the ears of people so we can go out and play. We are currently fine tuning our set, working on our social media presence, and preparing to have our songs ready to play live. Performing in front of other humans gives an energy and edge to our music that we all enjoy. We would love to tour, and look forward to many new opportunities to share our music with anyone who will give it a listen.
JFH (Michael): What are you hoping that God will do through the band and this release?
Less Than Greater Than: We are hoping to reach many new people with a message of hope and encouragement found in our music. From the very beginning, we have always relied on His timing and direction for our journey as a band. We believe that there are others out there who would want to come along for the ride.