Some bands get together and have an official album within a year or two. But sometimes, a band takes a few years to really hone its craft before recording anything. Such is the case for Illinois rock band,
Distant Haze
. Although they did release a short EP in 2017, the year after they formed, they took another three years to put out their first full-length record. This proved to be a wise decision, as
Lost Time
is a strong effort. Half rock band and half jam band, Distant Haze fills each song to the brim with driving, '80s-inspired rock & roll and fiery guitar solos that bring out their Jimi Hendrix influence. The guitar work is easily my favorite aspect of the album, especially the solos, which appear in nearly every track, and sometimes comprise a third (if not more) of a song's runtime. While the musicianship is generally solid, there are also some opportunities for improvement. While the vocals aren't necessarily bad, a producer who specializes in vocals could help the band bring out their absolute best. Additionally, the lyrics can be a little weak at times. They cover important and sometimes bold topics, but the message is a lot stronger than the way it's conveyed. "Explain It Away" is a great example. The song confronts atheism by asking questions atheists can't really answer, but the lyricism used to do so could use some work: "
You plead lack of evidence / say I have the burden of proof / but isn't existence enough? / Science explains the how and no why / some phenomena can't be explained / and truth can be hard to see / but I'm not one to leave stones unturned / then claim to know everything
." Ultimately, Distant Haze is one of the more promising newer artists I've come across.
Lost Time
is a bit of a mixed bag, but it shows that the band has what it takes to become a household name. - Review date: 4/20/21, written by
Scott Fryberger
of Jesusfreakhideout.com

Record Label:
None

Album length:
10 tracks: 50 minutes

Street Date:
November 21, 2020

Buy It:
iTunes

Buy It:
DistantHaze.net
Twist The Knife (3:58)
Eye For An Eye (2:42)
Walk Into The Light (3:44)
Peripheral (6:03)
Explain It Away (4:28)
All Of My Memories (7:34)
Ignition (3:15)
I Can't Be The One (5:48)
Lost Time (7:56)
New Day (4:44)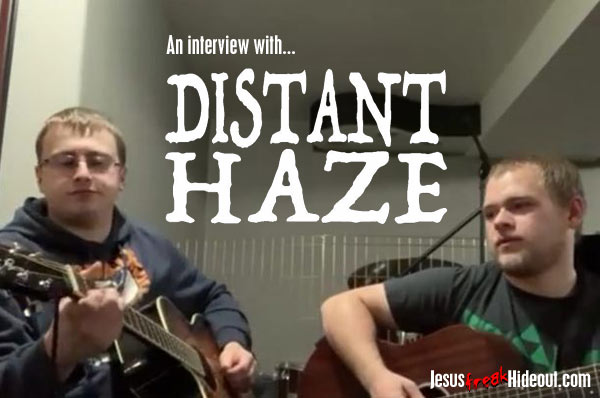 Jesus freak Hideout (Scott Fryberger): To start, can you give us a rundown of the members of Distant Haze?
Distant Haze: Jake Stonebraker (Lead and Rhythm Guitar, Vocals), Zach Clark (Drums, Vocals), and Gabe Krueger(Bass Guitar)
JFH (Scott): I'm always interested in the meaning behind a band name. Can you tell us about the name "Distant Haze?"
Distant Haze: Our former bassist (Luke) came up with the name "Distant Haze." We were brainstorming all sorts of names at the time, and that one just stuck. We just thought it sounded cool at first, but didn't really consider the meaning behind it. After some time and a lot of thought, the meaning revealed itself to me/us. The name "Distant Haze" encapsulates the human perspective, especially as it relates to God and the grand scheme of life. We (as humans) have such a limited perspective on what really matters. Where God sees the full, clear picture, we see a far-off blurry version - a "Distant Haze" if you will.
JFH (Scott): I love the pure rock & roll sound of Lost Time. Who are some of the artists that influence your sound?
Distant Haze: That is a loaded question. We have many influences since we are avid music listeners. Here is a short list of artists who have influenced our sound on this album:

Van Halen
Thrice
(The) Jimi Hendrix (Experience)
Buckethead
The Rolling Stones
Opeth
Radiohead
Rage Against The Machine
JFH (Scott): You've been around since 2016, but Lost Time is your first full-length album. How did you decide it was finally time to release a full album?
Distant Haze: We finally had enough songs and experience as a band to pull it together.
JFH (Scott): You cover a wide range of topics on this album, from the loss of a loved one to revenge to atheism. What do you hope listeners take away from Lost Time?
Distant Haze: There are a few things. For one, we hope that listeners find messages that they can relate to. Being able to connect with a song/lyrics on a personal level is very powerful. We also want people to think. In life, there are many important things that people choose to ignore. We would like to give some spotlight to these ideas. Lastly, we just want to give some hope. There is a lot of negativity out there, and we would love for listeners to feel hopeful, less alone, and just generally better than they did before they listened to us.
JFH (Scott): With touring being a real possibility in 2021 and beyond, are you currently looking to book any shows?
Distant Haze: We would love to book shows!!!
JFH (Scott): If you could play a show with any other band, who would you choose?
Zach: It would be really cool to open for Thrice!
Jake: Sammy Hagar & the Circle
Gabe: Demon Hunter!
JFH (Scott): Do you have anything else you'd like to share?
Distant Haze: We have a website. https://www.distanthaze.net