The Goldilocks Enigma
is aptly named, consisting of a duo, known only as "The Husband" and "The Wife." The Husband handles the multi-instrument duties, songwriting, and vocals, while The Wife lends her voice to background vocals and songwriting. This is music self-described as "Christian Rock straight out of the swamps of deep Louisiana." Their newest release is titled
March to Crumbling
, and it's the direct follow-up to 2014's debut,
Bread & Circuses
. The husband and wife's mysterious bio, the inspiration behind their band moniker, and the mission of their ministry clue prospective listeners that they are in for something far outside the box. With a mixture of 70s psychedelia, grunge, and garage band production, The Goldilocks Enigma can be lauded for their earnestness in the message. However, there is plenty of room for growth when it comes to execution musically. Production-wise this has a certain DIY charm, but often this reviewer was thrown off by the muffled sound of many of the songs which made them hard to hear. Unfortunately, the combination of some out-of-time instrumentation, the warbled production, and vocals that didn't always blend well enough, made for a distracting listen. This is a shame because the groove of most of the songs was arresting enough to draw me in. Overall,
March to Crumbling
is an interesting listen. Production issues aside, things like the Scripture-inspired lyrics add a nice spin, and clearly display the duo's desire for their music to point listeners to Christ. If you want something eclectic and don't require pristine production, then The Goldilocks Enigma just might be the puzzle for you. - Review date: 5/11/20, written by
Josh Balogh
of Jesusfreakhideout.com

Record Label:
None

Album length:
12 tracks: 47 minutes, 43 seconds

Street Date:
March 3, 2020

Get It:
AmazonMP3
Donning Our Blinkers (4:01)
One Slip & We'll Be Gone (3:04)
300 Denarii (4:26)
Tripped by the Shadows (5:03)
Another Way (3:43)
The Page Afore (4:00)
Sometimes up Is up Is Down (3:41)
As in Those Days (3:35)
Free Will Isn't Free (4:34)
Strength Fails (4:24)
Seasons Be Gone (3:58)
Try to Wrap My Head Around It (3:14)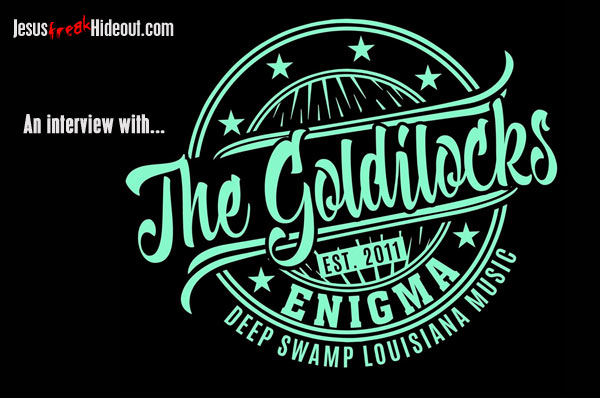 Jesus freak Hideout (Josh Balogh): For those uninitiated, what is the inspiration for your band name The Goldilocks Enigma?
The Husband: The book The Goldilocks Enigma: Why Is the Universe Just Right for Life? by Paul Davies, a physicist who explores how and why our universe seem custom-made for life.
JFH (Josh): Who are the artists that you'd count as the biggest influence on your music?
The Husband: God the Creator in His infinite wisdom, creativity, and sense of humor. Frank Zappa & Franz Schubert.
JFH (Josh): What has been the most challenging thing in your lives as a result of the current pandemic?
The Husband: Attempting to understand society and its willingness to embrace the fear and panic, openly taking part in it, instead of embracing Christ, and understanding hat this current world, and all our possessions, are not our home, nor meant to go with us when we depart.
JFH (Josh): Where do you find yourself drawn most often in Scripture, and why?
The Husband: Job 38, where God challenges Job with a series of questions so stunning and profound, they humble him to silence, and finally satisfy his existential discontent. Hearing the voice of God describe His creation is so powerful, we suddenly "see" Him, as did Job: "I had heard of you by the hearing of the ear, but now my eye sees you."
JFH (Josh): When people hear your music and experience your ministry, what do you hope they take away with them?
The Husband: We hope to point people to Christ; re-evaluate their perception of themselves, others, and God.
JFH (Josh): What would be your dream 2 to 3 artists to open for on tour?
The Husband: We have no desire or plans to play live, so we really have never thought about it.
JFH (Josh): When writing your songs what usually comes first, music or lyrics?
The Husband: Usually music but a few songs were lyrics first and then the music flowed.