It's never too late to start a music career. Describing his music as a "midlife crisis with a bit of optimism,"
Nathan Wheeler
kicked things off last spring with a self-titled, three-song EP (or six, if you count the bonus tracks on Bandcamp - this review, however, will cover the three standard tracks). Wheeler's style is pretty tame, but nonetheless seems to take a lot of influence from artists like Bruce Springsteen and The Killers, most noticeably the Americana rock & roll guitar tones, but occasionally in the vocal style as well. But instead of upbeat tracks like "Born in the USA" or the driving rhythms of "Mr. Brightside," all three of Wheeler's tracks have a much slower tempo, generally taking their time to really get going. While this does allow the songs to breathe a bit instead of smacking the listener upside the head with a barrage of ideas, it can be a bit wearisome at times. However, in contrast, the four-and-a-half minutes of "Some Advice" are utilized well, building up quite nicely with layers of sound and not even feeling like it's that long. Lyrically, the "midlife crisis" descriptor comes into play, as the songs do spend time reminiscing on the past, specifically getting past mistakes and the tougher times in life. "Better Day Now" is the prime example, with Wheeler thinking out loud, "
When I go to bed, I think about what could have been / change this all around and start again / but there is no going back / it all happened and there's no take-backs / I'll live with what I've done and face the facts / everything is undone / hey now, we might find a better day now / one foot in front of the other / hey now, we might find a better day now / one hand stretched to another
." I should also point out that he does use the term "half-*ssed" in this song; it's clearly not meant to be vulgar or insulting to anyone in particular, but some may find it offensive. But in the end, Nathan Wheeler's EP is a pretty decent start for the musician. It might not turn many heads, but it shows that Wheeler has a ton of potential. - Review date: 8/10/22, written by
Scott Fryberger
of Jesusfreakhideout.com
JFH Staff's Second Opinion
Nathan Wheeler
is putting himself out there and it's to be commended. It says something about a person when they are willing to leave the safety of the consumer and/or critic to put their creative expression out into the world. As such, I'm a fan of first attempts. Of course, all first tries don't soar to the top of the charts, but they do provide a start, putting you on the map. With his debut EP, the journey has moved from theoretical to actual. With these three singer-songwriter tunes, Wheeler makes his introduction, and while there are plenty of rough edges (pitchy vocals, and some cliches in the lyrics), these are sincere songs with an agreeable charm. The chorus of the opener, "Better Day," has a militant drum beat that serves the song well as it builds big toward the end. "Some Advice" seems influenced by artist John Mark McMillan and the gang vocals and lead guitar line show a good fit for the potential direction of future releases. All in all, this is a fair beginning with room to grow. - Review date: 8/10/22, written by
Josh Balogh
of Jesusfreakhideout.com

Record Label:
None

Album length:
6 tracks

Street Date:
April 2, 2021

Buy It:
Bandcamp
Better Day Now (4:55)
A Part Of Me (4:11)
Some Advice (4:27)
Better Day Now reimagined (5:00)
A Part Of Me reimagined (4:11)
Some Advice reimagined (4:29)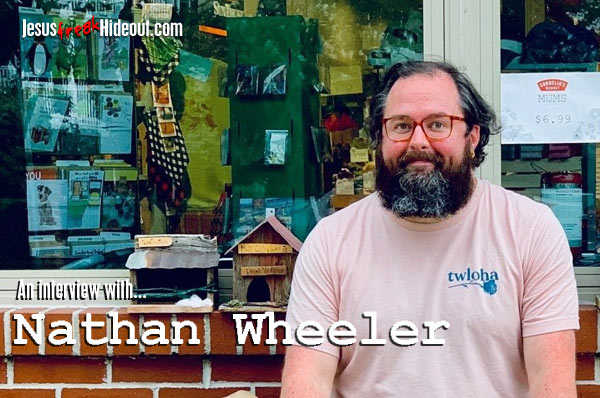 Jesus freak Hideout (Scott Fryberger): I love the description "midlife crisis with a bit of optimism." Is that the mission statement for your music, or you come up with that after writing the lyrics?
Nathan Wheeler: That phrase seemed to fit what I'm writing and exploring and where I am in this stage of life. It was also at the end of 2019/beginning of 2020 so there was this feeling of getting older, the world getting harsher, and where will this all end up.
JFH (Scott): I noticed that the EP has three bonus tracks on Bandcamp, which are reimagined versions of the originals. How did you get the idea to create these alternate versions?
Nathan: When I was writing these songs all of them were just me and my acoustic guitar. So when we were in the studio and layering all the different instruments there were times when we would play it back and I missed just hearing it that way. So as I was getting things together I started to peel back the layers and thought these versions represented that time of just me in my living room hearing these songs for the first time.
JFH (Scott): In the year and a half since the EP's release, have you begun work on new material, whether EP or full-length record?
Nathan: I put out a demo of a song called "Forbidden Fruit" that will eventually become a part of an EP or full-length. I've got five songs in that demo phase now and hoping this winter to get those completed.
JFH (Scott): What are you hoping listeners take away from these songs?
Nathan: I think there is hope. It exists. Even when our world seems cruel. But it has to start with being real and honest. For years I never shared any of the things I wrote out of fear or rejection and it got to a point where I didn't know how else to express what was going on in me so I let go of those fears and leaned into hope.
JFH (Scott): Who are your musical inspirations? And do you have a favorite album?
Nathan: It's funny you ask that. My favorite band is Zao. And lots of my favorite music is aggressive/loud and that's obviously not how my music comes out. I always wanted to have a sound like that but that's just not what comes out of me. Beyond that though I love all types of music and artists from mewithoutyou, to Rufus Wainwright, to Manchester Orchestra, to Sigur Ros, to Phoebe Bridgers.
JFH (Scott): On what social media platforms can people connect with and keep up with you?
Nathan: Sure! I've got an artist page on FB (nathanwheelermemphis) or connect with me on bandcamp: https://nathanwheelermemphis.bandcamp.com/
JFH (Scott): Is there anything else you'd like to share with our readers?
Nathan: I've spent years working with younger people and recently wrote a book that explores expanding theology in youth ministry. If that is something folks are interested in they can check out the book online at https://theyouthcartel.com/product/a-faith-of-their-own/