Music really is a universal language. No matter where you go, it seems you'll be able to find a sound that is familiar. For instance, if you head south to Santa Catarina, Brazil, you might just run into a pop punk band known as
Inner 29
. This trio of rockers has only come together in the last year or so but are ready to show the world what they're made of with their four-song EP,
Now and Again, Here
. As far as sound and production, Inner 29 is quite impressive; in fact, the whole EP sounds like it was touched on by the finest producers available. Stylistically, they stay pretty safely in the early 2000's pop punk vein, with hints of early Relient K, My Chemical Romance, and a little bit of Roper (the synth in "Falling Apart" reminds me of several tracks from Roper's
Brace Yourself for the Mediocre
). The first three tracks are fast-paced and a lot of fun, with solid guitar work and trace amounts of synth and piano, while the last song, "Sleep Well Tonight," spends at least half of its seven-minute runtime as a keyboard-led ballad before cranking it up with some power balladry for its ending. The band's focus, first and foremost, is on the Lord, which is evident in "Inconsistency (Wears Me Out)," where vocalist Mateus Freitas sings, "
Lately I've been longing for purpose / something to convince me I'm not useless / and I've been getting kind of nervous / but I know You keep Your promises
." Even the relationship-adjacent songs have an air of spirituality to them, showing the band's dedication to being true to God's calling. My only real critique of the EP is that Freitas' vocals could really benefit from some vocal training. Classically strong vocals have never been a prerequisite for punk music, but in this case, it's a bit of a detractor from the message and the music itself. But this is nothing that can't be worked on and strengthened for the next album. Overall, Inner 29 is a promising band with a solid debut EP to its name.
Now and Again, Here
is available now and is sure to please lovers of pop punk everywhere. - Review date: 7/6/19, written by
Scott Fryberger
of Jesusfreakhideout.com

Record Label:
Vibrovision Records

Album length:
4 tracks: 17 minutes and 23 seconds

Street Date:
June 7, 2019

Buy It:
iTunes

Buy It:
AmazonMP3
Inconsistency (Wears Me Out) (3:39)
Falling Apart (3:09)
This Is the Last Time I'll Dream (3:37)
Sleep Well Tonight (6:58)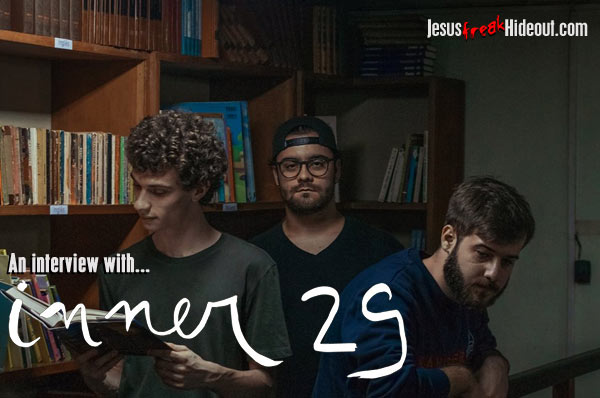 Jesus Freak Hideout (Scott Fryberger): This is kind of the obligatory question, but I'm super curious about the meaning of "Inner 29." Can you elaborate?
Mateus Freitas: Some pop punk bands use numbers on their names, like blink-182 and Sum 41. There was this crisis back in 1929. So, the name Inner 29 kinda means "Inner Crisis," that is, the songs from Inner 29 mostly talk about inner problems and situations. We just thought it sounded cool and we went with it.
JFH (Scott): Is Inner 29 the first band for you and your bandmates or have you played music elsewhere before?
Mateus: Alexandre and I have played in a youth group worship band for years. After that, I moved to another church, and there I met Anderson, and we started playing worship together. So when the band started, we all had some musical experience already.
JFH (Scott): Tell us a little about how the first Inner 29 song came into existence; did it start with a riff, a melody, a lyric, etc?
Mateus: The first Inner 29 song was most likely "Falling Apart." It was 2016, and I was practicing guitar using a pop punk backing track that I found on YouTube. The main melody for the song came from that. The lyrics were changed more than any other song on the EP. However, the first line of the chorus is still from the original version: "Is this falling in love or falling apart?"
JFH (Scott): What has been your experience as a pop punk band in Brazil? Is there a big pop punk scene in your area?
Mateus: We don't live in a big city, but there's a scene here. It's mainly composed of punk rock bands, and there are very few venues. We just played our first gig on June 28, and the feedback we got was positive. Bands with original songs aren't always well received by the venues; they'd rather show cover bands. Even so, it seems like the punk rock scene in our hometown is slowly growing.
JFH (Scott): Which of your four songs are you most excited about people hearing?
Mateus: I think "Sleep Well Tonight." Alexandre, Anderson, and I consider it to be our favorite. I personally like the lyrics a lot. I hope it may be uplifting to whoever listens to it.
JFH (Scott): If you could pick any three bands to play a concert with, who would they be and why?
Mateus: That's a tough one. If we ever have a chance to play in the U.S., we'd love to play with Light the Way. It's an Indie Vision Music pop punk band that I just LOVE. However, some of the bands that I dream of playing with are Emery and Relient K.
JFH (Scott): Do you have more songs in the works?
Mateus: Yes, we do. Some were written before we started recording Now and Again, Here, and just didn't make it into the EP, and some are completely new. We're still figuring out where we want to be musically.