Good quality CCM might not sound too hard to come by. All you need is an approachable soothing voice, decent instrumentation, and positive lyrics, right? Veteran independent singer-songwriter Phillip Sandifer might have a CCM radio-friendly sound but with his latest release
Of Songs & Sacraments
, he's bringing along a healthy dose of theological discourse. The album opens with soft yet sweet "To The Table." Sandifer's vocals are reminiscent of Steven Curtis Chapman and Chris Rice while still remaining original. The music is layered with excellent instrumentation with a clear sound that complements the vocals very well. "Meet Me There" introduces a more bluegrass sound that seems to match the theme exceptionally. This style is carried through the album with "Build an Altar," "The Best Imagination," and "Old Love." Songs like "Praise You In Our Circumstance" and "Both Hands" have a Rich Mullins-esque sound with very straightforward lyrics but light melodies that are easy to catch on to. The album concludes with the soft and beautiful "All By Grace." It's a song of thankfulness and finality as Sandifer sings, "
Everything I am Lord, all by grace
." While this might not be an album many younger audiences may be wanting, fans of easy listening bluegrass and folk will really enjoy this. The only real critiques would be that the album feels a little redundant; it might have served listeners better as a shorter album or maybe an EP. There are definitely some songs that are stronger than others, but for an artist making a return to music, Phillip Sandifer is coming back with his best foot forward. - Review date: 8/27/14, written by
Ryan Barbee
of Jesusfreakhideout.com

Record Label:
Wider Sky Music

Album length:
11 tracks

Street Date:
May 1, 2014

Buy It:
iTunes
To the Table (4:16)
Meet Me There (4:52)
Build an Altar (4:44)
Reconciled (4:25)
Praise You Our Circumstance (2:53)
The Good That You Do (4:14)
Both Hands (4:12)
The Best Imagination (4:29)
Old Love (4:34)
All by Grace (4:17)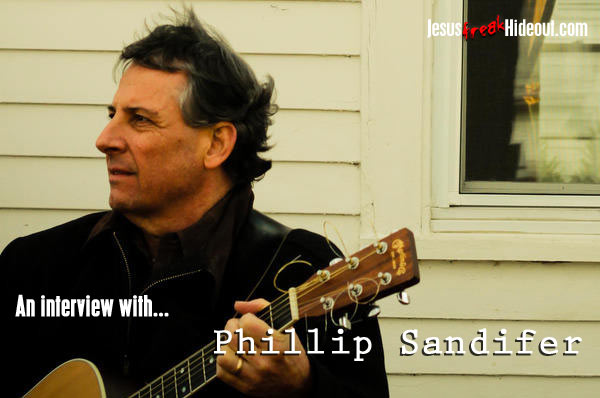 Jesus freak Hideout (Ryan Barbee): What's the story behind the album's title/theme?
Phillip Sandifer: The title was actually prompted by a discussion that arose in my doctoral cohort that centered around the fact that as the observation of the Eucharist in many churches has become less frequent, and the most tactile thing that happens now (in many cases) is the worship of God through song. Some in my class pointed out that music to some has become the new sacrament. My point is, essentially, may that never be....that's why I use the phrase "Of Songs AND Sacraments" rather than "AS." Our worship should point to the table of the Lord where we meet with him. This project is essentially a lifting up of the value of the sacrament of communion and the importance of that moment that even Calvin (the lawyer, go figure) admitted that he could not fully explain because it was/is such a spiritual moment.
JFH (Ryan): What are your plans for the future with your music?
Phillip: At the core, I am a songwriter, and a somewhat reluctant singer. I have narrative and thought here and there that seeks a musical expression - either by me or someone else. If no one else is interested in expressing those particular thoughts that I may have through their gifts, I'll do it. But honestly, I think I take greater joy in my song being recorded and expressed by others. So, I'll keep doing both for as long as I can. I love the image of the troubadour. Whether singing for one or for many, I really love the expression of life and the love of God through song.
JFH (Ryan): Since you've been making music since the 80's, what do you think has changed the most in the CCM scene?
Phillip: Well, of course the digitization of things has had the most impact. On the monetizing of music, it's obviously created a challenge for a number of people. For me, honestly, it's pretty wonderful. I play a few instruments and understand a little bit about recording, so the ability to create "off the clock" has opened massive doors of creativity for me and others around me. I love that more people can record music now than ever before. I have never been comfortable with the thought that you had to be in certain music centers for your music to be deemed professional, etc. or for certain groups of people to deem your music commercial. So for Christian Music, the amazing amount of new channels for writing, recording, obtaining and sharing music written about the most important thing that could ever happen to a person (the beginning of and continuing journey with Christ), it's wonderful.
JFH (Ryan): What song was the most challenging to write and record?
Phillip: The toughest song for me to write and record on this project was "Reconciled". You know, it's often hard enough to forgive someone that has wronged you but to pursue reconciliation is even harder. So, in writing that song, it was really tough for me to be lyrically and emotionally honest with the pursuit because I didn't actually enjoy it. However, ultimately, writing it and now singing it over and over again has become a continuing exercise in the pursuit to be continuously broken.
JFH (Ryan): I'm a big fan of "Meet Me There." What was the inspiration in writing that song?
Phillip: The inspiration for "Meet Me There" was a friend of mine who did not feel worthy to take communion. He needed to know that sometimes feelings can fool us. The fact is, if we know Christ, we're genuinely broken before him and seek to meet with him....he will meet with us. Even though he/we may feel unworthy to be met with. In those moments, we have to trust the Lord and take him at his word. Sometimes, that moment with him, in an unexplainable way, is the beginning of the healing process. It's a total mystery to me what really goes on there, but I'm convinced that there is a filling -- some sort of re-energizing that accompanies the meeting of Christians at the Lord's table.
JFH (Ryan): What has God been teaching you lately?
Phillip: That is always a tough question. I think that God is still teaching me in this chapter of my life the same things that he has been teaching me (often unsuccessfully) in every other chapter - patience, be faithful in the little things, forgive others, seek forgiveness, let go. As my children are finding their way now into adulthood, I think God is deepening my trust well. They are all walking with him and each of their walks looks different and different from mine. So I am pursuing delight in the way that God is shaping them and the degrees to which they are beginning to learn as my wife and I have learned.