Norman Lee Schaffer
is a lifelong musician with an impressive musical history, including recently releasing his tenth full-length studio album.
That's My King
is a CCM album that blends contemporary and southern rock with pop country and a little bit of bluegrass. In fact, the title track wastes no time kicking it off with electric guitar, banjo, and fiddle for an upbeat track about the good things Jesus has done in our lives. "Sinner Like Me," "Welcome Home," "Every Day," and "Love Won't Let Me Go" follow suit, bringing to mind artists like Luke Combs, Rascal Flatts, and occasionally Nathaniel Rateliff and the Night Sweats. All the even-numbered tracks, however, are slower tunes, more akin to the ballads of Third Day and maybe even MercyMe. Interestingly, the album also ends with a Christmas song called "I Believe In Christmas." While it's not entirely out of place stylistically (it even fits in the with fast song-slow song-fast song pattern), it does seem like a bit of an unusual way to end a non-Christmas album.
That's My King
is ten tracks of bops and ballads that would all work really well for Christian radio play, and fans any of the aforementioned artists may find some enjoyment from what it has to offer. - Review date: 4/25/23, written by
Scott Fryberger
of Jesusfreakhideout.com
JFH Staff's Second Opinion
Norman Lee Schaffer
's latest album
That's My King
is a fun blend of country and gospel that moves along at a good pace. Around half of the songs are upbeat toe-tapping tunes, while the other half are slower or mid-tempo ballads. Most of the tracks are testimonial in nature (like the title track or "Sinner Like Me"), others more devotional ("Welcome Home" or "I Will"), and a couple are here to encourage the listener ("Your Father is Near"). The biggest surprise is the Christmas ballad the album closes on ("I Believe in Christmas"). Some may find this addition jarring. Likely, the people who will gravitate toward this album won't mind, though. Schaffer's sound, voice, and even how he presents his message is tailor-made for the South. Any church in the Bible Belt could host Schaffer and expect a good crowd, while also finding a lot to like about this album,
That's My King
.
- Review date: 5/4/23,
John Underdown
of Jesusfreakhideout.com

Record Label:
None

Album length:
10 tracks: 32 minutes

Street Date:
October 1, 2022

Buy It:
NormanLeePrayOn.com

Buy It:
Apple Music
That's My King (3:26)
Come and Hold Me (4:02)
Sinner Like Me (2:52)
Your Father Is Near (3:16)
Welcome Home (2:45)
I Will (2:42)
Every Day (3:10)
So I Could Live (3:46)
Love Won't Let Me Go (2:51)
I Believe in Christmas (3:21)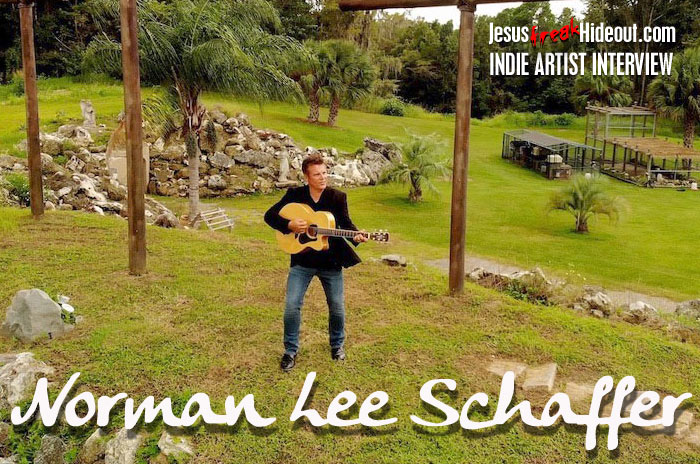 Jesus freak Hideout (Scott Fryberger): That's My King is your tenth studio album. Do you have any plans to slow down, or do you foresee yourself writing and recording more?
Norman Lee Schaffer: Will Norman Lee slow down? Those words are not in my vocabulary! I turned 61 this year and I have been entertaining people since I was 6 years old. I have been very fortunate in life to make a great living doing what I love. If 61 is the new 41 then ladies and gentleman I am just getting started. As a matter of fact I'm already in the process of writing the next album. As long as the good lord lets me I will perform and write songs until my very last breath. Amen!
JFH (Scott): Can you tell us a little bit about the making of the album?How long did you work on it before releasing it?
Norman Lee: I normally write the song on piano or guitar at my home studio. I then take it over to my good friend and producer Tracy Collins (Indiginus Sample Library) and play the song for him and lay down a rough vocal and we decide on a basic arrangement. I then just leave him alone to do the instrument tracking and adding other musicians. After he is done and we both are happy with the song so far we then send it to our good friend Ronny Cates (Petra) and he puts his musical talent on the record and also does the mixing.Finally we send it to be mastered by Joe Causey (Voyager Mastering). We do this10 times in a row and BAM! We got another album. Also somewhere along the journey of the song I will perform it at one of our worship services to make sure it has been church tested and get some audience feedback. We normally make a 10 song album in a year but this one took a year longer due to the tough time we had over the past couple years. Since it took a little longer to finish the album we released two singles off the project "That's My King" and the only Christmas song I have ever written "I Believe In Christmas" before the entire album was released.
JFH (Scott): Your style seems to have a wide array of influences. Who are some of your favorite artists that inspire your sound?
Norman Lee: I was born in the sixties (Elvis, Motown) grew up in the seventies (Don Mclean, Van Morrison) did not sleep in the eighties (Bee Gees,Kenny Rogers) worked non stop in the nineties ( George Strait, Garth Brooks) from 2000 - 2010 (U2, Red Hot Chili Peppers) from 2010-2020 (Andrea Bocelli, Bruno Mars) I really enjoy all kinds of music and try to listen to as many different styles as I can. As a young man I studied music theory and voice for four years. I was blessed to have a teacher who was a born again Christian who not only taught me the skills I would use for the rest of my life but also led me to the lord.

He taught me how to sing every style of music. Everything from classical, rock, blues, funk, country and jazz. I asked him why do I have to learn all these different styles and he said so you will never be out of work.He said there are only two kinds of musicians - working and not working - which one do you want to be?
JFH (Scott): According to your bio, you've shared the stage with some legendary artists, from Johnny Cash to Loretta Lynn. Were they all one-off shows, or did you go on a full tour with any big names?
Norman Lee: I performed regularly at Silver Springs Amusement Park in Ocala, Fl for many years and would be the go- to opening act for all the artists coming through. Beautiful venue that would seat 10 - 20 thousand people. Some would say I opened for them but I like to say they closed my show. I also performed many shows at Rock Crusher Canyon, Spirit of the Suwannee Music Park and Many Cruises on Caribbean Cruise Line in Florida. And when not in Florida I would go and perform at the casinos in Biloxi Mississippi.
JFH (Scott): Do you still play live regularly?
Norman Lee: I preach and sing at The Garden Worship Center in Belleview,FL at all three services every Sunday for the past 13 years. We also have a Music Festival at The Garden every month where I perform with a lot of my other entertainer friends. Kind of like a new version of the Gaither Homecoming. We also have an outdoor amphitheatre that seats 3,000. I Also perform with The Villages Philharmonic Symphony throughout their season at The Sharon Performing Arts Center and also at The Clermont Performing Arts Center here in central Florida. I still do some shows in The Villages which is the world's largest retirement community and is located in central Florida just five miles away from our church. I still do about a hundred dates but nothing like the 290 shows a year I did before we started the church. Now the crowd comes to us on our 55 acre recreation of the holy land, where the bible comes to life.
JFH (Scott): What led you to including a Christmas song at the end of what is otherwise not a very Christmassy album?
Norman Lee: The album took longer to make than normal so we released two singles before the project was finished. One was the title track "That's My King" and the other was the only Christmas song I ever wrote "I Believe In Christmas". It did very well for us in sales and on radio so I decided to put it on this album as another one of my works. The whole album is about Jesus so why not sing about his birth too while we're at it.
JFH (Scott): If you had to choose one song from That's My King song to play for a possible fan, which one would it be and why?
Norman Lee: "Come And Hold Me." I have had the opportunity to perform this song many times in front of thousands of people and I am always in awe to see their reaction. They react the same way I do. God, I know you have me - but right now can you come just a little bit closer. And he does.
JFH (Scott): Where can fans connect with you online?
Norman Lee: Website: www.normanleeprayon.com / Church: www.thegardenworshipcenter.com / Facebook: https://www.facebook.com/normanlee.schaffer/
JFH (Scott): Is there anything else you'd like to share?
Norman Lee: This life is short, but don't worry. The best is yet to come. And by the way, you can thank Jesus for that.