Over the past decade, electronica music has had a major influence on the music scene; elements of dub step, 8-bit, and auto-tune have really taken over the radio airspace.
Celestial Heights
is obviously a byproduct of this electronic siege and with their latest release,
The Cosmos
, they prove this without a doubt. The album opens with the auto-tune coated "First Love." Musically, it resembles a classic rhythmic rave sound as lead singer, Jonathan Wright, essentially sings about the beauty of true love. While it isn't the most original sounding song, it really sets the stage for the tone of the album. "Chaos in a Box" is a clearly well-written song with allusions to the Greek mythological story of Pandora's box. As Wright sings, "
Envy steals my mind from me, Hate is my insanity, Lust for what I cannot have, Pain inflicted to make me laugh
," it really shows his knowledge of the topic and yet also of the sinfulness of the world. "The Golden Expedition" is the real highlight of the album as it clearly embraces the attempt of trying to understand pain and suffering while still trusting the Lord. It's a very mature message that packs a serious punch. "Carry the Torch," "Touch the Sky" and "Beyond Possibility" show a great use of 8-bit sounds that are reminiscent of early Nintendo and Sega games. For any video game fans, you might really enjoy these tracks. The album concludes with an electronic explosion as Wright sings, "
So sing it out, you were made to look ahead Sing it out, this is not the end
." It's a fitting and well-balanced song to bring this very ethereal album to a close and pointing towards the future while recognizing the world that we live in today. It's hopeful yet realistic. Unfortunately, a number of the songs on the album lose their effectiveness due to them all sounding so similar. With non-stop auto-tuned vocals and synthesizer, the songs almost become mundane at times. However, if the album was broken up into smaller EP's, it might pack more of a punch and break up the routine. Celestial Heights has no doubt made something very sincere and intellectually grounded, but sadly it doesn't offer anything truly groundbreaking. - Review date: 9/30/13, written by
Ryan Barbee
of Jesusfreakhideout.com

Record Label:
None

Album length:
13 tracks: 53 minutes, 22 seconds

Street Date:
August 19, 2013

Buy It:
AmazonMP3
First Love (5:31)
Chaos in a Box (3:36)
Florescence (3:00)
Sophia's Song (4:02)
Carry the Torch (3:08)
Frozen Reflections (4:43)
Touch the Sky (3:36)
Lunar Labyrinth (3:56)
Drawn Home (4:27)
Beyond Possibility (3:13)
The Golden Expedition (4:50)
Statues (5:36)
Florescence (Remix) (3:44)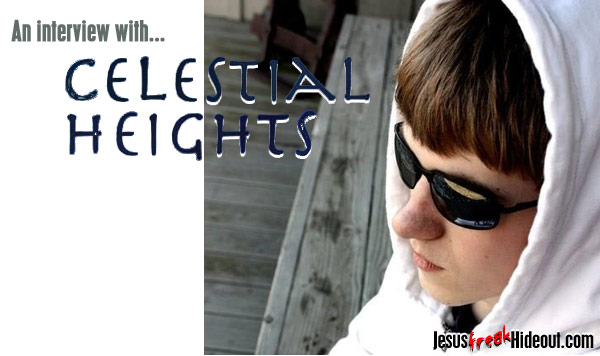 Jesus freak Hideout (Ryan Barbee): I know that Greek mythology played a major role in the theme of the album but what was your inspiration behind The Cosmos?
Jonathan Wright: Originally, I was planning on basing every single song after a specific Greek Myth. I came up with a demo tracklist before I even wrote any of the songs. As I got into the writing process, I changed the themes and sometimes the titles of many of the tracks. Some of them are based off of events in my life; others are based off of things I was learning or thinking about at the time. Overall, my goal was to tell stories and highlight truth about many aspects of the world.
JFH (Ryan): What is your favorite song from the album and why?
Jonathan: I love the music to "Lunar Labyrinth," but my favorite song is probably "Statues." I never write songs with a specific audience in mind, but rather I basically write my songs for myself. I know that might sound selfish, but I don't know who is going to listen to and enjoy my music. Anyway, I love "Statues" because it really encourages me. The song has some cool symbolism in it, but I think the message is pretty straightforward. I also enjoy the dynamics of the song, how it slowly builds in the beginning and then goes through many dynamic phases. Instrumentally, everything sounds like it is moving and I like that.
JFH (Ryan): "Florescence" is no doubt about a girl… what's the story behind this song?
Jonathan: As much as I wish I could tell you otherwise, this song is not based on actual events. The real story is not nearly as exciting. I was in a poetry class last year and one assignment was to write a love poem. I decided to make it as over-the-top cheesy as I could, because sometimes I like that kind of stuff. Anyway, I wrote the poem and everybody in that class liked it, so I made a song of it. (Though, they were kind of bummed that it wasn't based off of a true story...) The chorus actually has a lot of symbolism in it related to different types of flowers, so that's kind of cool. And I think the music really complements the tone of the song.
JFH (Ryan): What do you hope to accomplish with your music?
Jonathan: I hope to present people with a different type of music. Music that not only sounds different and interesting, but provides lyrics that are thoughtful, yet artistically beautiful. I hope people will react by either being reminded about and encouraged by the truth and beauty that I sing of, or by being enticed to consider the meaning of what I'm saying. Some of my songs may not have a specific message, because often times I'm just trying to paint a clear image in my listener's head of something beautiful and interesting.
JFH (Ryan): Who are some of your musical inspirations? Who are you currently listening to the most?
Jonathan: Stylistically, my main influence is Owl City. Other influences on my sound would be Angels and Airwaves, other lesser known electronic artists (Swimming with Dolphins, I Hate This Place, Sailship), and trance DJs (Armin van Buuren, Tiesto, Kaskade, Above and Beyond). U2 has influenced me in the way that they write songs that almost anyone can relate to. That is a goal of mine.

Lately, I've been listening to a wide variety of stuff. I like Parachute's new album. I've been listening to Taylor Swift, the Ready Set, Regina Spektor, OneRepublic, Imogen Heap, Sky Sailing, Windsor Airlift, and probably many other artists.
JFH (Ryan): If you could visit one planet, which one would it be and what would you hope to find there?
Jonathan: Despite a lot of references to planets in my songs, I actually don't know a whole lot about them... But I definitely would want to visit one where I could see awesome things. I mostly focus on planets as depictions of beauty and craftsmanship in my songs, so that would be my focus. I think it would be cool to see planet earth from a distance, so I might want to visit a planet where I could see earth like through a telescope or something. Maybe Mars or Venus, because they are the closest to us. Honestly, I think the trip into space would be the most interesting part, getting to see the planets emerge as you got closer and the earth became smaller. When I got there, I would definitely be interested in the craters and stuff like that. I'd probably try to bring a rock or something back.
JFH (Ryan): What is your favorite scripture and how do you apply it to your life?
Jonathan: My favorite verse changes quite a bit, but right now I think I would say it is Philippians 1:6. It says, "And I am sure of this, that he who began a good work in you will bring it to completion at the day of Christ." This verse encourages me and I try to remind myself of it as often as I can. Christ did not save me and then leave me to try to walk the Christian journey on my own, by my own power. Rather, he promises, not only to work in me, but to complete the work of sanctification in me. This takes a massive burden of anxiety and potential legalism off of me. What a glorious truth!