Even Oxen
is a musical project you'll have difficulty finding anything about on the internet. But the one-man project helmed by Bersain Beristain isn't a new one; in fact, he's just released his third EP after several years of writing and recording. Said EP is a short release called
The Goat Lamb of God
(see the interview below for an explanation of the album title). If you have any level of familiarity with previous Even Oxen material, you'll have a good idea of what to expect with this release as well. Beristain's musical inspirations are varied, from Sufjan Stevens to The Chariot, and his music plays on wildly different characteristics from these artists. A song can, at one moment, be quiet and acoustic, only to suddenly add a much louder layer of pure noise. "Psalm 18" is the best example of this, but the pair "My Sins Were Forgiven By The Son" and "Every Eye Will See God Come Down" is the more palatable example, as the former ends with the guitar gradually becoming more distorted, which leads right into the latter as the main source of music. The final two tracks, however, avoid the abrasiveness altogether and take the listener out on a much-easier-to-digest acoustic sound. Regardless of the type of music being offered, Beristain's heart for Jesus is always on display, front and center. The EP is saturated with both his own personal lyrics, as well as samples of people reading Scripture, which fills the short runtime with purpose. Though the message is for everyone, on a stylistic level,
The Goat Lamb of God
will appeal not to music fans at large, but to a small subset of people who find joy in experimental music. If that's you, head over to Even Oxen's Bandcamp and indulge in not just this new release, but three others as well. - Review date: 7/11/20, written by
Scott Fryberger
of Jesusfreakhideout.com

Record Label:
None

Album length:
6 tracks: 13 minutes, 41 seconds

Street Date:
June 7, 2020

Get It:
Bandcamp
Psalm 18 (3:55)
My Sins were Forgiven by the Son (2:03)
Every Eye Will See God Come Down (1:28)
Early in the Morning (3:32)
Soli Deo Gloria (1:38)
Find Salvation (1:05)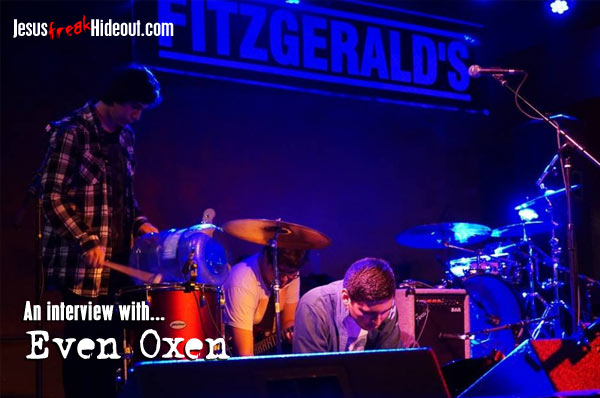 Jesus freak Hideout (Scott Fryberger): Your online presence is quite minimal. Is this intentional? Do you think you'll ever use social media to promote your music?
Bersain Beristain: This is such an interesting topic. To answer the heart of question: No, I don't plan on using social media. Some might argue that avant-garde music has no point in existing on platforms like Instagram or Twitter, but I disagree. Even niche bands like Swans and Daughters who at one point made very alienated art have amassed a large following in part because these places have served as not only a helpful avenue to unify fans, but a channel for fans to feel closer to their favorite artists as well. I just have no interest in running a profile for my music outside of my bandcamp page. It took me 4 years to make an album that wasn't even 15 minutes long. I don't know if i have any more music in me and i see social media as a tool for artists who plan on keeping their fans updated when new material surfaces. Who knows though, maybe that will change in the future.
JFH (Scott): Did you use the same artist for your album cover as Arrayed Above The Seraphim Lights?
Bersain: Unfortunately Luma Salaheen did not reprise her role here but there's an interesting backstory to this one. I bought an original oil painting off eBay titled "Jaffee" back in 2013. I asked the artist if I could use her painting as album art and she gave it the greenlight, the only request being that she would like a copy once it was finished. Around the same time, I asked my friend Luma to paint accompanying album art that revolved around giraffes. The result was a watercolor painting of a leaf branch she said giraffes were fond of. I loved it so much that Luma's watercolor painting ended up becoming the album art for the last album and the original art I bought finally found a home in this recent release. Funny how that all came together eventually.
JFH (Scott): Can you tell us about the meaning behind the title, The Goat Lamb of God?
Bersain: This one's fairly simple to answer. Most of my fans came from online music discussion boards where the term G.O.A.T (greatest of all time) was tossed around so much that people familiar with its usage eventually stopped abbreviating it and just labeled anything they loved as "goat". Since this album is about Jesus Christ, the Lamb of God, I thought it would be a nice nod to the culture my fans were aware of by using it. Also it sounds funny.
JFH (Scott): Your music has a sense of structured chaos. For instance, "Psalm 18" has a quiet acoustic sound before a wall of sound comes out of nowhere. What inspires the decision to incorporate the unexpected?
Bersain: The inclusion to incorporate the unexpected basically boils down to the fact that like abrasive music and melodic songwriting. I loved bands like mewithoutYou and For Today growing up for the energy they were capable of riling up but there was just something about Leeland and Phil Wickham's anthemic worship songs that were able to illicit a deep, emotional response without having to rely on those dynamics that really spoke to me. I figured I'd try and fuse the two.
JFH (Scott): What would you consider the mission statement of Even Oxen?
Bersain: To use the talents God has given me to share the gospel in a creative way in the hopes that the Lord can use it to draw men unto Himself and save them through faith in Jesus Christ.
JFH (Scott): Before the pandemic, did you get to do many live performances?
Bersain: Yes, and they were HORRIBLE. Seriously, just look it up on YouTube (but actually don't) and you'll see a guy with really encouraging friends and family who had no idea what he was doing. Our shows were far and few in between, not to mention poorly planned and executed. Playing shows and making it a worthwhile experience is something I'd love to do in the future if the Lord opens up the opportunity to do so.
JFH (Scott): How have you spent the four years since your last album?
Bersain: I've spent the last 4 years growing in grace. I was in all honesty spiritually shipwrecked from 2016-2018. It was a really dark time and I had hurt a lot of people I loved (not to mention myself) because of the sin I had cultivated in my heart and life. I got depressed, took my music off of everything, and had no intention of doing music ever again. I've since come to terms that God loves me, and that if David or Solomon are any example, it pleases Him to use servants that are flawed yet desire to follow after His will and Word in repentance and grace.
JFH (Scott): What new albums have you been enjoying lately?
Bersain: Man what a cool question. I've been in love with Blaster the Rocketman's (formerly Rocketboy) music lately. They were a 90's Christian punk band from Indiana and I consider their album "Succulent Space Food For Teething Vampires" to be one of the greatest albums ever (a goat, if you will). As far as actual new music goes, there's Kanye West's upcoming album "God's Country". While we won't know the true condition of everyone's heart until Jesus returns, the idea of Kanye being a born again believer excites me. Besides, it's always a blessing to have more Christian hip-hop out there.
JFH (Scott): Is there anything else you'd like to add?
Bersain: I'm so happy Jesus Christ died for my sins and loves me.