Tennessee-based alternative rock band
The Birdsongs
is comprised of three brothers and a sister that have been releasing original music for more than ten years now, while playing music together in general for twice as long. After releasing a few singles, the band debuted their first album in 2012.
The Journey, Act I: The Beginning
was a terrific pop punk record that should have given the band a lot more attention than it did. A worship album and a Christmas album followed, but now they're back with the follow-up,
The Journey, Act II: The War
. The album begins with a one-two punch of pop punk goodness in "Keep On Fighting" and "Reality," which sound like the perfect continuation of
Act I
. However, once the third track, "Break My Heart," comes in and slows everything down, it never really picks back up. The band is very talented and writes solid songs, so they don't have to make a full pop punk album to be enjoyable, but the decision to start off in the genre and immediately drop off without returning to it seems a bit odd. The Birdsongs traverse through the softer side of Christian music this time around, dabbling in acoustic, contemporary pop, and folk. They even incorporate some string sections in a few tracks. However, the biggest musical surprise comes halfway through the album in "Don't Give Up On Me," which sounds like it comes directly from a Christian pop rock album from the late '90s or '00s. The production, melody, and some light turntable scratching give it an old school feel that I really didn't expect. Lyrically,
Act II
covers the dichotomy of being tired and worn out from life (or, in a sense, being at war with the things of this world) while finding rest in Jesus. "Waiting For The Day" is the perfect culmination of this theme and can be painfully and beautifully relatable for many believers: "
The day begins whether I want it to or not, and I have to fight the urge to stay in bed / here it comes like a tidal wave again, and I am well aware this is all in my head / but that doesn't stop the pain anymore, can't pretend this is all okay / I'm scared that I'm slowly losing control, and now all I can do is pray / and keep waiting for the day when these tears are wiped away, and the sun's breaking through the rain
." In the end,
The Journey, Act II
isn't what I was expecting, musically, but it's a solid album with some memorable moments and a lot of heart. I'm still holding out hope that we'll get some more pop punk in the future, but even so, there's enough good here to make for at least a few worthwhile listens. - Review date: 10/25/19, written by
Scott Fryberger
of Jesusfreakhideout.com

Record Label:
None

Album length:
10 tracks: 43 minutes and 21 seconds

Street Date:
September 6, 2019

Buy It:
iTunes

Buy It:
AmazonMP3
Keep On Fighting (3:44)
Reality (3:32)
Break My Heart (3:50)
Tired (4:29)
I'll Fight For You (3:43)
Don't Give Up On Me (3:25)
Wondering How It Feels (4:04)
God Is Good (5:04)
Waiting for the Day (6:12)
You're My Family (5:18)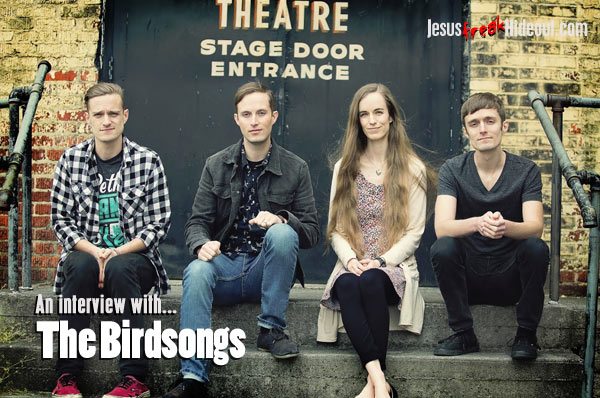 Jesus Freak Hideout (Scott Fryberger): Can you tell us the story of how The Birdsongs formed?
Benjamin Birdsong: We were all born south of Seattle, WA. Our church was very supportive of overseas missions and our family felt led to go to Papua New Guinea. In 1995, our mom and dad enrolled in language school. While we were waiting, we cleaned our church building, dad led worship - we volunteered for everything. We just wanted to serve God in any capacity. That winter, we also started playing acoustic music - bluegrass and country - in our living room. When we finally knew two songs, we played for a nursing home in our area. That led to being invited to churches, festivals, and events, not only around Seattle, but all over the country. In 1998, we were so busy we sold our home, bought an RV, and toured the U.S. We've been touring ever since.
JFH (Scott): Your new album is part two of The Journey series and comes seven years after part one. Was this gap intentional?
Benjamin: Not really. God was intentional in letting us know we weren't ready to write the songs that needed to be on this album. I wish I could see things from His point of view from the start. He definitely knows what He's doing. No, we were having a wonderful time playing shows with people we looked up to in the music industry and getting our music out there. And then life began to really change for our family. Our youngest brother, a very gifted musician, began to struggle with hearing voices and multiple personalities - what he called an intercom in his head that he couldn't shut off. Our mom's health began to decline and my dad came off the road and took a position at our home church in Tennessee to help care for them. Our oldest brother, who played bass and banjo at the time, felt led to start a family and stay close to home. Our youngest sister decided to get married and have twins! I married a woman who had a terrible childhood and had no idea until the past couple months the horrors her mind was protecting her from. All we knew was the symptoms: depression, panic attacks, and pain. By 2016, our lives looked nothing like we had planned. We were more like coworkers than siblings. There were so many issues we weren't dealing with, weren't talking about. We finally slowed down and started talking about what was really going on behind the anger, fatigue, frustrations, and resentment. We found that we could all identify, to some degree, with the symptoms of anxiety, depression, obsessive compulsive disorder, and insomnia. These songs had to be written from the perspective of somebody who knew what it was like to fight to believe the good news of the Gospel while enduring emotional pain and mental illness.
JFH (Scott): Do you have more parts to The Journey planned?
Benjamin: We never really planned on there being a second one. There had been a bit of talk about making a series but we hadn't tied ourselves down to it. The first EP had a flow to the song ideas that felt like a theatrical play - a story of youthful energy, excitement, warning, sin, repentance, restoration and hope. As we were writing these songs, we started thinking about how they continued the story where the last album left off. It felt like the continuation of our story. There will probably be a part three, but I don't know if it's the next album or a few albums down the road.
JFH (Scott): What's the inspiration behind the album's subtitle, The War?
Benjamin: The songs have a common theme of endurance. Endurance became characterized by this "good fight of faith" idea. We fight to trust God's promises. We fight to forgive, to love, to protect one another. We fight to believe what God says about us when we've heard and felt the opposite so many times. The songs are about our personal struggles to believe and trust God especially when it hurts. The album was definitely a battle to make. We worked in three studios, had four producers, and spent over two and a half years from the first writing sessions to the finished masters. The plan was to have it done within six months of the first writing session. God has definitely taught us that His timeline is very different than ours.
JFH (Scott): Part one was very pop punk-oriented, while part two starts out that way and quickly shifts into pop and pop rock. Why the stylistic change?
Benjamin: Pop punk was the way we expressed ourselves during that time and continue to express ourselves now if the subject matter is right for it. We see music as a vehicle of expressing an idea. I am always trying to find what different sounds and feels tell a story well and evokes the imagery we're trying to convey to people. Each of these songs represent a different part of our journey as a family, as brothers and sisters, and as fellow soldiers. It's an odd thing to have more than one genre of music on an album. It might feel weird to some people. We mean for it to feel like a playlist or like searching through stations on the radio for a song that makes you stop and listen no matter the genre. American music has shaped our lives and this is our most honest work we've done. We're really proud of that.
JFH (Scott): If you could go on tour with any three bands, who would you choose?
Benjamin: Switchfoot would have to be number one! We ran sound and lights for an alternative stage at a festival and Jon Foreman played my guitar during a Q&A. Apparently he rarely does that, so maybe it's a sign? For the second one, Casting Crowns really rewrote the playbook on what you were allowed to sing in Christian music. And third would have to be Tenth Avenue North. Their festival shows this past year were fun, yet incredibly vulnerable at the same time, and that's tough to do.
JFH (Scott): What have you been reading in the Bible lately and what are you learning from it?
Benjamin: I just read through Paul's first and second letters to the Corinthians. The letters have helped me see how ministries are supposed to be conducted and what God's plan is for both ministers and the churches they serve. God has been so kind to allow us to spread the Gospel through music. I just want to make sure I'm running well and conducting myself in a way that lines up with God's word. God definitely doesn't need another musician - He doesn't need anything or anyone! But, He is glorified in what me and my family do and He chooses to use it! That just blows my mind!
JFH (Scott): Do you have any hard set plans for The Birdsongs through 2020?
Benjamin: There's a special song on the album I wrote with my dad called "I'll Fight For You" that we plan to release as a single early next year. God seems to use it to encourage people to reach out to their friends, spouses, church family, and their community to fight the enemy, the source of the darkness and lies that are destroying our families, relationships, and unity. Also, we'd love to get back out to the west coast and play songs off of this album out there. We're trying to put together a west coast tour for the summer! This music is so much fun to play live! We're looking forward to new opportunities to play and tell our story.
JFH (Scott): Anything else you'd like to share with our readers?
Benjamin: Artists aren't people who have it all figured out. Make sure that you're listening to good, solid, biblical preaching as well as God-glorifying music. Sometimes a song is just an expression of how somebody thinks or feels, but God's word has no flaws, no inconsistencies. Don't put musicians on too high of a pedestal. Follow them as they follow Christ, and if they deviate, keep following Christ!