In a time of bleak uncertainty, indie artist
Amanda Danziger
releases a single that intends to bring hope through the gospel. "The Only" is a quick three-minute listen that is musically haunting and lyrically worshipful, crediting Jesus as the only hope for the lonely and broken. Given how isolated people feel coming out of quarantine and how shaken society seems with the riots, "The Only" touches a nerve but also soothes it. The music here is strong and memorable, the lyrics serve their purpose, but don't do much to stick in the brain; a better rhyming scheme would have helped. Still, given its short length and strong sonic components, "The Only" is a worthwhile listen and should bring peace to a troubled soul during these unsure times. - Review date: 6/11/20, written by
John Underdown
of Jesusfreakhideout.com

Record Label:
None

Album length:
1 track: 3 minutes, 18 seconds

Street Date:
May 1, 2020

Get It:
iTunes
| | | |
| --- | --- | --- |
| The Only (3:18) | | |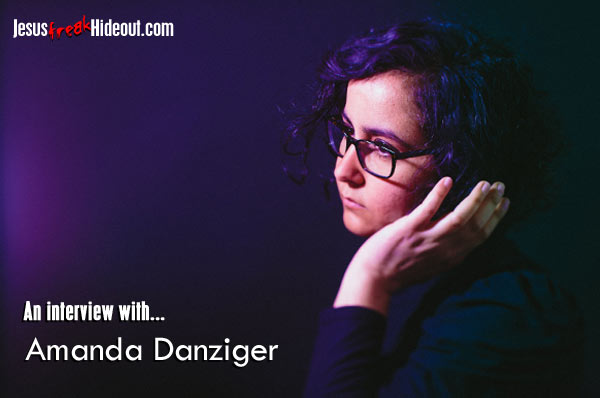 Jesus freak Hideout (John Underdown): For those unfamiliar with you as an artist, what is some of your background? How did you get to where you are today?
Amanda Danziger: I started leading worship at the age of 12 when I taught myself guitar with a BJ's Club electric guitar my dad bought. I wanted to follow the footsteps of my very musical sister, who is 8 years older than me. We grew up in an Arabic speaking church my dad started when he moved to America from Cairo, Egypt. Worship in our church basement was a lot of fun because it was filled with my 19 first cousins. Growing up with a musical sister and family church environment really shaped a lot of who I am today.

Then after college, I didn't quite understand where God wanted me. Jobs were really tough to find because the economy crashed when my class graduated -- God opened the door for me to be a worship leader at a church in Bethlehem, PA. That was when songs began to overflow from my heart, and a lot of beautiful spontaneous moments with that congregation. God opened a lot of songs within me.
JFH (John): What's the story behind this song? Was there a specific instance that inspired this?
Amanda: There is an experience that awakened me two years ago --- when I sing about the breath of life, I really mean it. I was in a hospital bed two years ago where fear overcame my entire body, and I was extremely scared about outcomes, diagnosis --- everything. But then I found myself worshiping in my head. So, lately a lot of my worship, prayers and writing has come from that place of grief and joy. It really opened my eyes.

I started writing this song at the end of January 2020 in my car. It began as a musical prayer and I started off the words in the bridge: "I was blind, but now I see. You gave me breath, and now I breathe..." -- I just wanted to pray and give thanks. And that's the beauty of commuting to work 40 minutes each day. You get the quiet time your brain needs, and a chance to spend time with the Lord.
JFH (John): The timing of the release for this single is very apropos. Was that intentional or did it happen to drop at the right time?
Amanda: It just happened (cause that's how God works)! When the lyrics all came together and melodies, I sent this to my producer, Filipe Michael, as fast as I could in February. Filipe's vision for the song brought so much life to the song, I was blown away by his vision. But, we put the song on hold in March when the stay-at-home orders began because we weren't sure about the future and what would happen --- plus it was a huge adjustment with my husband's overtime hours as an ICU Nurse, and our twin boys at home.

When we saw what was happening, Filipe called me and asked if we could finish the song and release it soon because he believed people needed to hear this song during this time. I honestly didn't think anything of it and how relevant of a song it was for this time, until he called me up. I'm glad he gave me the push because I do believe this song has reached the right ears and people who needed this musical prayer.
JFH (John): In this time of uncertainty, how have you found comfort in Jesus?
Amanda: 100%. I believe as Christians we have something incredibly unique. I'm not scared of death, I know that I faced it two years ago. Yes there is grief, pain and tears --- but the reality is Jesus still brings the peace and comfort through all trials.
JFH (John): I saw that you come from a Coptic background. I'm curious if that has influenced your style or sound?
Amanda: Yes, both of my parents are from Egypt, and that makes me first generation American. There is a song that I am currently working on that does have a little bit of a middle eastern sound, which I'm pretty excited about. But other than that, it hasn't really influenced a lot of my sound. Although, I am a big fan of some of the greats -- my dad played a lot of Fairuz in our home on 8-track. And I do enjoy a good dance with middle eastern music with my sisters and aunts.
JFH (John): You recently released an EP (Head and Heart) and now this single. Do you have plans to record a full length album next?
Amanda: Well, let's get serious and real here, I'm an indie artist --- so I don't bring in a lot of income to keep creating music. I would love to record a full length album, I already have demos laid out. But it all costs a lot, so I'm taking it one step at a time.

I was really blessed by my church community for donating to my EP, and I paid 25% of it out of pocket. I hope that with plays, streams, purchases, that I can release a few singles at a time. So, right now, singles. Unless more listeners start coming in, then I'll definitely get started on that full length album! So anything that comes from music will 100% go back into music.
JFH (John): How would you like people to connect with and support you?
Amanda: You can purchase my music on most platforms like Apple Music, Google Play and Amazon. You can also stream on Spotify, Deezer, and YouTube. I would also appreciate people sharing the music on their social channels and telling friends and family about my music. That is incredibly helpful. With more listeners, I will put 100% back into making new music to bless you with.
JFH (John): Finally, a silly question: would you rather bring world peace by conquering the world Pinky and the Brain style, or be among the first astronauts to colonize a new planet?
Amanda: Ok, so I recently just finished watching the Apple TV Series For All Mankind -- it's a spinoff about the Russians landing on the moon first before us. Well, they made going to the moon look like a lot of fun, and I wouldn't mind seeing God's creation from His point of view... I can't imagine. So if I get an opportunity to go into space, I'll take that.