Project Bosch
is fronted by longtime Radio Friendly member Bosch Boschetti, and came about due to the interruption in the music industry known as Covid-19. With his band on pause, Bosch is setting out solo this time around. Drawing on his experience with Radio Friendly from the last two decades, Bosch spread his wings with this three song EP titled
Trust Me in the Dark
. Stylistically, these songs are grounded in 80s rock replete with blistering guitar solos and in-your-face gospel lyrics. Of the three offerings here, the title track is the biggest highlight for this listener. While nothing on
Trust Me in the Dark
reinvents the wheel, it is refreshing to hear actual instruments in this day in age. In addition, the all-out rock assault is a welcome change of pace that is largely missing from the modern music scene. On one hand, there is an unrelenting energy coursing through each of the three tunes. Conversely, you'd have to already enjoy 80s rock n' roll and overt, occasionally cliche, lyrics to give this one a shot. But if you do, you may fine yourself rocking an air guitar with a big smile on your face. All in all, these are the type of songs to lose yourself in, roll the windows down, and turn up to eleven. - Review date: 11/2/21, written by
Josh Balogh
of Jesusfreakhideout.com

Record Label:
Sanctified Records

Album length:
3 tracks: 12 minutes, 39 seconds

Street Date:
July 30, 2021 (Digital) / November 19, 2021 (CD)

Buy It:
Apple Music
Save Me (4:42)
Time to Pray (4:12)
Trust Me in the Dark (3:43)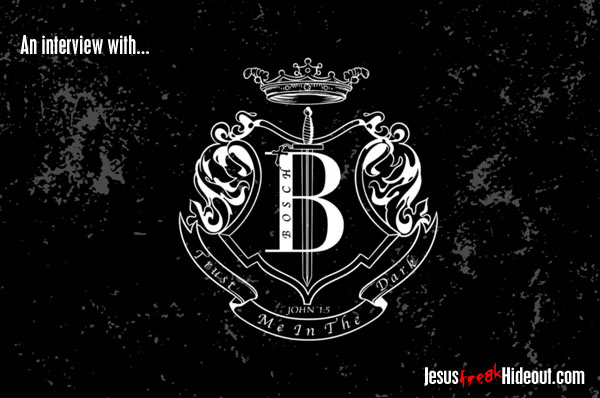 Jesus Freak Hideout (Josh Balogh): Bosch, what have been some of your favorite memories of being on the road with your band Radio Friendly?
Bosch: Some of my favorite memories being on the road with RF were not only getting the chance to share the stage with so many awesome acts and hang out in the green rooms and get to know them a little bit more, but really, it was getting the opportunity to meet all the fans and get the chance to be with them for a short time and being able to show them Christ in our lives through conversation and what we do on stage and be the light for Jesus.
JFH (Josh): When thinking about going out on your own apart from the band, what questions or fears if any, did you have to overcome to give it a shot?
Bosch: Actually, I really didn't have the chance to have any fears on going out solo as it happened pretty fast. As far as the band would go, I knew that I wanted to work with a certain group of friends of mine to make this EP the right way. Brad Barth (Audio Voyage) has been my blessing as a Producer and engineer and friend for over 20 years now, and he is what helps complete the sound and magic on every project RF and myself have done going all the way back to our Live EP in 2001. Steve Christian (Bass) has driven everything since 2008 and has the same love and appreciation for hard rock as I do, and we both wanted to do a project like this since the day we met. Marc Putnam has been a great friend for some time now and his band back in the day used to open locally for RF on occasion, and I was able to take him to his first namm show back in the day. We had the chance to play together when I sat in on drums for his band Mars Hill Revisited and we hit it off right away. We also share that same love for hard rock as well, so when I knew this EP was going to go down, I rang him up and brought him in and the rest is history. Marc had just finished laying guitar solos and rhythm tracks for James Durbin's latest record (Durbin) when we had started finishing arrangements on my EP. Only thing that really concerned me was playing out live and what that was going to like due to covid.
JFH (Josh): How big of a factor did the pandemic play in Radio Friendly taking time off the road?
Bosch: The pandemic was a huge factor in RF taking time off from what we were doing. Our last EP, Made To Worship, came out in March 2020 at one of the peaks of covid and we had to make a decision of dropping it worldwide or not and of course we wanted to share it as an inspiration of Joy and Hope, so we did. Of course, the only thing we really couldn't do was playing out live or go on the road.
JFH (Josh): Who are some of your longtime musical influences?
Bosch: Oh boy, I have so so many musical influences over the years. I mean, when I was a kid -- maybe like 11 years old or younger -- I would listen to Casey Kasem's Top 20 Countdown on Sunday mornings and listen to all of the different artists and take it all in and then listen to KLOS, The Seventh Day, a radio station in LA that featured full album spins from Led Zeppelin to The Scorpions to Deep Purple, etc. But growing up in the 80s primarily, I was heavily influenced by the sound and production that was some of the finest that there will ever be and so that's probably my biggest influence.
JFH (Josh): When you look for inspiration outside of music, where else do you get ideas for songs?
Bosch: Outside of music, my family is my main love and inspiration, and of course reading my Bible and devotions and living every day and experiencing life is where most of my inspiration and song ideas and lyrics come from.
JFH (Josh): What Scripture has been ministering deepest to you soul the last two years?
Bosch: Proverbs 3:5-6 is my all-time scripture, but in the last two years, John 1:5 has really moved me along with Daniel 1:3. Being the light for Jesus is so very important today; we've got to be able to reach souls with The Light he gives us.
JFH (Josh): Of these three songs on Trust Me in the Dark, which is your favorite, and why?
Bosch: Man, I really don't like to pick favorites as they all have a different character. Lyrically, "Trust Me in the Dark" inspires me every day. It gives me strength and reassurance in my walk and pray it does the same for every listener out there.
JFH (Josh): Dreaming big for a minute, if you could get one of yours songs placed in a movie or tv show current or past, what would choose?
Bosch: No question -- Tragedy would be my pick 100% on this one.
JFH (Josh): What item small enough to fit inside a mailbox would you be most excited to receive in the mail?
Bosch: A letter from a fan / listener telling me that through listening to our music, their lives were changed and that they had accepted Jesus Christ in their hearts forever.
JFH (Josh): What plans do you have for musical expression beyond these three songs? A tour? Additional music for a full album?
Bosch: So, at the moment, we are getting ready to do a relaunch of the EP on vinyl and CD on November 19th, and then doing a release show on the 20th and 21st to kick things off. After that, we will be working on a couple videos and we are in the works to start recording a single in late winter of 2022. Singles will be the direction we will be going from here on out now, including a possible single from Radio Friendly next summer of '22. With the pandemic still rolling, it unfortunately brings on a lot of uncertainties, but I know for sure one thing and that is no matter what: I will continue to make music for His kingdom in one way, shape, or form to Bring Him Glory until His return.