Nathan Bankhead
is a worship and gospel artist looking to innovate the scene. His most recent album,
Worship With Your Headphones On
, takes on gospel music with hip-hop/R&B beats and some club sounds as influence on the musical side of things. Lyrically, Bankhead takes the approach from a gospel and worshipful perspective. It's an interesting and eclectic blend that you certainly won't hear every day. With that said, Bankhead is definitely passionate about the music he makes, worshipping the Creator, and proclaiming the name of Jesus.
A lot of the album stays more towards the energetic side of things, but there are times when Bankhead brings it down for more worshipful moments. The opener, "Jesus Runs the World," is an example of what to expect from the more hyped numbers. Other songs that fall in that same vein are "God Hears Me," "Pop Ya Dance Fa Jesus," and "So So Dope." "That's Why I Worship You" is likely the best track on the album and features a slower, more worshipful, piano driven sound. "I Am Healed" and "Ain't Nobody Like You" are similar tracks in tempo and tenor.
Nathan Bankhead is seeking to reinvigorate the Christian music industry with an innovative sound and Worship With Your Headphones On is definitely an album like you've never quite heard before. With part gospel, part R&B, and part contemporary worship, Bankhead is looking to praise the name of Jesus and spearhead a movement of new and exciting music. Those searching for a new sound may want to give Nathan Bankhead's latest a spin.
- Review date: 6/26/19, written by
Michael Weaver
of Jesusfreakhideout.com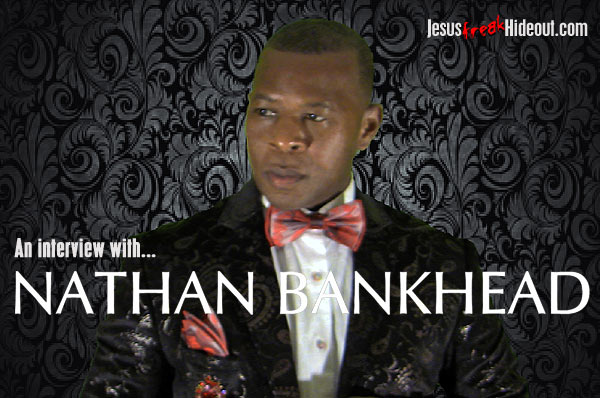 Jesus Freak Hideout (Michael Weaver): How long have you been writing and recording music?
Nathan Bankhead: I started working on music at the age of 12 by taking piano and vocal lessons. By the age of 15, I had a part-time job and I would save and buy recording gear like a Tascam Porta one cassette recorder and a Yamaha DX7 synthesize and a Roland Boss DR drum machine as well as several mics and headphones. By the time I was 16, I was recording demos for 10's of 20's of artists in the local Detroit area. This helped me truly understand song composition as well as production.
JFH (Michael): I noticed that you went to Full Sail -- which is in my area. It's an acclaimed school for music production. What drew you there?
Nathan: The opportunity to truly learn the art of music production as well as learning and understanding the discipline required to produce, mix and compose music.
JFH (Michael): Your album makes it apparent that you have a diverse musical background. Can you talk about some of your influences and inspirations musically?
Nathan: Absolutely. I was raised in a home where so much various music was played that it became a part of my music culture. As for my music inspirations and influences, let's start with the person who inspired me at the age of 11 years old with the Motown 25 performance: Mr. Michael Jackson. Because I didn't start out as a Christian recording artist, many of my influences were secular recording artists and performers. Such as Kenny Loggins, Earth Wind & Fire, Journey, New Edition, Fred Hammond, Miles Davis, Lee Ritenour, Christopher Cross, Luther Vandross, Kirk Franklin, NWA, Eminem, Bon Jovi, Commissioned, The Winans, Norman Brown, The Jacksons and so many more. But I would say these are the artists who've directly influenced my sound and passion for music.
JFH (Michael): You have the throne, the lion, and the panther... What's the symbolism behind the album cover?
Nathan: That's an awesome question. So, for me, I wanted the album's artwork to be inspiring as well as thought-provoking. So the album's artwork is a symbol and illustration of Leadership, Royalty and underestimated power and strength. The Throne represents the royalty that we as Christians are apart of in the kingdom. The Lion represents who God says we should be and the mentality we should have as believers. KINGS! The Black Panther (Wakanda Forever LOL) represents the underestimated power, intelligence, and strength of those who represent an ethnic and diverse calling in the kingdom.
JFH (Michael): Worship With Your Headphones On is an interesting title. Is it meaning worship in your private time as well as when you're at church? What's the full concept behind the title?
Nathan: The title emphasis is that our worship should be likened to how we listen to music at times. When we listen to music particularly with headphones or ear buds, it typically is a moment of intimacy with the music and the artist. This in my spiritual opinion is how our worship with the savior Christ should be reflected--intimate and a moment of isolation with just you and God.
JFH (Michael): I found a very positive YouTube review for the album. How has the overall response been since its release?
Nathan: The overall theme has been very positive as well as an interest in the song titles and how I came up with some of them.
JFH (Michael): Writing and recording an album has to be a stressful, yet exciting, time. What has God been teaching you throughout the process?
Nathan: To be totally honest, I believe God's teaching me to grow up and stop "expecting" people to believe in or support me or my vision. I believe he's teaching me and preparing me to have an increased and more fierce and focused work ethic. That my work ethic is my reputation, my prayer life and how I fast and tithe are my spiritual reputation. Finally, I believe God allowed me to see the movie The Godfather two days in a row for a reason: Michael Corleone. Michael Corleone always made it about business, never personal, just business. So many artists don't know how to separate their personal feelings from the music and the business, which then puts them in a vulnerable position to become easily defeated spiritually as well as emotionally. God is teaching me to work as hard as I can with everything in me and then give it to him.