The name may not be familiar to you, but over the last couple of decades or so, worship leader and musician
Eddy Mann
has been striking a chord in some independent music circles, with numerous albums and some independent music awards to his credit. Over the last year, Mann has worked on album number twelve, a worshipful batch of songs collectively (and aptly) titled
Worship in Spirit and Truth
. Mann clearly has a wide range of musical influences, as you'll hear different genres and styles throughout the eleven tracks. A lot of what you'll hear seems inspired by what is typically referred to as oldies, such as the opening track, "Every Little Thing," which brings to mind the classic song "Time of the Season" by The Zombies. "In the House of the Lord" and "When I Cry Aloud" shift gears into a folk/country gospel sound that works pretty well, while "Let Your Steadfast Love Be Upon Us" could safely be called yacht rock. While some styles seem to work better than others, and they may not all go together in one album, the diversity of sound is a credit to Mann's musicianship and songwriting capabilities. And of course, lyrically, he's not shy about his faith and his desire to praise the Lord with his music. Several of the songs touch on humility, a key aspect to living the Christian faith; "I'm Willing To Do Your Will" shows the singer wanting to do and say the things that Christ would have him to, and "I Surrender All" follows it up by exercising exactly what the song's title indicates. Eddy Mann is talented, and his smooth vocals are pleasing to the ears of those wanting some softer jams. Listeners who are more inclined to dig into more classic styles of rock and pop, perhaps fans of artists like Chicago, Michael McDonald, or Christopher Cross, but who also want lyrics that focus on the Lord, will certainly find this album to satisfy that desire. - Review date: 9/27/18, written by
Scott Fryberger
of Jesusfreakhideout.com
JFH Staff's Second Opinion
Independent artist and worship leader
Eddy Mann
has returned with his first worship album in three years,
Worship in Spirit and Truth
. The album carries a lot of the folk/rock and Americana vibe that Mann has made himself known for, but pulls it off in a manner that makes the album more accessible to those who aren't necessarily a fan of the genre. Folk-styled music can often be seen as a niche, but Eddy throws some blues and country elements into the mix to help even things out. Songs like "Every Little Thing" and "I'm Willing to Do Your Will" have a bluesy feel with some tasty guitar licks spread throughout each song -- this was a real strength of his 2016 album,
The Consequence
. "Divine Nature" captures more of the rock aspect and "When I Cry Aloud" has more of a country feel. Mann keeps the sounds varied as the album progresses, but the focus remains on worshiping Christ. The lyrics can get a little repetitive at times ("Every Little Thing" and "O' My Shepherd"), but they are still pretty fresh overall -- you aren't going to hear parts of these songs already being sung constantly when you switch on your radio. That alone is a reason to pay attention to
Worship in Spirit and Truth
. Eddy Mann has crafted a fantastic album that's a joy to listen to. It would be nice to see more worship albums with this type of diversity and sense of sophistication. While Mann's target audience may still be slightly more mature listeners, I'd encourage anyone to give his newest effort a listen.
Worship in Spirit and Truth
is a bit of a breath of fresh air in a demographic littered with sound-alike releases. - Review date: 10/11/18, written by
Michael Weaver
of Jesusfreakhideout.com

Record Label:
None

Album length:
11 tracks: 54 minutes, 8 seconds

Street Date:
October 5, 2018

Buy It:
EddyMann.com

Buy It:
AmazonMP3
Every Little Thing (5:27)
Divine Nature (3:46)
(O That I May Dwell) In the House of the Lord (3:52)
Where Heaven Touches Earth (6:14)
I'm Willing To Do Your Will (3:16)
I Surrender All (7:55)
Once Again Lord (4:55)
When I Cry Aloud (5:03)
Let Your Steadfast Love Be Upon Us (4:48)
My Secret Heart (4:42)
(O My Shepherd) Carry Me Home (4:09)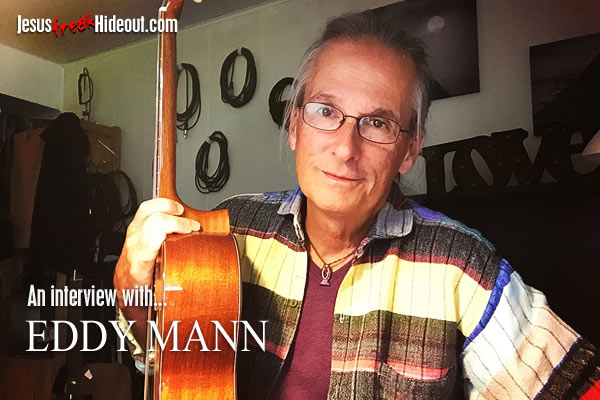 Jesus Freak Hideout (Scott Fryberger): Looking back on your discography, what is one thing that you noticeably improved on?
Eddy Mann: I think the area that shows the most growth is my spirituality. Like everyone else who shares in this journey, I'm constantly growing in my relationship with God, so it's only natural that the lyrical portion of the songs would reflect that growth. Musically, I've learned to just be myself, and not to get caught up in whatever the business side of Christian music decides is popular. I need to run my race, which translates into writing and performing the truth as it passes through me.
JFH (Scott): Do you write all the parts for your songs?
Eddy: I write pretty much on my own, but I never really thought of it as a solo venture. What I mean is that when I'm writing, I'm usually in a place of prayer where the Spirit is hopefully a part of the creative process. If I'm being honest, I'd say that all these songs were co-written with the Holy Spirit. As for the studio, the latest album, Worship in Spirit and Truth, was a solo venture. I don't prefer to work that way, but often it's the most economical way to get things finished and to stay on schedule. If I can't play what I hear, or go where the Spirit is leading, then I'll always go outside to bring someone else in, but I've been blessed to be able to play and/or sing all of the tracks on this project.
JFH (Scott): How often do you perform live outside of the church service setting?
Eddy: Over the past few years, I've played about 100 dates a year. That's quite a lot for an independent artist, but God has provided an abundance of concerts, coffeehouses, and worship events over that time. I see that number decreasing a bit as I move forward. Lately I've been finding myself led to spend more time in the studio writing and recording with a long list of peers.
JFH (Scott): How long did you spend writing the songs for Worship in Spirit and Truth?
Eddy: The songs on this project were written over a three-year period where I released and supported three secular albums. These albums, Dig Love, The Consequence, and Simple Thing, were filled with Biblically-inspired songs that were created as conversation starters for the unchurched. So they were still Christian in theme and message, but they weren't what you would call worship projects.
JFH (Scott): The new album seems very stylistically eclectic. Which artists do you feel have inspired your sound?
Eddy: That's always a hard question to answer, because I've always listened to a very broad cross selection of music. On any given day I'll listen to something completely different than I did the day before. So when I write, whatever supports the lyrical message the best is where I'm going to allow the song to go. I never want to force the song in one direction, but want to kind of funnel it along to where it wants to go naturally. The result is like you correctly stated: musically, it's a fairly eclectic release.
JFH (Scott): What message do you hope to communicate to your listeners?
Eddy: Well, this being a worship release, I hope that these songs can provide an avenue for listeners to get closer to God; to experience a deeper time of worship, and maybe, for some, a way to discover or return to their faith.
JFH (Scott): If you could co-write an entire album with any singer/songwriter, past or present, who would you want to work with and why?
Eddy: Wow! Great question! Hands down, it would have to be David. That'd be the ultimate experience, though I'd probably (laughingly) find myself allowing him to take the lead in any difference of opinion.
JFH (Scott): Which song from Worship in Spirit and Truth would you recommend to someone who might be interested in listening to it?
Eddy: The two songs that have had the greatest impact so far have been "Every Little Thing" (a song of praise) and "Where Heaven Touches Earth" (a song of prayer).
JFH (Scott): Would you like to add anything else?
Eddy: Only that I'm blessed to be able to do what I do. God has provided a platform for me to share and to spread the Gospel, but it's important to know that the Bible says that each and everyone of us is created for such purposes. So, in closing, I'd like to encourage everyone to pray for clarity, and to allow the Spirit to work through them to further God's kingdom however they're blessed.