Ryan Faison
is a student ministries pastor, adjunct professor, and is now breaking into the music scene with his first single, "Your Will in Me." This is a prelude to an EP Faison plans on releasing later this year. His debut single is a passionate, upbeat pop worship song about God's trustworthiness and leaning into that to let Him lead. The lyrics are pretty standard and there's not a turn of phrase in here that hasn't been used before. But where the words lack punch, the music makes up for it. This is a good, easy-going song to jam to or have playing in the background. The arrangement, mixed with Faison's vocals, add to the listening experience. The guitar solo in the outro adds a creative touch that elevates the song. "Your Will in Me" may be a safe release for the current market, but hopefully the forthcoming EP will allow Faison and company to branch out and flex more musical and lyrical muscle. - Review date: 3/23/21, written by
John Underdown
of Jesusfreakhideout.com

Record Label:
None

Album length:
1 track: 3 minutes, 52 seconds

Street Date:
March 26, 2021

Buy It:
iTunes

Buy It:
AmazonMP3
| | | |
| --- | --- | --- |
| Your Will in Me (3:52) | | |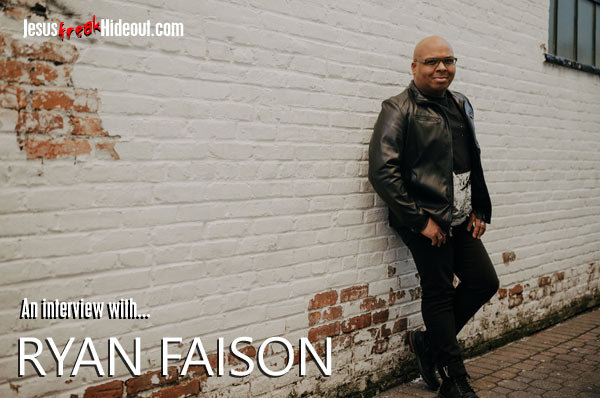 Jesus freak Hideout (John Underdown): What's a little bit of background into your ministry and music?
Ryan Faison: Ever since I was young, I had an insatiable appetite for all kinds of music genres and styles. At the age of 13, I accepted Jesus Christ as my Savior. It was at this point that my musical tastes expanded to gospel and contemporary Christian music (CCM). When I began to attend my home church (Christ Church), I discovered my calling as a worshipper and a worship leader. I joined the choir, the worship team and now serving as a worship leader for over 15 years. The experience of encountering God through worship, music and songwriting has been a significant part of my spiritual growth.
JFH (John): I was impressed with all the different roles and ministries you are involved in. How do you balance so much?
Ryan: I've learned (and am still learning) setting healthy boundaries and only saying "yes" to opportunities that fit my calling. Over the years, my roles and responsibilities as a pastor, worship leader, professor and producer have evolved. As such, it's given me an opportunity, with God's help, to know what I should prioritized, what needs to be delegated and what I need to forego. I'm thankful to my wife Kristyn, my parents, my family and my good friends who have helped me stay on track! I'm also thankful to those I serve with at my home church who value teamwork!
JFH (John): What's the background to your single "Your Will in Me"?
Ryan: I was reading Luke 22:42, where Jesus - in the Garden of Gethsemane - prayed to God, "Father, if You are willing, take this cup from Me. Yet not My will, but Yours be done." The words of Jesus were personally convicting. I asked myself, "Could I have prayed the same prayer under those circumstances?". Admittedly, I might have said the words, but my lifestyle didn't represent such a declaration. I had the chance to visit the traditional Garden of Gethsemane site in Israel. The moment changed me. I knew that if I was going to live a surrendered life to God, His will must be done in me. This conviction led me to write this song.
JFH (John): What are some ways or practices you've discovered help you follow God's will?
Ryan: While there are a good number of practices I can share, the two areas that have helped me immeasurably are (1) studying the Bible; and (2) prayer. I used to think knowing God's will was a mystical exercise, requiring nothing short of all of Heaven coming to earth! Over the years, I learned that I can know God's will through His Word. He's already spoken it. For example, the will of God includes giving thanks in all circumstances (1 Thessalonians 5:18). I can rightly practice gratitude because I've learned how to do it through God's Word. Another practice is the discipline of prayer. Prayer sensitizes my heart and has been the lifeline that connects me deeply with my Heavenly Father. Prayer has also given me the courage to step out in faith and believe His promises.
JFH (John): You're currently working toward releasing an EP. Will it have a similar message to your first single?
Ryan: Yes, I'm excited about the whole project! "Your Will in Me" sets the stage for songs of encouragement, inspiration and reflection. There will be worshipful songs but also songs that speak to the issues and challenges of life. It's my hope and prayer that the songs on the forthcoming EP will have each listener know they are loved by God and He has a purpose for each of us.
JFH (John): How can people interested in your music best support you?
Ryan: Every stream and download is appreciated! You can also check out my accounts on Apple Music, Spotify, @RyanFaison on IG/Twitter and my website www.RyanFaison.com. I look forward to continuing the conversation of faith and hope through the messages of every song and release. It's my hope for everyone to join me on the journey - or should I say, adventure!
JFH (John): Finally, a silly question: would you rather be a robot that could fly in space or a merman that could live underwater?
Ryan: This is a hard one! If I had to choose, it would be a merman that could live underwater. According to myths, some are hideous and some are handsome. Since I had to choose between a merman and robot, let me at least be a handsome merman! :)