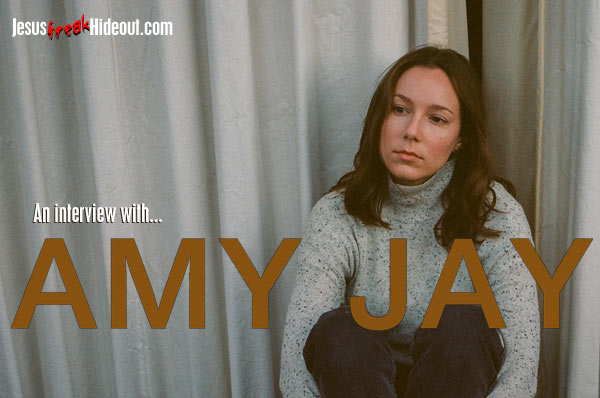 With the release of her first solo album,
Awake, Sleeper
, indie artist Amy Jay answered a few questions from JFH's Andie Hardee about her new project...
This interview took place in February 2022.
JFH (Andie Hardee): First off, who are your main musical influences?
Amy Jay: Oh, there are so many! I'll keep it to this album's influences-Gia Margaret, Angelo De Augustine, S. Carey, Big Thief, Lucy Rose, Mitski, to name just a few...
JFH (Andie): The mellow, floaty quality of the music, and your voice, draws me in more each time I listen to it. Do you play piano and/or guitar on the album?
Amy: I'm so glad it draws you in! The only song I recorded guitar on was the last track that we took from the actual phone demo I made when I wrote the song, "Self Deprecation." Recording is a whole other skill, and I was happy to pass the torch to Chris Parker and Mike Robinson, who did an amazing job and added their own magic. All that to say, I do write on piano and guitar, so every one of these songs had its origins with those instruments.
JFH (Andie): There's a lot of introspection in this album, especially in songs like "Monster." What would you say are the major themes of Awake Sleeper?
Amy: Yes, I would say the whole album is introspective. If I am asking questions, they are either rhetorical or imagined. Writing is my process, so I am inviting you into my brain. The album has themes of duality flowing throughout: Calming chaos, independent dependence, adult child, hopeful despair, to name a few. These seemingly contradictory identities coexist, and I am trying to make sense of it. It is a big reason why I chose to double my vocals in a lot of the tracks. Secondly, there is a theme of transition and loss. Basically, I had some growing pains to sort through, so there's a lot of anxiety and tension in myself trying to make sense of where I fit in - in my beliefs, in my marriage, in my career. Everything was shifting.
JFH (Andie): You use a lot of vivid imagery in "Lucid Dreaming." What was the inspiration for that song? Does it describe one scene or a bunch of snapshots?
Amy: "Lucid Dreaming" is quite 'meta'- it's a scene within a scene. I found myself in the front car on the subway, staring at the lights in the tunnel through what seemed like three panes of old glass, creating a kaleidoscopic effect. It was summer, and someone on the train was probably going to the beach or something because the car smelled of sunscreen and cigarettes. It immediately brought me back to my childhood birthday pool parties. My grandparents (though they would never admit it) and my parents' friends smoked, so I grew up smelling smoke on clothes from the people who loved me. Fast-forwarding to this moment on the train, I was in the midst of re-figuring out my faith, and at the time, I couldn't make sense of anything. The memory helped me escape for a moment and cope with that disillusionment. I've heard smell has a strong link to memory, and this was the most visceral experience of it.
JFH (Andie): Other than "Monster," "Inner Critic" is my favorite song at the moment--maybe because I can relate so well. My inner critic, in fact, is badgering me on how exactly to word this sentence. I like the description of arrows slipping from your hand. I assume you're describing the struggle between wanting to fight the critic and doubting whether you can. Is that close to what you meant?
Amy: I love hearing how these songs resonate with you! Yes, definitely. So, I was caught off guard when I realized that I had dissolved the barrier between myself and my husband. There was no end and no beginning of either of us, and therefore, the harsh inner critic that plagues me spilled over to him. It was a weird marital phenomenon that apparently happens to people (I found this out by googling down a rabbit hole). I was watching him as myself, objectively subjective, treating him like I treated myself--unkind, critical, shaming. It alarmed me. It forced me to face the fact that I needed to work on myself. I needed to take responsibility here and, first off, treat myself kinder, in order to treat him kinder, while healthfully detaching from him in a way that respects his individual unique personhood and mine. Our separateness is a beautiful thing, but a scary one. In this song, I am coming to terms with the loss of my illusion that I had any control in the first place.
JFH (Andie): To follow that up, are you referring to perfectionism when writing music, or is it more about giving yourself a guilt trip?
Amy: Yes, haha. The editor in my mind is always trying to erase, redo, reflect, avoid regret, improve, harass, and everything in between. This naturally spreads to all spheres of my life, so I have to be careful not to let it run the show. Being a creator is not synonymous with perfection, in fact, it might be the exact opposite. Still, I do think it's important to attempt to express myself as genuinely as possible and do what I can to convey what I mean in the clearest way possible.
JFH (Andie): Your bio mentions some word-painting in this album-like repetitive notes to indicate anxiety-but it doesn't mention the projector sound in "Inner Critic" when you talk about "projections on a screen." Did you go retro and bring a projector into the studio, or did you just use sound effects?
Amy: Oh, I wish we had an old projector! This one was a sound effect we found through some sleuthing.
JFH (Andie): Since the pandemic might be getting better, are you planning to tour any time soon?
Amy: I am! And I am hopeful. I am playing a few dates in the south in late March/early April (in the shuttle bus I renovated to an RV last year!) and have some potential dates for summer and fall. My goal is not to play as many shows as possible but to play quality shows where I can build a communal experience we've all been deprived of these last few years.
JFH (Andie): Where can we find Awake Sleeper?
Amy: Wherever you listen to music! Or if you prefer the analog route, my vinyl will be coming out hopefully in April, but you can pre-order here.
JFH (Andie): Is there anything else you'd like to share?
Amy: I hope that whoever listens to this album is able to turn inward and reflect, but then also bring what comes out of those deep dark places forward. I was told once that our mind is a scary place, and we shouldn't walk there alone. I find that to be so true. I don't think I could have passed through this season without processing it with others. Making this album was healing and interestingly timed (I recorded it in 2019 before the pandemic). Collaboration in every aspect is key--in music, in the humdrum, in the existential. We all need each other, now more than ever.