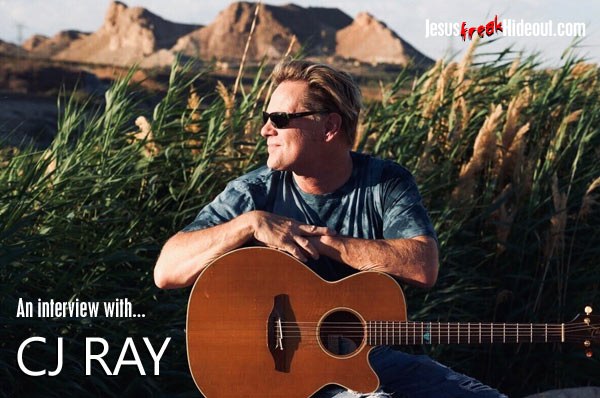 With newly released music under his belt, indie artist CJ Ray answered a few questions from JFH's John Underdown about his latest singles and what's ahead in early 2021...
This interview took place in December 2020.
JFH (John Underdown): For those unfamiliar with you and your ministry, what's a little bit of background about you and your career?
CJ Ray: I grew up in the Chicago area and played in numerous bands including a band that featured Tom Morello on guitar. However, my first band as a lead singer and songwriter was called Refuge. Refuge morphed into a band called CUSA which had some local success in the Mid-West, opening for artists like, Steven Curtis Chapman, Margaret Becker, The Alter Boys and The Choir. However, as my family grew, I was forced to focus on a more stable career to pay the bills. In 2017, I sold my business which allowed me the freedom to again focus on writing and recording music. I am praying God will use me to share His truths and His love with the world.
JFH (John): This has been a busy year for you; what are some of the major releases you'd like to highlight?
CJ: The spark that got things going was the inclusion of my song "Words" in the movie High Strung Free Dance. This song was released on the soundtrack for the movie, and also appears on a collection of my songs under the title, Be Where You Are. This album was produced by Cameron Tyler and Mark Owen. I love much of what is on this album, but do feel, stylistically, it wasn't a reflection of the sound I wanted for CJ Ray. After that release, I went back into the studio and kept working on the sound. The EP that will be out, in the new year, contains two singles that have already been released-Death Valley and Today- and three more songs that hit harder and gets back to my love for guitar-centric, rock and roll. It was recorded at Dave's Room in North Hollywood with a live band. It took some exploration to find my sound, and I'm glad I did. I really love the energy of these tracks.
JFH (John): One of your recent singles, "Death Valley," got the music video treatment. Do you plan on giving your latest single, "Today," something similar?
CJ: The video for "Today" is scheduled for release at the top of the new year. It picks up where Death Valley finished and functions loosely as a sequel video to Death Valley. I worked with the same directing/producing team from "Death Valley" (Nic Wendl/Director; Juel Concepts Producing) to keep it consistent. I think the imagery is very powerful and I am excited to see how people react to the emotional nature of the song and video content.
JFH (John): What's the story behind "Death Valley"?
CJ: I was raised in a family of 8 kids. My dad had PTSD, so you can probably imagine that chaos and anger were common elements to my upbringing. My dad meant well, but when he went off, it was sudden and brutal. He had a very sharp tongue and when "set- off" could be satanic in his belittling. The things we see modeled as children so often become a part of us. I have had outbursts that mimic my dad's. They don't occur often, but when they have it is the grossest feeling ever--to act the way you hated your dad acting. Why? How do I fix this? How do I repair the damage I just did to another? Will I ever be healed of this? These were all the thoughts I had which inspired me to write "Death Valley."
JFH (John): I've known people who struggle with their relationships to abusive parents. A song like "Death Valley" offers hope for those situations. How were you able to push through?
CJ: I was very fortunate to have Christian friends take me under their wings. They explained to me that God loved me. That my life had value. That my dad had not demonstrated the true love of a father to his son, not because he hated me, but because he was ill. It took a long time, but I eventually made peace with my dad. I was able to tell him that I forgave him and that I loved him. I also shared with him the amazing love of Christ. My dad trusted Jesus after listening to an audio tape of Billy Graham weeks before he passed away.
JFH (John): "Today" can be pretty convicting about how we spend our time. What was the story behind its writing?
CJ: My pastor was speaking on Romans 12:1-2. I had heard theses verses a hundred times before but that morning the words, "in view of God's mercy, to offer your bodies as a living sacrifice, holy and pleasing to God" just killed me. I had been claiming to know and love God for years, but my life was all about me, myself and I. I was disgusted with how little I understood about God's mercy and about living to please Him. I went home and sat at the piano and as the tears rolled down my face, the song came out of me.
JFH (John): What are some ways you've found helpful to keep you focused on living for Jesus in this day and age?
CJ: Staying connected to other Christians and setting aside time each day to read and meditate. I also go to sleep listening to my Bible. The "You Version" app has been an awesome way for me to take in God's words even as I fall asleep. I joke with my wife that it probably looks bad that the Bible helps me fall asleep, but I find it helps my mind remain clear of worry and distraction as I close out each day.
JFH (John): Are these singles leading up to an EP or a full-length? What do you have planned next?
CJ: I am releasing a 5-song EP in early 2021. It contains the two singles already released, two other originals songs, plus my rendition of the Sarah McLachlan song, "Sweet Surrender."
JFH (John): What would be the best way for people to support you and your music?
CJ: Crank up the songs, learn the words and sing out loud! Give God glory for the hope we have in Jesus and ask God to make all of us better reflectors of His love and goodness! Also, my manager would love it if you would follow CJ Ray on Spotify, Pandora or Apple Music - and if you want to see the video, Youtube, too!
JFH (John): Finally, a silly question: Would you rather take part in a drag race in Death Valley or perform "Today" on The Today Show?
CJ: Both would be amazing. How about I sing "Today" while going 200 MPH? Haha!