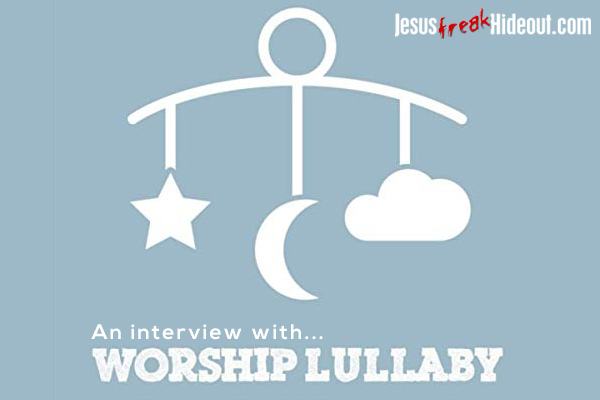 JFH's Christopher Smith caught up with
Worship Lullaby
's Mike Graff to talk about their latest project,
Classic Hymns, Vol. 2
...
This interview took place in April, 2019.
JFH (Christopher Smith): What is the history of Worship Lullaby?
Mike Graff: When our second son was born, I noticed he loved listening to lullabies as many young children do. It helped calm him down and mellow out, especially for quiet play times and sleep/nap time. As a worship leader, I also had worship music on around the house often, and found he liked listening to that as well. But it didn't necessarily "mellow him out." So I thought, "Why not create a bunch of gentle instrumental versions of some worship songs and hymns?" That way he could listen to the songs he wanted to on a regular basis, but in the style that helped him relax.
JFH (Christopher): How do you go about selecting which songs you want to reimagine for these releases?
Mike: As much as Worship Lullaby is a gift to my own kids, it also is a gift to anyone who enjoys worship music and lullabies. So I try to make song selection less about me, and more about what a lot of parents are hearing in their churches so they can find a lullaby version when they get home from church to listen to with their young kids. I love every single song, don't get me wrong! But I try to find the ones that will resonate with the most families. A lot of consideration goes into if the individual songs will work well with the typical instruments I use for each lullaby, too. It's a bit of a process, but it's a lot of fun!
JFH (Christopher): What is your process for turning well-known worship songs and hymns into a lullaby?
Mike: I typically begin with blocking out the chord structure and melody on piano or a similar instrument, to begin to get a feel for what tempo works well, what key works well, and to get an idea of where the song is headed. Then I'll start re-recording with some of our signature lullaby instruments - marimba, a playable music box, bells, upright harp, etc. - and play around with it until a lullaby-like melody has started to show up and go nicely with the song's original melody and feel. It changes from song to song, but the discovery process is a lot of fun.
JFH (Christopher): On Classic Hymns Volume II, were there any songs that were easier or harder to write new compositions for?
Mike: The Classic Hymns collections overall were simpler on the melodic side of things, since most of them have a melody and song structure that repeats itself (sometimes several times). So the trick was to get each verse to feel different, almost as a breath of fresh air, instead of just hitting the repeat button for all four verses. Thankfully, I think we succeeded in having them sound fresh and new!
JFH (Christopher): What kind of response have you been getting from parents?
Mike: The response has been positive, not just in the practical sense (that the lullabies do a fine job of calming down their kids) but in the spiritual sense as well (sharing these truth-filled songs with their children). One listener recently told me, "The struggle to find good music for quiet time or nap time is very real. These songs are so relaxing and beautiful! They serve as a gentle reminder - to the kids and to me too! - to rely on God's strength & to love with His love no matter how crazy the day may be."
JFH (Christopher): I understand you have three kids--how old are they and what do they think of Worship Lullaby?
Mike: It's funny - even our oldest son Ryland (7) still thinks it's so fun to have these lullabies of songs he's very familiar with. Our second son Braeden is 4 and still enjoys them. It's been a real joy to watch our third child - our daughter Amelia (1) listen to them and enjoy them as she plays and naps. It's a pretty special thing to share that with them.
JFH (Christopher): I've got two toddlers of my own and when they were infants I would have a playlist of songs playing from my phone when I rocked them to sleep. Whenever there was a song transition I slowly lowered the volume as a song was ending and slowly increased the volume as the next one began so as not to startle them. The songs on Classic Hymns Vol 2 have a seamless transition from track to track. How important was that to you and how difficult was it to accomplish this?
Mike: That's a huge compliment - thank you! We try to not only create lullaby "versions" of worship songs, but to make sure they specifically are what lullabies should be - peaceful melodic music that soothes into calm or sleep. So I try to make sure every lullaby on every album does a fine job of gently ending and also gently starting, so that you can have a soothing bedtime routine even if you put Worship Lullaby on shuffle.
JFH (Christopher): What were your musical or non-musical inspirations for these compositions?
Mike: I'm always one who looks to instruments and sounds as an inspirational source, beyond specific artists or composers. To spend a lot of time coming up with our original set of instruments for the first two volumes of Worship Lullaby was one of the most fun parts of the Worship Lullaby journey, since it's steered a lot of the creative choices we've made ever since. I do try to listen to a wide variety of music, though, for inspiration from all genres and songwriters.
JFH (Christopher): Worship Lullaby music is being released under Coresound, which is a company you founded. Can you tell us about Coresound?
Mike: Coresound is the company I run that houses a bunch of different creative and musical entities. It's such a joy to get to create and to be a part of some truly diverse opportunities. Coresound is currently home to Worship Lullaby, Coresound Pads (music resources for worship leaders - coresoundpads.com), and Dear Gravity (cinematic-ambient music for film and personal listening - deargravity.net). I also do freelance work under the Coresound name - as a producer for songwriters, audio branding/sonic identity work for companies, and assorted video work as well.
JFH (Christopher): What's next for Worship Lullaby?
Mike: Now that the second installment of Classic Hymns is released, it's time to wrap up recording on Worship Lullaby Vol. IV! We''ll be releasing that album in late summer, and will also have our second installment of Christmas Lullaby release around Thanksgiving-time, just in time to enjoy for the holidays.
Worship Lullaby new album Classic Hymns, Vol 2 is available now!
Download a free MP3 of the song "Doxology" at our Free Indie Music Page