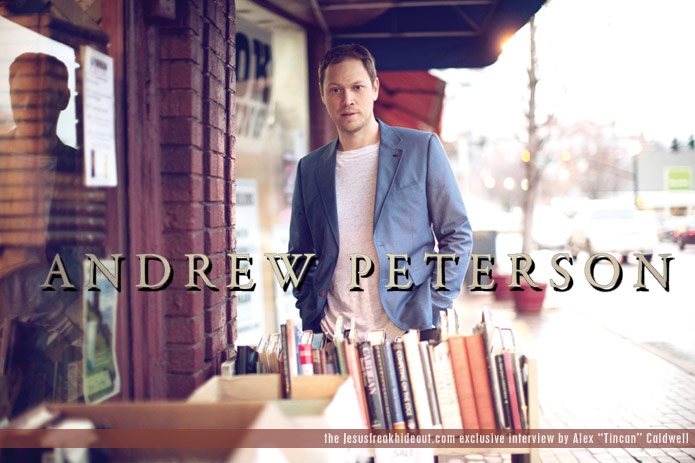 Where does Andrew Peterson find the time to do all that he does? Between writing and releasing albums, touring and holding epic Christmas shows, he has found the time in his day to write a series of fantasy books for children, based loosely on his own family life. JFH's Alex "Tincan" Caldwell sat down with Andrew before a show in Concord, NH recently and talked to Peterson about all things under the sun, as they pertained to the writing process.
This interview took place on: December, 2012





JFH (Alex Caldwell): The hardest interview for me to do is with someone who I'm a longtime fan of because you get to know someone on a certain level by listening to or reading their art, but you really don't have any relationship with them in the real world; you just think you know them. If I interview a band or artist I don't really know yet it is much easier because you are just asking good questions to get to know them. But I've been a fan of yours for a long time, so forgive me if I 'gush' a little too much or get weird on you. It's just an honor to get to talk to you today.
Andrew Peterson: Don't worry, I know what you mean. I'm in the same boat. People sometimes get weird when they ask for an autograph or want to give me one of their CD's to listen to, but I always try to let them off the hook by telling them that I get awkward when I meet one of my heroes. A few weeks ago I met Marc Cohen and gave him one of my CD's and I got a little shy, and he was gracious to let me off the hook and just talk a bit. So I know what it's like
JFH (Alex): So it's interesting for me, having this sort of 'track record' with your work, to now read your books, which it seems in many ways mirror you life in that you have three children, and the book's main characters are three children, and having kids of my own and wanting to write about them and for them. Can I ask you the question that my wife asked when she was reading the book?
Andrew: Sure, hit me.
JFH (Alex): Do your kids ever react when you write something about that character that is based on them? Do they say 'Is this how you think of me Dad?' Like the character who is a cripple. Does your daughter say 'is this how you see me dad?'
Andrew: That's a great question. My main concern was the middle child. Some pretty dark stuff happens to him in the second book, and when I started writing the series, my kids were ages 5, 4 and 2, and in a weird way they have really grown into the characters that I wrote based on them.
JFH (Alex): So you were kind of prophetic?
Andrew: Yes, and now I'm writing the fourth book in the series where they all become doctors and lawyers! *Laughing* But seriously, from the beginning I knew that the two brothers were going to have conflict, and that would be tough on my boys, reading about jealously and striving between the brother characters who were based on them. And that's a pitfall I never thought through when starting the books. But it's necessary to write about because it really happens. But I had to sit down with my middle child, my son, and I had to tell him "yes, these characters were based on you, but don't project yourself onto them too much. There are certain things there yes, but you are your own person. I love you and you are on a good path right now. These characters are becoming their own thing." Also, the more I write these characters, the more they are becoming their own thing entirely. Also, there is a bit of me, the writer, in each one of the characters.
JFH (Alex): I've started writing a book with characters based on my two daughters because the two of them are so interesting that I just had to write something about them. Even at one and two years old I knew they were going to be legendary personalities.
Andrew: What you are going to find is that the more you write, the more you spend time with the characters, the more they will become their own thing entirely. Add to this that every character you write is a piece of "you" in a small way, and you have people in your stories that become their own thing entirely. You might think you know where you are taking your character, but the longer the journey, the wilder and more unique your character and story become.
JFH (Alex): Were your kids excited that you were basing characters in your books on them?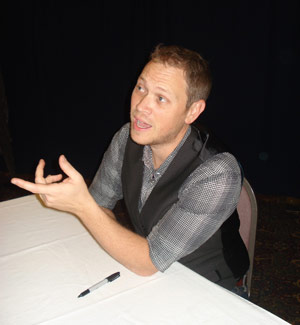 Andrew: All except my daughter, my youngest. She's not much of a reader yet, compared to her two brothers, and it has become a joke in our family; that she doesn't really know or care about the books yet. I say to her all the time 'don't you know that you are in these books?' She just laughs.
JFH (Alex): Speaking of kids and family life, let me run down a list of things you have done in the last ten or so years: nine plus albums, three books (with another on the way soon), tours and conferences and countless other projects. How do you find the time to do all this?
Andrew: *laughing* Well, I don't really know. You have to schedule. When I first started writing the books I was just moonlighting. I wouldn't watch television at night with the family. Now that the books have become a "real thing" I have to carve out space in the schedule to write. Touring is what pays my bills, so I have to do that to pay the mortgage. I have a few months coming up where I am going to finish the next book and then start on some new music. Writing, when it's all done is a delightful process. But sitting down and getting started is a grind. I don't believe people who say they write because they have to write. I write out of a need to pay the mortgage.
JFH (Alex): Whew! You must have to learn how to block out distractions if you have tight timelines like that.
Andrew: Oh yeah. Have you read The War Of Art by Steven Pressfield? He's the guy who wrote The Legend Of Bagger Vance, and in The War Of Art he's this drill instructor yelling at you for ninety pages about what it takes to write. His language is sometimes foul, but he says that the moment you decide to sit down and write or create something intentionally you will get phone calls from people you have not talked to in years. Distractions will come at you from all corners as if something is trying to willfully stop you. As a believer this makes sense because the moment the Devil knows that you are trying to show truth in a beautiful way, he is going to try to stop you.
JFH (Alex): I love how much humor you bring to the books, it makes a genre like fantasy that oftentimes becomes so serious, like The Hunger Games, and gives it a lighter tone. The language is sort of like Dr. Seuss meets Lord Of The Rings.
Andrew: Thank you for saying that. Sometimes I think that the humor is just to be able to hide or mask the fact that I'm writing something as notoriously geeky as Fantasy literature. Sometimes you never get beyond being the embarrassed 13- year-old boy who wants to hide the books he's checking out of the library. In the beginning I liked to tell people I was writing a humorous novel for children. I still want to be "cool", and that's always the battle isn't it? I'm, 38 years old and a writer! Why am I bashful about liking Harry Potter and The Hobbit?
JFH (Alex): What helped me wade through the silliness in the beginning of book one was the creepy nursery rhyme that starts the book. That created a sense of dread in me that helped me wade through the silliness, the 'Blaps' and 'Toothy Cows'. Then, about midway through the first book I sensed you shift into another gear, like you came into your own as a writer, and the book ends fantastic.
Andrew: Thank you. I did get better as I kept writing, and I'm glad you noticed that. The third book is my favorite, and I really felt like I was figuring out what kind of writer I wanted to be. I'm proud of all the books, but I can see how I grew as a writer from the first chapter till now. Though I still don't know what I'm doing. *Laughing*
JFH (Alex): Here is a question that has been marinating in my head as a writer ever since I learned that you were writing a series of children's fantasy books. Did you feel pressure on yourself to weave the gospel into your story like The Chronicles Of Narnia? It seems like lots of Christian writers try to do this. Did C.S. Lewis "set us up" so to speak?
Andrew: I saw a Phillip Pullman interview after I got done reading The Golden Compass--by the way, a book I really wanted to like, even though I know he's an atheist and was writing the book as a response to The Lion, the Witch and the Wardrobe. He's a great storyteller and I was really enjoying the book till the end where one of the characters pulls out a Bible and then you realize that there is an agenda here of a devious sort. It turned me off in the same way, incidentally, that 'Christian Fiction' with an agenda turns me off.
JFH (Alex): I saw the note you have to parents on the book's website, and you mention that you are trying purposely to avoid a direct 'message' and are just trying to write a good story, but that your faith will always hopefully shine through in everything you do. I guess people can smell an agenda five miles away.
Andrew: Right! I love the Narnia books, but they are so unique. No one else could have handled the material in the way Lewis did.
JFH (Alex): He was already a well known Christian writer and apologist, so Narnia didn't 'surprise' anyone. There was no template for it before that.
Andrew: Right. He was unabashed about it. But at the same time he does ambush Christians with the beauty of the gospel.
JFH (Alex): "May we all 'ambush' people with the beauty of the gospel."
Andrew: Amen! It was really great talking to you today. Good luck on your book.
JFH (Alex): Thanks, Andrew!
You can read Alex's review of the first book in The Windfeather Saga, On the Edge of the Dark Sea of Darkness by clicking here!


Click here All News Headlines
|

RSS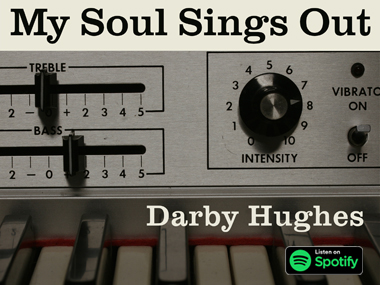 ---
---
---
---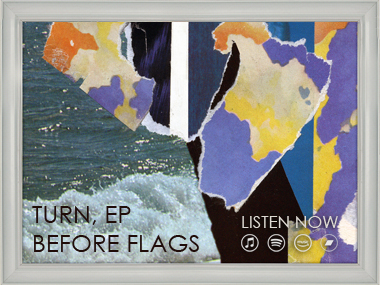 ---
---
---
---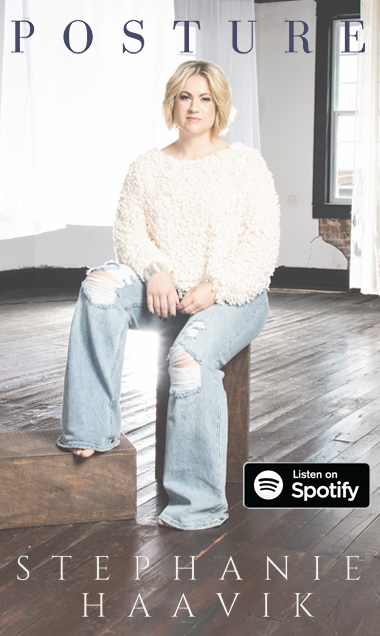 ---