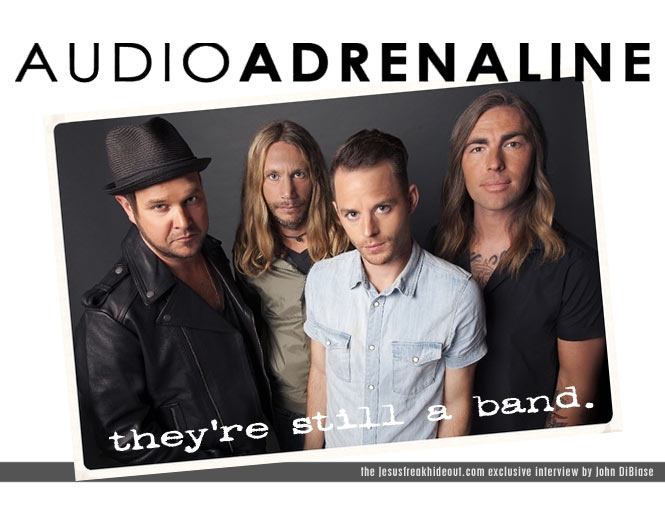 In response to
the news
of Kevin Max stepping down as lead vocalist of Audio Adrenaline, the band's bassist and founding member Will McGinniss connected with Jesusfreakhideout.com to talk about what their journey in the past couple years has meant to them as a band and what the future holds for them...
This interview took place on: 6/4/14.
JFH (John DiBiase): What are your thoughts on the second run of Audio Adrenaline (since reuniting in 2012) thus far?
Will McGinniss: It was an incredible 2 years. God is a creative and redemptive God. So much was accomplished and there's so much to testify about God's goodness.
JFH (John): Looking back on the past two years since the band came back, how has it affected/helped The Hands & Feet Project?
Will: The Hands and Feet Project has been immensely blessed from the return of AA and from us getting to tell that story, which is and has always has been so near and dear to our platform. It's been amazing. I'm actually writing this from Haiti as we speak. My family and I are here for a month this summer. Crowds were encouraged and people connected with many of the songs from the Kings and Queens record.
JFH (John): The news about Kevin Max's exit from the band just went public today. How did his leaving the band come about?
Will: I personally love that the guys in the current AudioA and Mark (Stuart) and I were able to walk alongside Kevin and really lock arms with him. He has always been a dear friend and is often misunderstood and I wanted to boldly let people know what a dear soul he is and that God wants to use him. I think his new record is gonna be incredible. I think these songs within the context of AA would not have come across the way they will with Kev having total freedom to be creative.

So the decision was very mutual and totally best for everyone. Transition is never fun but in faith both entities are going to walk in it.
JFH (John): What can fans expect from the band going forward?
Will: We want to continue to represent the Hands and Feet Project. We want to create incredible art that glorifies a God that continues to redeem us and in Whom we are so grateful. We want to take every day one day at a time being so intentional and asking God what he would have for us in that day -- being faithful in the little things. We want to be hearing His small voice and will be seeking Him for songs with a message that resonate with His heart for all people. Audio A has been a rock band with a big missional focus and we have a fun quirky side to us. We just want to encourage the church and at the same time create music that will present the gospel to those who need to hear it in a musical vehicle that's true to us and modern.
JFH (John): In our talk with Kevin, he mentioned that AudioA is "also to be kind of a house band for the Acquire The Fire events." Can you talk a little about that?
Will: The opportunity with ATF is one where we were asked by the organization to come in and help create an event both containing worship and our usual live show that would help them go to the next level. It fits missionally with our heart to reach out to youth and encourage them to go deeper in their faith. We also want to encourage them to live out the gospel becoming the hands and feet of Jesus to people around them and on the mission field. There are also incredible opportunities for Hands and Feet in the process to have the ATF kids come on mission trips to Haiti and for Mark to potently speak on the subject of missions and the importance of it in our everyday Christian walk. We have always been a band that wanted to take our stage seriously and be incredible role models both as Christians and as musicians in a rock band.
JFH (John): How did you guys link up with former Abandon singer Josh Engler to replace Kevin?
Will: We have come to know Josh Engler in the last few weeks as a man of God with an incredible heart for youth, wanting to inspire generations of young people to be youth pastors, pastors, worship leaders, and disciples of Christ which resonates deeply with AA. He's an incredible vocalist and his work in Abandon speaks for itself. We are honored to have him lock arms with us in this next season!
Audio Adrenaline is gearing up for the next chapter -- keep your ears open for news about their next studio album!