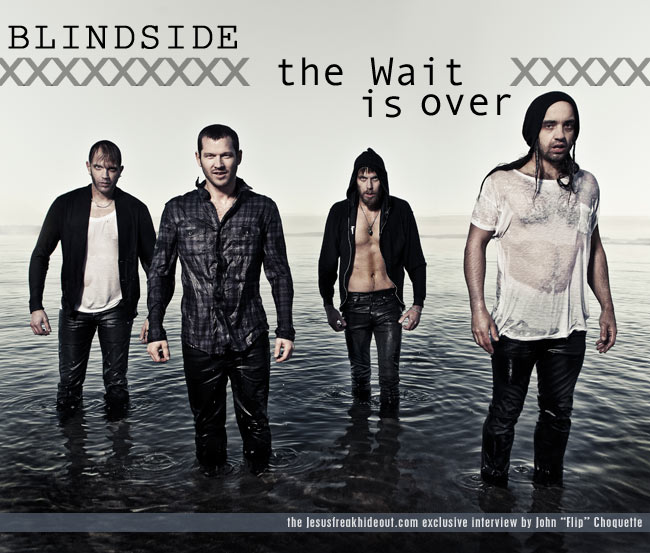 With Blindside making their long-awaited comeback with the 2011 release of With Shivering Hearts We Wait, JFH's John "Flip" Choquette caught up with the Swedish rock band's guitarist Simon Grenehed to talk about the band's new album, what they did in the interim and more...
This interview took place on: 6/5/11.





JFH (John "Flip" Choquette): You guys intentionally took some time off after The Black Rose EP. Was there ever a time where you thought that you might not ever make music together again?
Simon Grenehed: Yes, I believe so. I don't think we ever felt it was our own intention though, it was more situations surrounding the band. At some point, we weren't sure where we should start over with everything and we decided to move out of the blindside-costume on personal levels. You tie yourself up in a bit of a role when you're in a band and sometimes you need to stop and see what else is important in your life to be able to move forward as an individual. I think we all needed that. At the same time, we never felt we were done. We felt we had ideas and inspiration to develop the band still.
JFH (Flip): Was there an event, or experience that brought the band back together, or just a collective feeling that it was time?
Simon: There was a band meeting where we collectively decided on continuing and we set up some solid goals and visions.
JFH (Flip): Before your break, you toured practically non-stop for years. It must have been quite a change of pace to suddenly be at home all the time. Did you ever find yourself wanting to travel and did this lead to any interesting adventures with your families? (Or were you just enjoying being home?)
Simon: Yes, it was a big change and we reacted differently to this. But I think we grew up a bit. We all love travelling, both with the band and with our families and I think we all like to get away somehow or another.
JFH (Flip): In addition to spending time with loved ones and writing music, I imagine that you had to find other ways to occupy your time once you had settled down. Were there any odd jobs or hobbies that you developed as a result?
Simon: Yes, we all had day-jobs and changed our daily routines but the band was never totally inactive. We had some meetings and rehearsals throughout these years.
JFH (Flip): Now that you're back on the road, you'll be visiting both new places and familiar venues. If you had to move to a city, or country that you've played in other than your own, where would it be and why?
Simon: I think we all wouldn't mind relocating for a year or so if there was a good opportunity, but for me at least I feel like Sweden is always home. We've been to some amazing places, but it's hard if you'd have to choose. I'd have to say I'd like to explore New Zealand a bit more. We played there but only stayed in the country for 24 hours.
JFH (Flip): Your new album, With Shivering Hearts We Wait, incorporates a lot of new elements for the band including strings and electronics. If you had heard this album at the beginning of your career and were told that you would create it years down the road, what do you think your reaction would have been? Would you have believed that your sound would have changed so much over the years, or would you have been disappointed that you didn't change as much as you thought you should have?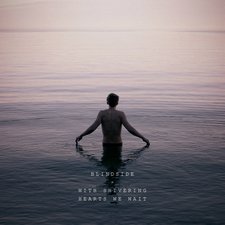 Simon: Hopefully I'd be proud to hear where we'd taken our music, but who knows. I don't remember exactly how I reasoned musically back then. The strings and electronic parts are not really that surprising even if I'd heard it back then since Marcus did electronic music back when we started the band. We actually had quite a lot of strings on our second album (A Thought Crushed My Mind), so it's not entirely new for us. However, I really like how we blended it in on this album, so I think I would be excited about this album if I heard it back then.
JFH (Flip): Tell me about the creative process in making the album. I know that Christian's experiences in Africa were instrumental in the development of your last full length, The Great Depression. Are there portions of each song that you can point to and name the band member that it relates to, or are the ideas more general and abstract?
Simon: At this point, there aren't really things that I can point out. We usually find out more as we move along what the album represents. There are certain visions however that have been around for a while. I've had the musical idea for "There Must Be Something in the Water" for a few years and Christian has had the melody for "There Must Be Something in the Wind" and the lyrical idea for quite some time.
JFH (Flip): Do you have a favorite song or one that means most to you on With Shivering Hearts We Wait and why?
Simon: That moves in cycles. It is an ongoing process while you digest by playing the songs live or listen through the album. Some songs slip away and comes back to you later. Right now, we're working with "Withering" live and I like that song a lot at the moment. I love the lyrics, the mood, the arrangement, as well as the instrumentation and what you can do with it live.
JFH (Flip): What inspired the intriguing album title? (aside from it being a lyric in one of the songs)
Simon: We've had a hard time finding the right title for this album. We felt we had to have a strong title to come back with and I think we nailed it through that song lyric. It defines our feelings towards being a band driven by faith. It is excitement and passion with a touch of fear of what you put yourself into. It's also fitting considering the fact that we've been away for such a long time so we hope that the people that wanted us to keep going and waited for us can relate to that title.
JFH (Flip): It must have been great to work with Howard Benson again, the man behind the boards for much of your early success. Describe the relationship that you have with him and how you think the album would have turned out differently if not for his input.
Simon: It was a great feeling to get him onboard again. Honestly, we hadn't spoken to him a lot after the albums we first did. We've just been in different areas of the industry I guess but we do get along well and like him a lot. We had an initial goal of letting Howard listen to our material and hopefully be involved so when he took it on, we felt we were on the right track. It's impossible to say what would've had happen without Howard Benson and his team. Perhaps we'd waited another 6 years, I don't know.
JFH (Flip): Speaking of collaboration, is there any artist, producer or group that you have not had a chance to work with yet that you would like to in the future?
Simon: We tried to get Skrillex to do a remix of one of the tracks on the album but he wasn't able to do that at this point. There are a few other people we would love to do something with and we might in the future but nothing we should talk about yet.
JFH (Flip): Bamboozle Festival sponsors "Hoodwink Festival" where bands play entire sets of other band's songs. If you were asked to perform, what group would you emulate and who would you like to see play your own music?
Simon: Um, that's an interesting question. I don't know if we could do that. Partly because we're not killer musicsians who could re-work other people's music right off the bat. If we were to do that, we'd have do disect it and totally reconstract it to something that was our thing in combination with whoever we'd cover. But if you're talking playing exactly like the other artist, just cover it straight up? I don't think we'd be into something like that.
JFH (Flip): While it must be really interesting to play in so many different cities and countries, it must be difficult to communicate sometimes because of the language barrier. Is there anything that you change in your show, or your interaction with fans depending on where you are? If I attended a concert in your hometown of Stockholm, Sweden, and then my hometown of Raleigh, North Carolina, would the experience be the same?
Simon: We speak English onstage everywhere else than Scandinavia so most of the time it ain't that big of a difference. In Stockholm, we do speak Swedish on-stage though and if that changes the situation as an audience much I'm not sure. We're not a super-talkative band on-stage so you won't miss much. We've gotten the question if we sing in Swedish when we play there but that is not the case.
JFH (Flip): What do you think God has is in store for the band in the next few years? Do you see yourselves making an album every two years and touring extensively, or are you comfortable with the model that you have been going by, growing your families and making music as you see fit?
Simon: Honestly, I have no idea. If we do continue after this album, I'm pretty sure it isn't going to be that long until we do the next album as long as everything works out surrounding the band of course. We're probably not go back to 11 months of straight touring like we've done before, but I think we'd be out quite frequently if I had to choose.
JFH (Flip): Any last comments?
Simon: We hope people are excited and keep following our adventures with this new album through our social media sites and that we can see everyone on the road soon. Thanks!
Blindside's new album With Shivering Hearts We Wait is available now!


Click here All News Headlines
|

RSS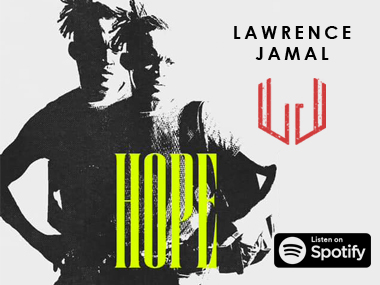 ---
---
---
---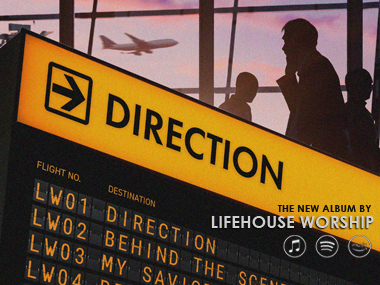 ---
---
---
---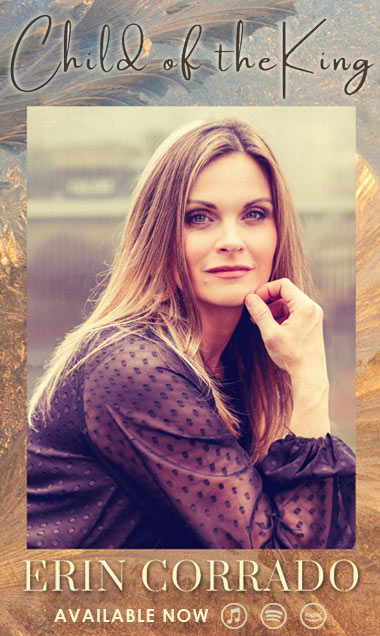 ---