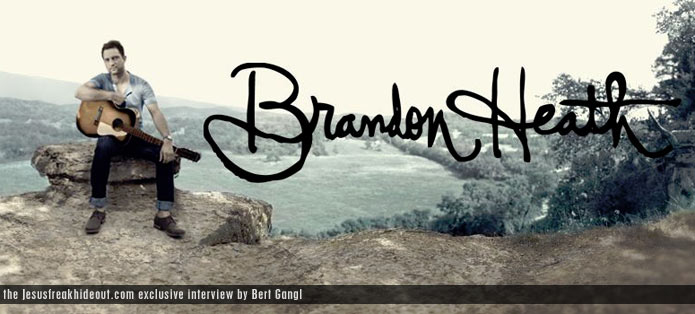 The Country- and Bluegrass-influenced structure of
Brandon Heath
's latest album,
Blue Mountain
, is quite a departure from the syncopated pop that fueled his last few projects. Jesusfreakhideout.com's Bert Gangl caught up with the successful singer/songwriter via phone while in his car on the way to the very area of Eastern Tennessee that inspired the songs on his latest effort and asked him to fill us in on the motivation, and potential trepidation, surrounding this daring new album...
This interview took place on: 10/25/12.
JFH (Bert Gangl): First off, let me start by saying that I'm anything but a Country music fan. I took the review for Blue Mountain, mostly, to stretch myself a bit as a writer and wound up being blown away by the record; it's amazing.
Brandon Heath: Thanks, Man. Let me return the favor by blowing a little sunshine your way. I really think that the folks at Jesus Freak Hideout do good reviews. I respect their opinions. Sometimes I read a write-up [elsewhere] and the reviewer compares me to someone like Josh Groban. Josh Groban? Really? So, like I said, I think you guys do really great reviews.
JFH (Bert): Thanks! So, you're one of the few people making Contemporary Christian music who was actually born there in Nashville. Tell us about your introduction to the world of CCM.
Brandon: Well, part of it is proximity, just being born here. But, I came to know Jesus when I was 16 through the Young Life outreach ministry. I began my walk then. I began playing guitar three years before that, at age 13. So, really, when your priority is your relationship with Jesus, it just sort of creeps into your art.
JFH (Bert): Definitely.
Brandon: When I was first out of college, I got a publishing deal, which is amazing for a new college grad. It takes forever for lots of folks. So, this really gave me a leg up. I wasn't getting a ton of cuts, and my producer suggested that I record my own songs, since nobody would communicate them as well as I would. So I ended up recording them and eventually got a record deal. And, through that, I was able to develop who I was as an artist.
JFH (Bert): That leads me to my next question: A fair amount of what I hear on the Christian Hit Radio Top 40 sounds a lot alike. This album is such a departure from the stereotypical CHR format. Were you worried, from a commercial standpoint, about what people would say about your going in a more Country-inclined direction?
Brandon: Let me be honest, I wasn't worried at first. Then, I played it for the label and they were like, "Oh, gosh!" It wasn't that they didn't think it was good, but they weren't exactly sure what to do with it. Honestly, as long as you're delivering singles to them for Christian Hit Radio, they're pretty happy. I wasn't really scared about the risk as much as I was simply aware of it. I was aware that it could well have been a flop, that nobody would get it. As an artist, though, you have to look past that fear and just be true to yourself.
JFH (Bert): I've seen comments on our JFH page regarding your album saying, "This is the Brandon Heath album I've been waiting for!" So it's obviously connecting on a deep level with lots of listeners.
Brandon: Thanks, man!
JFH (Bert): You've played out a good bit, how have the new songs been received in the live setting?
Brandon: The only way to do the new songs, since they're so themed, is to separate them out during the show. I'll do a set of the hits, and then I'll do the new songs in a separate section, acoustically. I'll preview each track from the new album with a bit of background before I play it. I want people to really know the characters in these songs. I want them to feel like they've actually gone go to Blue Mountain with me.
JFH (Bert): If you had to boil it down into a sentence or two, what was it about the area around Knoxville you visited as a child that that made you want to write about it on your album?
Brandon: You know what's funny. I'm in my car and I'm driving to that very city as we speak. I'm playing a concert in Knoxville tonight. You know, as a kid, your imagination is on fire. I remember going to the Cherokee National Forest as a kid and that area just has this kind of allure about it. I've always been a sort of old soul, even as a kid. I mean, I was in the back seat writing poetry on family vacations while my brother was playing his GameBoy in the seat next to me! So, on this record, it was really cool for me to think about who I am at the core - what things are really important to me.
JFH (Bert): Rather than playing to a given audience.
Brandon: Exactly. Even though this sort of mountain sound may be somewhat cool and trendy these days, for me it's real. Being true to myself as an artist is what lit my fuse in the first place; what got me excited about making music. I want to keep rediscovering what it is that makes me excited about making music. When artists are truly passionate about what they do and are willing to take these sort of risks, their music usually winds up being really good.
JFH (Bert): I agree. I think that the real-life themes you pull from on the new record, these experiences from your childhood, are not only universal, but they're also timeless. I can see people listening to this album ten, fifteen years from now and finding it just as poignant as it is today.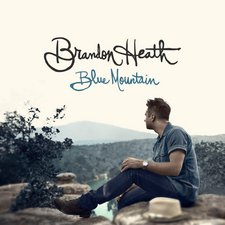 Brandon: Man, you couldn't pay me a bigger compliment. That was exactly what I was going for. Even with the cover photography; me sitting on a ridge. I wanted it to evoke a mood rather than any particular era. Lots of times, when you visit these small towns, they're frozen in time. So, for me, that's the sort of feel that I was trying to capture, both photographically and musically.
JFH (Bert): I certainly think you succeeded. So, when it's all said and done, what message or challenge would you like the average listener to take away with them when they listen to Blue Mountain?
Brandon: I would hope that they not only heard my story, but their story as well. Everybody has a granddad they worship. Everybody can relate to the coal miner who's trying to find something more - in his job and in himself. And, like the message on the song, "The Harvester," all of us as Christians are called to fulfill the Great Commission.
JFH (Bert): I agree. I think a 75 year-old man who's never listened to Christian radio a day in his life could hear these songs and relate to them. Let me just finish by saying, once again, that I think the new album is absolutely fantastic.
Brandon: Thanks so much, man. I really do appreciate it!
Brandon Heath's latest album, Blue Mountain is available now wherever music is sold!