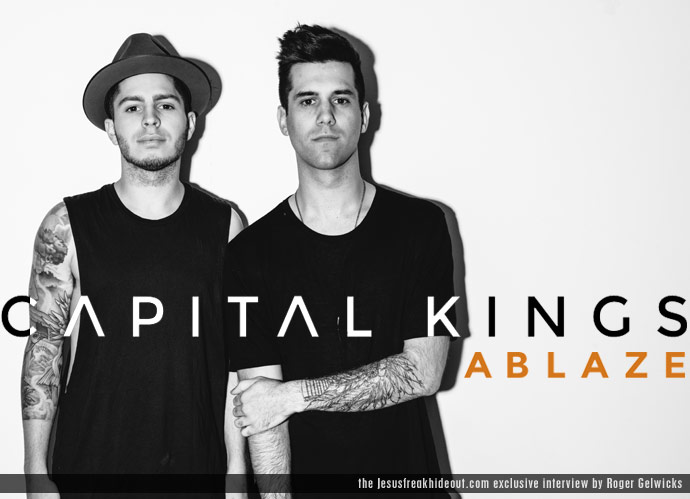 With a new remix EP and brand new single as they prepare for their second full-length album, Capital Kings is gearing up for a fall tour with Crowder. Jesusfreakhideout.com's Roger Gelwicks caught up with one-half of Capital Kings, Cole Walowac, to talk about what's going on and what's ahead...
This interview took place on: 8/27/14.
JFH (Roger Gelwicks): Let's start with the basics. How did the Capital Kings project start?
Cole Walowac: [Jon White and I] went to school together. It was about eleventh or twelfth grade that we really started getting into electronic music. We got some computers and started making beats in our parents' basements. And those songs turned into Capital Kings songs. We moved down to Nashville, made a record, and TobyMac was really interested in us. We made a record under Gotee and we put it out, and that was about a year and a half ago. Did a lot of touring since then, and now we're working on our second record.
JFH (Roger): That's a long way to go in just two years.
Cole: We've been very fortunate and blessed to have the career we've had so far.
JFH (Roger): What would someone be surprised to learn about Capital Kings?
Cole: A lot of times we come up with songs [on our own] individually rather than together. Like, a lot of times, the beat, and the music, and the idea for a song is done by one person in the group, and then we bring it to the other person. And then it's more of a collaborative effort. We might have a few suggestions for the other person, but the initial idea and the beginning of a song is done individually.
JFH (Roger): How have your experiences changed since your self-titled album got released?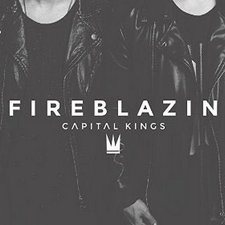 Cole: Well, for a while, we were signed under Gotee Records, but they never announced us. So for two years, we were sitting around do nothing, just working on this record, waking every day around 11 or 12 in the afternoon, and then going into the studio and working on our album. And that all changed when we released our CD, from being at home all the time to being on the road, and now it feels amazing when you get more than two days at home because we're always gone. But yeah, I'd say that the biggest change is tour life because we're always on the road.
JFH (Roger): So for the first record, you got to take your time putting it together, but now that you have a big fanbase, everybody wants to hear the next record. What's the difference in the anticipation that way?
Cole: Yeah, that's exactly right. Like I said, some of these songs that were on our first record... we've had these songs since we were in eleventh or twelfth grade, you know? We've had a lot of time to collect songs and work towards that first album. Now that that first album's already out, there's a lot less time and a lot more pressure to come up with a lot more songs and a lot better songs. Because that's the goal: to continue to get better. And hopefully the fans and all the people see that, but yeah, I think there's a lot more pressure this time around, but we've been very fortunate to work with some great people so far. Like Toby; he's always inspired us and helped us grow as artists and musicians. And we've worked with a lot of cool producers here in Nashville, Tennessee, that are great writers. They're helping us collect our thoughts and put them down in song form. We're really excited, we think we're in a good spot, and we can't wait to release this next album.
JFH (Roger): How does the production for "Fireblazin" compare to the album or other tracks you've put together? How has the creative direction changed?
Cole: Yeah, production changed a lot. We're going for a more electronic, EDM feel. To us, our first album is more structured like pop songs - very "verse, pre-chorus, chorus." We wanted to continue what we really love, and that's electronic, EDM music. And that's the vibe we wanted. As far as production, we worked with a guy named Neon Feather. He's done some remixes for us, and we think he's absolutely incredible at what he does. We wanted an emotional song as far as the music goes - the lyrics are also very emotional if you read them - we felt like there was an emotion to the track that we felt Neon Feather could really do awesome at. So we handed that off to him, he sent the files over, we worked on it, and from there it was a very collaborative effort. And I think that people are really digging it so far.
JFH (Roger): What song do you enjoy playing most live?
Cole: Hmmm, man. That's a tough question, man. It really depends. There's a song called "Be a King" that was a bonus track to a remix album that we put out earlier this year. It's more of an electronic dance music vibe that we're setting for this next record, and every time we play that, people go bonkers. So I'd probably say that one right now.
JFH (Roger): Tell me about the process of remixing a single. What's it like to collaborate with the artist?
Cole: Yeah, that's how we started out: doing remixes for other artists. It's what we enjoy a lot. We normally just ask for the a capella vocal; we don't take any of the guitar or drums or anything. And then we throw the vocal into our session. And we find a synth or chords that really set the tone or the vibe that we're going for. And then from there, it's building the music around the song and around the vocal that's already there. We have a lot of fun with that, and it's pure play-time for an electronic dance producer. It's a lot of fun for us.
JFH (Roger): So how much interaction with the original artist do you have?
Cole: It just depends. Sometimes the label sets us up and asks for one, and sometimes we'll be on tour with an artist, and the artist will ask us, "hey, do you have time to do a remix for me?" It just depends; every time it's different.
JFH (Roger): And I'm sure that changes as your notoriety has, as well.
Cole: Yeah, it just depends. As we've gotten bigger and some people start to recognize Capital Kings and what we do, a lot more people have been asking for remixes, and we have to turn them down, unfortunately, because we have to focus on our own stuff and our original music. But back in the day, we were begging anyone for them to let us do a remix for them, and now it's funny that we don't have as much time anymore. We're hoping after we release the second album that we can get back to doing more remixes. We have a lot of cool ideas for some, and we can't wait to start doing that again.
JFH (Roger): Tell me about what's planned for your tour with David Crowder.
Cole: It's gonna be chaos for Capital Kings. We want to do everything from worship, to rap (because I do the rapping of the group), to stuff that's just funky, to just everything. That's what Capital Kings is all about. We take a bunch to styles and combine them to make something really cool. We want people to have a good time and leave refreshed in the Spirit.
JFH (Roger): What's God been teaching you lately?
Cole: On tour, we're constantly being reminded of how quickly you can become all about yourself. You're out there, and things get tiring, and there's constant pressure being put on you, and you can be consumed by yourself. But me and Jon, we're up there, and we're two different people, and we're constantly going to have different viewpoints, and all that. But at the end of the day, we're brothers in Christ, and we always want to respect each other and get along, and we're doing this for one reason: to glorify God and give people hope. So we're trying to remember that.
JFH (Roger): Anything else before we end this?
Cole: That'd be awesome if [JFH readers] check out "Fireblazin." It's on iTunes now, and we would love for people to pick it up. We worked really hard on it, and we think it's going to change lives.
Capital Kings' new single, Fireblazin is available now through digital music retailers!