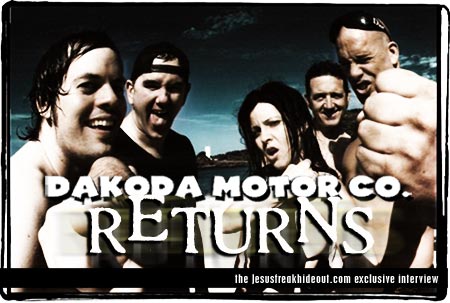 California surf rock band Dakoda Motor Co. were a popular act in the 90's but lost steam when original vocalist Davia Vallesillo stepped down before the recording of their third and final album in 1996. Now eleven years later, Dakoda Motor Co.'s original lineup is back and readying their fourth studio project! We caught up with bassist Derik Toy to share a bit about the reunion and what's to come...
This interview took place on: May 15, 2007




Jesus freak Hideout: It's common knowledge that Dakoda Motor Co. disbanded in the late 90's. What brought you guys back together again so many years later?
Derik Toy: It was about 12 years since we were all in the same room together, let alone on the same stage. I got a call from Davia [Vallesillo], out of the blue, asking if I'd be willing to play a show. Davia's husband was opening a new youth center in San Diego, and he was looking to do a fundraiser. He and Davia had the idea of bringing Dakoda in to play. Was I in?? Absolutely!! It was a phone call that we had each expected. Each of us had no doubt that we'd play together again. Dakoda was one of the most amazing aspects of all of our lives. We all expected the call… It was just that the call came about 9 1/2 years later than we expected. So, Davia was in, so that meant that I was on the hunt for the other guys. I hadn't talked to Chuck [Cummings] in about 10 years. I hadn't talked to Elliot in about the same. Peter [King] and I had spoken a few times, and Davia and I kept in touch, but the idea of getting everyone together, and getting everyone together in just a couple of weeks was going to be a feat. Peter has had the same phone number since he was about fifteen, so he was easy. I called him. A Dakoda show?? No questions. He was in. Say when and where. Done. The other guys were going to be a challenge. Chuck had moved several times. Elliot had moved several times. Both had unlisted numbers. I searched MySpace, found a couple of bands that they had each played in. Elliot had played the Pasadena Pub a few weeks earlier. I called the club and found the guy who books the bands. He gave me the name of a guy in one of the bands that Elliot knew. That guy gave me the number of a guy who had a studio with Elliot. That studio had produced a record. I called the record company that used the studio. I got the email address of one Elliot Chenault. Chuck was about the same... MySpace... band... fan website... email to a fan and finally the man... Chucky called me back. We were all in.
JFH: That's amazing! What was next?
Derik: We scheduled a practice the day before our first show in 10 years. Driving to the practice was actually terrifying. We hadn't been together in so long. Could we even still play as a band? Would anyone care to see us??? We didn't really have any questions about our ability as musicians. Since the band broke up, each of us had continued to play in one facet or another. Peter had a band on Epic Records called The Surfers, with Kelly Slater and Rob Machado (two of the top pro surfers in the world). He had been producing bands, playing music and recording bands. He was still actively playing music. Chuck had continued to play in several bands ranging form the Aunt Betties on Elektra, to playing in a band called Anna's Brother with the former member of Great White. Elliot had just returned from New York City where he had been in the New York indie band Scout. He also was a partner in a recording studio, and had produced and engineered bands like Irving. He was still playing, obviously… Davia had since learned to play guitar. She had been performing on her own for years. I had been playing in cover bands in and around town, so musically, we all still felt confident in our abilities, it was just going to be odd to step on stage as Dakoda again. We all showed up at Peter's Studio, and after catching up a bit, decided to run through a few songs. It had been a decade, but if you asked anyone in that room, it felt like we had played together just a few weeks earlier. I've heard bands talk about chemistry, and I've been in bands with and without good chemistry, but never could I have imagined that we could walk away for an entire decade, come back together and play the way that we did. We played a show in San Diego and it was good. We even had fans fly out from Nashville just for the show. Friends from years past all got together and came to see us. It was really fun. There were several hundred people who had never even heard of us before, but all had a great time, and were digging on the music. The place was packed, and people had to be turned away at the door! That show spawned another, also in San Diego. Since those both went well, why not another? We got a chance to play in Hawaii on the North Shore of Oahu. A week in Hawaii??? With the band??? Absolutely. Good times...
JFH: What led to you guys just saying "Let's give it a second try!"?
Derik: On the night before we left to fly back home, we went out to dinner, and talked. What should we do? Should we try and play again? Were we crazy to try and be a band again after all these years?? It was decided... we should. But the kicker was that no one would want to come and see a band play a bunch of 15-year-old songs. If we were to play some shows again, we needed some new material. So here we are. Everyone is really excited about being together again. We've written a bunch of new songs… We're starting to book shows. Right now, we're on the bill for Cornerstone California, and Joshua Fest. We'd love to get on the stage for a few of the larger festivals this Summer if we can work out the scheduling. There will be a new record. I'm pretty excited about it. You should be too!
JFH: Oh you know we are! Are you label shopping or just aiming to do this all independently?
Derik: Label wise, we're not really too specific. On one hand, it's really fun to see that bands have direct access to people and don't really need a label. You can pretty much do everything on your own as an artist, which is really cool. But at the same time, there isn't anything on the radio that isn't part of a major label release... We're open to whatever God brings us. All we want to do right now is make the best music we can, and get in front of some people and play it. Details will work themselves out. If there is a label interested in helping us, we'd be into it. If not, we'll do an independent release. Back in the day, Myrrh was really good to us. I tried to give them a call when we first got back together, but I was transferred to the "we're not accepting new music solicitations at this time" voicemail. It's been a long time since we were out there. We'll just have to take it step by step and see what plays out.
JFH: What can listeners expect from the new stuff by way of sound?
Derik: I've never really been able to grasp exactly what we sound like, but if you listen to the new songs, they are definitely Dakoda songs. We have a really short snapshot of some of the songs in a bad demo recording version on YouTube right now... Hearing that would help with the description a lot better than me trying to say. They're not complete recordings, they don't have the vocals in them, but they might help?? Here's a link. You tell me what you think! But be gentle - they're demos without vocals!
Expect more to come from Dakoda Motor Co! Stay tuned to www.myspace.com/dakodamotorco for the latest!
For a video clips from the band in the studio, check out the video below!


*video footage taken by Dakoda Motor Co.*