Rock band Day Of Fire emerges from the underground to release their third album, Losing All, via Razor & Tie Records. JFH's Kevin Hoskins and John DiBiase caught up with DOF front man Josh Brown to discuss the album and where the guys have been since their last release...
This interview took place on: 1/14/10.






Jesus freak Hideout (Kevin Hoskins): We haven't heard much from Day Of Fire for a few years – What has the band been up to (since the release of Cut & Move up until recording Losing All)?
Josh Brown: Since the last record we have obtained new management (Maximum Artist Management), new booking (TKO booking), a new label (Razor & Tie), we hooked up with a new producer (Rogers Masson), and we recorded a new record (Losing All)....
JFH (Kevin): Can you tell us about the new record label? How did you come to team up with Razor & Tie?
Josh: Manager Mitchell Solarek had worked with Beka Tischker (The head of A&R at Razor & Tie) on some other projects. He thought it would be a good fit. He made a call and here we are...
JFH (John DiBiase): Tell us about your new album Losing All. It seems to deal a lot with broken relationships and loss. Was this an intended theme going into the writing process? Can you talk about it?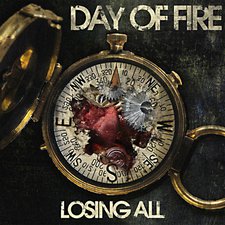 Josh: You are right. I was going through a lot of things during the writing and recording process of this album, which happened to be well over 2 years. My life was turned upside down for a bit - my career, my marriage, my finances, everything seemed to be falling apart...
JFH (Kevin): Were there any changes in the way/how you wrote this album from the previous albums?
Josh: This album was birthed out of heartache, the others weren't...
JFH (John): Can you tell us about the album cover art?
Josh: Yes, it's a picture of a broken compass with the directions in the wrong places. The message is that it's impossible to find the right way to go when your heart isn't right...
JFH (John): What's the story behind the song "Airplane?"
Josh: "Airplane" is a song about lost love, regret. It's about loving someone so much that even if you knew it couldn't work out, you would still do it all over again just to be with that person one more time...
JFH (John): Can you tell us about the song "Hello Heartache?"
Josh: In that song, Heartache is the character in a story... I am singing to that character.
JFH (Kevin): Can you talk about the thought behind the song "The Dark Hills?"
Josh: The idea for that song came from a pastor that really changed my life named Val Treece. He used to always say Jesus still walks the Dark Hills (which comes from an old hymn). It's about being without hope in the darkness and then realizing hope has found you...
JFH (John): Chris said in a video blog that around 20 songs were actually recorded for the record before it was narrowed down to 13 tracks on Losing All. Do you have any plans to release those extra finished tracks?
Josh: Hopefully we will end up releasing all of them at some point. Fans that purchase Losing All on iTunes will get 2 of them as bonus tracks...
JFH (Kevin): Who are some of your musical inspirations - especially for the new album?
Josh: My musical inspirations are always the same: STP, Soundgarden, Alice in Chains, Pink Floyd, Cash, Nirvana.
JFH (Kevin): Josh, do you ever meet people who recognize you from your "Full Devil Jacket" days? How do you handle/deal with it?
Josh: I meet people from the FDJ days alot. I am always happy to reconnect; I love them. Those people knew me at a very fragile time. The ones that bought those records connected with me when I felt the most alone. I feel that I still have a deep connection with them. Music is a very intimate thing... You pour your heart into your songs; you try to be as honest and genuine as you possibly can be. When someone knows your music and relates to it, they connect with you. When someone buys one of your records, and they connect with it, they are saying "You are not alone," "I understand and accept you." At that point, the artist and the listener become one and they both feel a little less lonely and a little more understood...
JFH (Kevin): Do you have any tour dates set for the release of the new album? If so, who else will be touring with you and do you know where some of the cities that you'll be visiting?
Josh: We are touring with Cold and Nonpoint in Feb, March, and April. Dates and cities are listed on our websites - Dayoffire.com, myspace.com/dayoffire, and the D.o.f. FACEBOOK...
JFH (John): What has God been teaching you lately?
Josh: To not give up, to keep pushing, and to prepare...
JFH (John): Any last comments?
Josh: PEACE and CHICKEN FEETS