Best known for their modern-worship anthems, Delirious? released their 11th studio album Kingdom of Comfort April 1st and JFH's own Dave Taylor caught up with the guys to talk about their new album, drummer Stew Smithís departure, and the future of Delirious?.
This interview took place on: 3/18/08.




Jesus freak Hideout (Dave Taylor): On the new album, Kingdom of Comfort, you have talked about most of the inspiration for the album coming from work that youíve done in India and some other countries. What specific things inspired you on the album?
Martin Smith: Mostly, as weíve traveled the last few years, weíve seen with our own eyes some very horrific things. Thatís forced us into making a response. You just canít come home and carry on living life the way you were. It doesnít mean things immediate, but something happens inside that makes you go, "I need to start repositioning myself and what I do to make changes." So thatís a slow process but hopefully itís a strong, steady, house-building process. And weíll all react different to that, but I know thereís a sense for all of us that it canít ever be the same. Your heartbeat changes a little bit. It beats a little bit faster once youíve seen all that stuff, and you canít settle. So we came back into the studio, and I remember us setting up and Stu G turned his amps on, and we got the drums up, and itís like all this emotion, worry, pain, confusion, and the smell of India, and it all just sort of came out in the music, and we decided we just needed to go with it. I donít know where this fits but letís just keep going.
Stew Smith: I think itís more than just about social justice and poverty. Those are some of the trickiest, but actually for me, this is about what I believe in, and "does it make sense?" and "how am I making a difference?" And those are the real challenges that we have as individuals. Itís not just this small social justice kind of poverty thing, but actually that is being the spearhead to these serious questions about our faith and what we believe. And part of the whole concept of Kingdom of Comfort is: have we made the Gospel ≠ which is so potent and can be so radical ≠ have we made it something which is so menial and almost like a consumable item, that weíve lost the meaning and the potency of what Jesus walked around on the face of this planet talking about? And those are some of the things that go through my mind and in my heart, and thinking ďok, what does that mean to me, am I actually making a difference?Ē And hopefully when people listen to the album, they hear that cry of poverty, but actually, it requires something of us to try to change this world that we live in, and thatís not just about India or Cambodia, or wherever, but itís about where you live. It has to start with you. Those are some of the things that Iím still buzzing on, that Iím still questioning, and I havenít got all the answers, but thatís where that confusion and frustration comes out. But you know we really have to be people that make a difference. If our faith actually is that real, what am I doing about it? Itís an exciting and challenging album. Musically, itís brilliant. I think itís the best album weíve made.
JFH (Dave): One thing thatís always impressed me about Delirious? is that you guys are constantly evolving. Every album has itís own unique sound thatís different than the one before. Is that a conscious decision?
Stu G: I think that, because we love music so much and we listen to all different types of music, you get those sort of influences coming in and out all the time. And you just donít want to stay in the same place as a musician or a person. Youíve just got to keep moving. Otherwise, for me, you feel stuck. When youíre in it, it doesnít feel like youíre doing it that much, but our aim is to move on with every record.
Stew: I think itís an interesting tension isnít it? Particularly with this new record Kingdom of Comfort ≠ I remember in the studio we were talking about ďok, weíve done this before, letís not do that, weíre just falling back on what is safe and what we know to do.Ē But the tension is that thereís a kind of sound to Delirious?, a link that people want to hear those things at the same time. So thereís a bit of a balance, isnít there? If we produce an album thatís so diverse and so out there, there probably wouldnít be any connection.
JFH (Dave): What are some of your favorite songs on Kingdom of Comfort?
Martin: "My Soul Sings," which is the last song on the record. ďAll Godís Children.Ē They both sit at the end of the record. They kind of carry the gist of it, donít they? But I love ďStare the Monster Down.Ē Itís quite a personal lyric. I love ďEagle Rider.Ē I mean, I enjoy all them.
Stu G: Itís actually hard, but I mean, "Kingdom of Comfort" is probably my favorite song. ďStare the Monster DownĒ is very personal to me lyrically, and thereís a lot of passion in that. I like the more up-tempo things like "God is Smiling" and "Break The Silence." "My Soul Sings," "Eagle Rider," it just goes on. I mean, we had fun making it, we really had fun. There was some really hard work at the beginning with some of the songs, but with the recording of it, we had really great fun.
JFH (Dave): Out of all the songs you guys have written and recorded over the years, what would you say your all time favorite Delirious? song is?
Martin: Thatís really hard.
Stu G: You could have at least given us a top 5 or something
JFH (Dave): OK then, top 5?
Stu G: Iíll go for two. I love ďInvestigate.Ē I love the Psalm that comes from. I love the period of time we were in when we wrote that, and playing that on the stage is a great experience. And then ďKingdom of ComfortĒ
Martin: Iíll take the song ďItís OK,Ē which I think was a great achievement for us because it was pushing that emotional ďbreaking your heartĒ button without doing the Jesus thing, and I thought it was great at the time. It was very holistic. And a song like ďDid You Feel the Mountains Tremble,Ē not because stylistically I think itís great, but because lyrically at the time, it came out of nowhere. It was a little bit bigger. And when you read the lyrics now, itís still relevant today.
Stew: Mine would be ďMezzanine Floor,Ē which I think is really interesting because I think itís an interesting song for now as well. And for me, I really think it sort of encapsulated a time and space thing for where we were as a band and what weíre trying to achieve in terms of mainstream and be more poetic in our language to appeal to a wider audience but still have some sort of potency. And probably ďInvestigate,Ē itís just a great rock song ≠ itís just a chance to get lost in the sounds and tones.
JFH (Dave): I think itís interesting that you brought up ďMezzanine Floor,Ē because [Stew] youíre kind of in that place of being between change in your life. You recently announced that after 15 years, youíre moving onto the next stage in your life. In your announcement you stated that you would continue to be involved in Delirious? after your departure. What will your involvement be?
Stew: Iíll be changing the guitar strings. *laughs* Obviously, Iíve been drumming, but behind the scenes, creatively, Iíve designed our marketing stuff. Iíve been fortunate. Thatís what my real job was before the band. Thatís where my training was, and Iíve been fortunate to do two things that I love. One is drumming, the other is the creative thing and the design, and actually in the last 12-15 years, to balance those things out. And so, Iím going to continue to pick up that creative thing. Iíll be working two days a week for Delirious? and Furious? and other artists to continue that, so Iím really excited about that, and so the rest of the time Iíll be doing other opportunities as Smeezer the Designologist. Iím excited, itís emotional and sad for all of us, because itís something I love doing and could easily carry on with for the next 10 years, but itís the tension of being away and just feeling like Godís got more for me and requires more of me. And that is a very difficult one, because I love what I do, and when weíre playing, thereís no better place to be, and I still feel that when we play. But the feeling is that I need to take my foot off the gas, and Iíll really find myself again and connect with the creative thing, which is something else I really love. Itís all those things, itís confusing and sad, but Iím excited for the future, Iím excited for the guys. The guy thatís replacing me is a friend of ours, a young guy thatís from our church that I helped out years ago to get into drumming. His name is Paul Evans, and I think musically heís going to be a great, great asset to the band. Heís a brilliant drummer. I think in terms of the band, heís going to bring some different dynamics... itís going to be an exciting time.
JFH (Dave): After all this time, itís been hard to picture Delirious? as being anything but the five of you guys. At any point did you guys consider ďis this the end, or do we keep going on?Ē How did that conversation play out for the rest of you?
Stu G: Well, itís always an option, whatever stage youíre at. But I think the thing is, we just didnít feel like weíre finished. As simple as that.
Stew: I said to them ďThis is feels right for me, but it doesnít feel right for youĒ
JFH (Dave): I have a couple of questions asked by users of Dave Woodís Delirious? fan site. The first one is: Whatís the story behind ďTake off My ShoesĒ? How did you write it, and by what inspiration?
Martin: Itís taken from that sort of mad story where the Old Testament priests would go into the holy of holies, and at times the presence of God would be so intense that the guy would die. And so theyíd go in to tie a rope around his leg so that if he did die, they could pull him out without someone else having to go in. I mean itís a great story, isnít it? But itís taken from that thing that this is pretty holy ground we stand on, and savoring that moment, Iím taking off my shoes.
JFH (Dave): Last question: Whatís your favorite gig of all time.
Stu G: Thatís difficult.
Stew: Probably the Roxy at Sunset Boulevard. Mid 90ís, I think that was around í97. There were a few hundred people, Virgin Records and those guys were there, and we were really sweaty and jammed in there, but it was great.
Martin: One that comes to mind is the Parachute Festival in New Zealand. Itís outdoors, itís like 30,000 people. The stars were out. And you really are on the other side of the planet. And we were seriously jet-lagged. It was the wrong time to be awake. And yet, we were out on the stage, and it was amazing. It was absolutely amazing. How an outdoor thing can feel like a small little club show. I love that.
Stu G: For me, Iíd agree with Stew, Iíd say the Roxy, but Iíll give you another one. It was the first time we played ≠ I canít remember which one it was ≠ it was either Irvine Meadows or the Greek Theatre in California ≠ and itís like an outdoor amplitheatre. And I think it was an ďInvestigateĒ moment. When we played ďInvestigateĒ there, that was just the best moment.
Delirious?' new album, Kingdom Of Comfort, is now available wherever music is sold.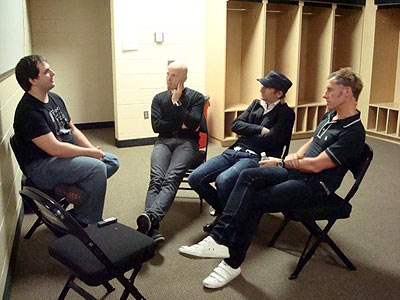 Left to right: JFH's David Taylor, Delirious: Stu G, Martin Smith, Stew Smith