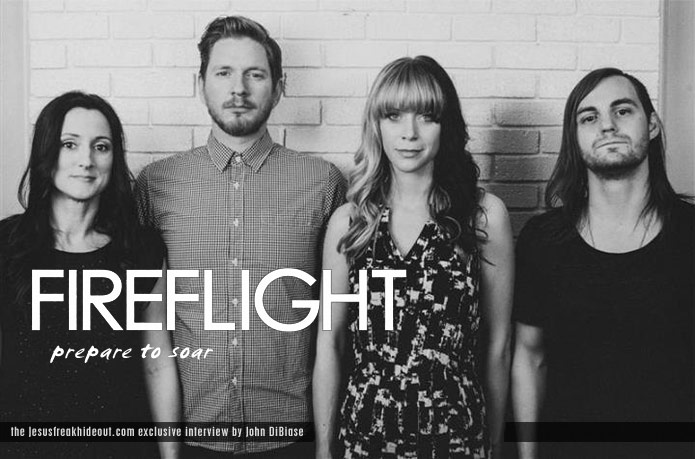 The newly independent rock band Fireflight is in the midst of raising funds for a brand new studio album, and they're asking fans to pitch in. Jesusfreakhideout.com caught up with Fireflight vocalist Dawn Michele and guitarist Glenn Drennen about what's up ahead for the band...
This interview took place on: 3/23/14.
JFH (John DiBiase): For those wondering, why did you guys part ways with your label? Did you feel like it was just time, or did you feel like Fireflight needed to move on in order to take things to the next level?
Dawn: We loved our being a part of our label family. But, recently we felt a shift in the music industry leading to a new path for bands. It's a little scary to leave the safety of our label, but we are excited about this new era of Fireflight music.
Glenn: We also wanted to make it with our fans and not just for the fans. That connection is so very important to us. We tend to try not to worry about the next level or what that means. We always want to be able to step out in faith, even if it means leaving a comfortable "sure thing" type situation. We were with our label for 8 great years. But sometimes the only way to grow is to move.
JFH (John): What do you hope to do as an indie band that you couldn't do while on a label?
Dawn: We are pumped to be able to control the timing as we release new music. We are also glad to have the freedom to develop ancillary projects in between albums.
Glenn: I agree with Dawn, to just be able to create and release music whenever we want, however we want. We desire to connect with fans is such a bigger way, and one of those ways is by releasing more music...in many different forms.
JFH (John): Do you think you might look into a different label after the album is completed?
Dawn: We aren't closing any doors as far as what the future may offer. We're really enjoying artistic license for the time being, but we want to be open to whatever opportunities come our way as well.
Glenn: We have only been independent for a few months now and already have had interest from other labels. Which is very flattering that those labels see the value of the band and its ministry. Like Dawn said, we are open to whatever opportunities that may come our way. But at the moment, we are enjoying being able to create and communicate freely.
JFH (John): What can fans expect from this next album? Anything especially different?
Dawn: We have been pushing ourselves creatively. We want to create songs that are a combination of everything our music had achieved this far with new and exciting aspects of everything we are growing to become as we move forward into the future. For me, personally, I am excited to grow as a vocalist, and the new material I hope will showcase that in great new ways.
Glenn: I think that fans can expect something a bit different than what Fireflight has been known for in the past. I keep telling people to expect the unexpected! We get some fans that tell us not to change anything about our style. But I think that if anyone were to look at all of our past records objectively...they are all bit different and unique in their own way. Sure there are some similarities, but the band has grown with each record. This one will be no exception. In fact, it may just showcase some of our musical tastes and influences that we have never touched on before.
JFH (John): I realize the album is still in the early stages, but can you give us a teaser? Perhaps talk about one of the new songs?
Glenn: We are actually in the final stages of writing for the record now and looking to hit the studio very soon. We have around 20+ songs that are in strong contention to be on the record. The hard part will be to shave that number down to 10-12 songs...especially when there are 4 opinions involved :) We actually already posted a short teaser of a possible song on our Pledge Music site. We are planning on letting our Pledgers hear some more as we progress through the campaign.
JFH (John): When is the new album expected to release?
Glenn: We are currently shooting for an early October release. All of the timing really depends on how our Pledge Music campaign goes. We can't hit the studio until we have reached 100% of our goal. So everyone needs to help us reach the goal and hit the studio!
JFH (John): It seems as though some listeners are still a little uncertain about original guitarist Justin Cox's departure; would you like to give a quick update on why Justin left and what he's up to these days?
Dawn: Justin is doing awesome. He felt lead to step back from the touring lifestyle almost a year ago, and now he is very much enjoying being home with his beautiful wife and their gorgeous new little boy.
Glenn: Yeah, it seems no matter how many Facebook posts, website updates, or tweets you do about any type of breaking news....there always seems to be a ton of people that didn't get the memo! There are still people that ask where [our drummer] Phee is... and he left the band 3 years ago, haha!
JFH (John): Are you guys looking for a new permanent guitarist?
Glenn: Honestly, at the moment, we are just really concentrating on writing and recording this next record. A good friend of ours, Robert Williams, has been playing live shows with us and doing an awesome job!
JFH (John): Do you find the fan-funded platform a little intimidating? What made you choose it for this next record? Did you have any reservations before settling on it?
Dawn: Fan-funding can be a little intimidating, only because you are operating on the unknown, putting yourself out there with all your eggs in one basket! But, we have so many incredibly supportive and loyal fans, that it bolsters our hope, along with our faith that God is a God of the impossible!
Glenn: It's definitely intimidating, and quite a bit scary to be completely honest. To know that if we don't get enough Pledges then we won't be able to make or release this record is terrifying. But like Dawn said, we serve a God of the impossible. We just have to rest in the assurance that if he wants this record to be made, then he will impress on people to give. It's a weirdly comforting place to be when you HAVE to rely.
JFH (John): Any tour plans up ahead?
Glenn: We have some things cooking right now in the touring area for the fall. Unfortunately, we can't announce just yet. You'll just have to stay tuned when we are able to announce!
JFH (John): Any last comments?
Glenn: Just remember that we are in the middle of our Pledge Campaign to make this record. We would be so grateful if people would check out our page www.pledgemusic.com/projects/fireflight

We have a bunch of exclusive incentives for people that Pledge toward the record, as well as exclusive behind the scenes demos and videos that we will be posting as we go along. Also, thanks to all of our awesome fans for their many years of support! There are more great things to come!
Visit Fireflight's PledgeMusic campaign to see how you can be a part of it!