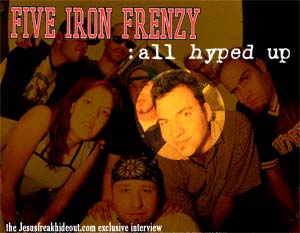 For those of you who have lived in a cave for the past couple years, our latest interview is with those crazy ska-core kids,
Five Iron Frenzy
. Thanks to
Keith Hoerig
for letting us hype them up a bit for their new album releasing on the 25th,
All the Hype that Money Can Buy
.
This interview took place on: 4/15/00.
Jesus freak Hideout: What's the story behind the name "Five Iron Frenzy"?
Keith Hoerig: We got the name Five Iron Frenzy from a roomate of most of ours. He was kind of paranoid, and afraid that if he went outside on this particular night he was going to get jumped by some people. He had a golf club to defend himself and he said something to the effect of it being like "putter mayhem". Scott looked at the golf club he was holding, and noting that it was a five iron said, "No, more like a Five Iron Frenzy." The name stuck.
JFH: How did the band get started?
Keith: We were all friends and started jamming. Some of us were in a different band together, but we quit that band. When we were looking for horn players, everyone was like "I know this person who plays. . ." We practiced in our basement in Denver. Our first big shows were opening for MxPx on their first trip to Denver. And opening for MU330 at the Mercury Cafe.
JFH: How would you describe your sound?
Keith: Poppy 3rd wave ska-core, which is a little bit different than poopy 3rd wave ska-core.
JFH: What bands have influenced your sound?
Keith: The Police, The Clash, the Crucified, Mortal, Scatterd-few, Atlar Boys, Madness, English Beat, NoFX, Skankin' Pickle, Mighty Mighty Bosstones, Operation Ivy, Stryper, Vengeance Rising, etc.

JFH: What kind of changes, if any, were you looking to make for your new album, All the Hype that Money Can Buy?
Keith: We wanted, as with our all albums, to make a record that was different from our last, but that sounded like "us". I think we succeeded. I think that FIF fans will like this album a lot, but I think others who may not have been FIF fans in the past might like it too.
JFH: Who is "The Phantom Mullet?"
Keith: A mullet is a haircut (short on top, long in back). It's not about a specific person. Since just about every member of our band listened to some form of metal or progressive rock growing up, we are allowed to make fun of it.
JFH: What is the story behind the song "Fahrenheit?"
Keith: It was written about Freddy Mercury, the singer for the band Queen. He was sometimes called Mr Fahrenheit, thus the name. It is about homophobia in the church, and trying to combat it. I think that the song is pretty self-explanatory.
JFH: What is "Giants" about?
Keith: "Giants" is about large multi-national corporations, and about how it is wrong for them to discard human dignity in exchange for increased profits.
JFH: What made you cover the song "It's Not Unusual?"
Keith: It was our friend Lisa's idea. She just said, "You guys should cover Tom Jones." We talked about it and decided it was a good idea. It was just for fun.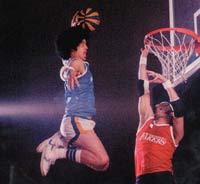 JFH: What is your favorite Five Iron song?
Keith: "Every New Day," "Blue Comb '78," "World Without End"
JFH: What is your favorite movie?
Keith: Blues Brothers, Pee-Wee Herman's Big Adventure, Aliens, Blade Runner, City of the Lost Children, all Joel and Ethan Cohen movies, Life is Beautiful, Edward Scissorhands. There are too many good movies to have just one favorite, and this list could get really big so I'll quit now.
JFH: Do you prefer Mountain Dew or Pepsi?
Keith: Am I trying to stay awake? If yes, Mt Dew. This comes in handy when doing all night drives on tour.
JFH: What is your favorite breakfast cereal?
Keith: Peanut butter Capt'n Crunch, Life, Smart Start.
JFH: What does the future hold in store for Five Iron?
Keith: For the rest of 2000, tours. We are going to South Africa in June, summer festival tour. Then this fall we are doing a 2 month club tour. We might be going back to Europe this winter too. I don't know what we are gonna do in 2001.
JFH: The Jesus freak Hideout website was started out of appreciation for good Christian music. We've set a goal to try to use the site to spread Christian music, as well as God's Word, & show others how good Christian music really is. Do you listen to Christian music? If so, what bands?
Keith: I listen to lots of bands, some of the bands in the Christian music scene that I like are:
Mike Knott - I love all his stuff, solo or with his bands.
Steve Taylor - A great lyricist and songwriter
Charlie Peacock - see comments for Steve Taylor
Pedro The Lion - A rad band
Plankeye - Relocation is a phenominal record
The Choir - Great writers
Starflyer 59 - good moody pop
Blaster the Rocketman - Great punk
Brian Healy/D.A.S - goth. (not dumb metal, which often passes for goth)
Switchfoot - Good band.
Also - Fold Zandura, Sixpence, Danielson, Sherri Youngward, Soul-junk, Model Engine, Bloomsday, MxPx.
Others include (sadly most of these bands have broken up, but kids should know the roots of Christian music.):
The Altar Boys, The Crucified, Nobody Special, Scaterd-few, Undercover, Mortal, Strongarm, Vengeance Rising, Believer, Stryper, Neon Cross, Rage of Angels, Barren Cross, Poor Old Lu.
There are tons of others, but this list is too long as it is.
JFH: I really appreciate you taking out the time in your busy schedule to answer some questions for us. Are there any last comments you'd like to make?
Keith: Thanks for the interview.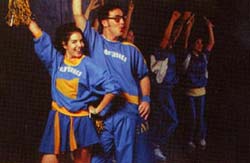 Check out sound clips of songs from their albums right here in the Sound Clips section.