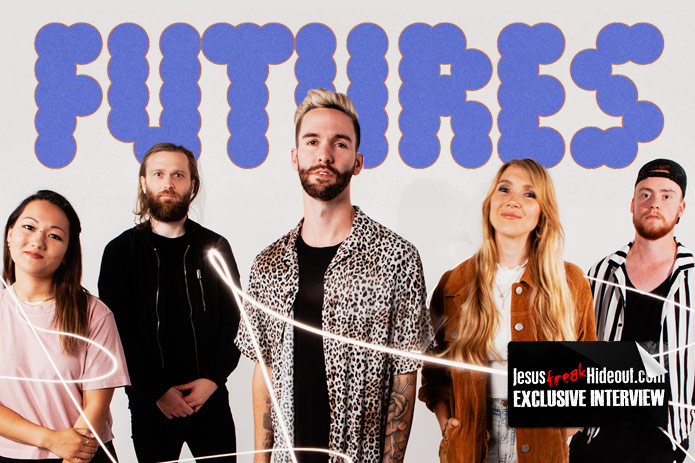 DREAM Records and JFH teamed up for a new interview with DREAM's worship project, Futures. The band members - Chloe Evans, Mark Evans, Danae Leslie and Ryan Rolls - all took some time out to talk about their new album,
Hills & Horizons
...
This interview took place January 6, 2022
Click here for
Futures
's Artist Profile page.
JFH: Hills & Horizons, your debut on DREAM Records is now available. For those about to give it a listen for the first time, how would you describe your sound?
Chloe Evans: I'd describe these songs as fun and faith-filled! This album sonically speaking is full of life & joy. It's new, it's fresh, we believe it's different to anything out there in this space. We spend time intentionally creating together and we produce everything in-house with our two producers Mark & Andrew. This leads to a synchronicity in music and lyric that is tangible and an album that has a really strong identity. We pray people ultimately hear the thread of Who God is and what He's done in every song.
JFH: Your radio single is the self-titled track, "Hills & Horizons," that you also made a music video for. What do you hope listeners will gain from listening and watching it?
Mark Evans: For Futures as an artist and more importantly, all the members on an individual level, this album has been an awakening. I think we can all feel something new happening; stirring just below the surface in Christianity worldwide. Isaiah 43:19 declares "See I am doing a new thing! Now it springs up; do you not perceive it?". We aren't saying we know exactly what it is or how it looks but we do perceive it & we are leaning into it with our writing and our sound. Music has played a central role in every great awakening throughout history. The "Hills & Horizons" music video follows the whisperings of a new awakening from a dream all the way to the hilltop, with signal fires being lit all across the world. This is our journey, this is the kindred call inside all of us. This is the message of our debut studio LP, Hills & Horizons.
JFH: What inspires the team to write music and what are your musical influences?
Danae Leslie: Inspiration can come from so many different places depending on the season, but for me I know that people and their stories have always been the biggest 'why' behind sitting down to write. I'll have certain friends, family members or even a younger me in mind almost every time we create together. Our goal is always to let people know about the good news of Jesus, and I find that when I think about people who the music can serve, it keeps that goal front and center.

I think as a band right now we're listening to a lot of new releases, top 40 and 'fresh finds' style playlists for production and melodic inspiration…I personally have a lot of respect for pure lyricists like Julia Michaels, Sasha Sloan, JP Saxe and Taylor Swift. My 2021 Spotify wrapped results looked like a melting pot of pop, worship and singer/songwriter including a lot of Griff, LANY, Glades, Kari Jobe and SEU worship!
JFH: What will you define as success after Hills & Horizons has been released for some time?
Mark: Wow, I actually love this question! I think success is something that more people struggle with than would care to admit it. For us, the only true definition of success can be found in the Bible. People might read that as a cliche answer but if you listen to our song "Famous" on this album, you'll see that we really mean it. Verses that explicitly speak to seeking first the Kingdom of God, the meek inheriting the earth, the first being last and the last being first, losing your life for His sake being the only way to gain it, give us the only measuring stick for success we need. That's not to say that we never have to deal with feelings of comparison or failure and disappointment. We're human like anyone else but I do think it's important to always look to the Word of God, the only true north, when it comes to this/any subject. All that said, success for us is ultimately "Well done, good & faithful servant" & we see the only relevant measurement being grounded in an eternal perspective.
JFH: You're originally from Australia and are a part of Influencers Church that is also in Atlanta, GA. How does Futures influence the church's culture?
Ryan Rolls: I would say that it's the other way around. The church is what brought us together. If it wasn't for the church, none of this is possible. Even when I think about the stories behind each of the songs on this album, many came out of prayer meetings, sermon clips that gripped us, or testimonies of what God was doing in our local church. Music is missional for us. Yes, we write songs to help strengthen and unify the local church, but also our prayer is that these songs don't just help a christian "keep the faith," but also to help save those who are lost. Our church believes in taking the gospel to where it's most desperately needed and yet hardest to find, and that culture runs through us as songwriters and as a team.
JFH: Where can people learn more about you?
Mark: We're most active on instagram @futuresworship and our very new TikTok account @futuresworship! We also keep our friends up to date with everything going on via our "Music Monthly." You can sign up to receive these personal letters at www.futuresworship.com.
Futures's debut studio album, Hills & Horizons is available now wherever you buy music!