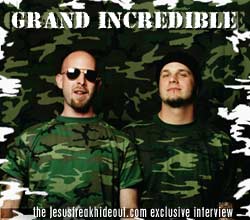 Rumors have been circulating around the web about a new project featuring Supertones lead singer Matt "Mojo" Morginski and guitarist Ethan Luck. Ethan has been posting tidbits about the project's progression on the Tones' official site but hasn't exactly released a lot of details to what this project the Grand Incredible is. JfH visitors have written in with questions about the project but we haven't heard much about it. So with attending the See Spot Rock Tour on February 15th, we got a chance to sit down with Ethan to get the 411 on the new side project. Here's what we got about the Grand Incredible...
This interview took place on: 2/15/03.




Jesus freak Hideout: Tell us about your new band Grand Incredible?
Ethan Luck: Basically Mojo (Matt Morginski) is the primary songwriter in the Supertones and for the last record he probably wrote almost forty some odd songs, and we demoed them all. I lived with him when I first moved out to Nashville. We lived together as we demoed songs like everyday and we worked together on a bunch of stuff. He would write stuff and I would do more arrangements and write different guitar parts instead of just the usual. He would have a basic song structure. We did the Hi-Fi Revival record and we had all these extra songs. We said, "Why don't we just do a side project and record a whole new record?" So that August we flew to Seattle and did it up there with Aaron Sprinkle who was in Poor Old Lu and Rose Blossum Punch -- [he] did the first MxPx record -- so he did our record. We spent about three weeks up there and did the record in about eleven days. So it's just me and Mojo in the Grand Incredible. On the record I did all the drums and the guitar and Mojo did pretty much all the bass and vocals and that's pretty much it. Aaron Sprinkle did some keyboards and backup vocals. A little fun fact -- most of our fans don't know who Nickel Creek is. They're like a blue grass, kinda young band, but their fiddle player Sarah is a good friend of ours. So on the last song on our record, a song called "California Shore," it's a real mellow song, she came in and did some fiddle and some backup vocals on that. That's kinda how it came to be. It's kinda just a little more rock straight ahead. Kind of Elvis Costello, Clash kind of stuff I guess. That's the best way to describe it. We also did a cover song on the record. We did "Time After Time" by Cyndi Lauper, so that'll be on it. The release date is June 10th. We're supposed to get these big rolls of stickers to bring out on tour to promote it. So that's pretty much all I can tell ya really on the Grand Incredible... We've already played one show! We played a show in Nashville in October. It was just me and Mojo... actually Mojo played bass live which he doesn't want to do anymore because he felt uncomfortable. But basically it was just me and him and then two of the guys from All Star United played drums and a second guitar. We're probably just going to have someone else play bass and I'll play guitar, someone will play drums, Mojo can sing and then play guitar on a couple songs. But the band is just me and him. We're on the cover of the record and it's just us two.
JFH: Is it going to be on Tooth & Nail Records? And do you have a title for the record?
Ethan: Yeah, Tooth and Nail. The title is G.I. Gantic for "gigantic." It's just kinda dumb. *smiles*