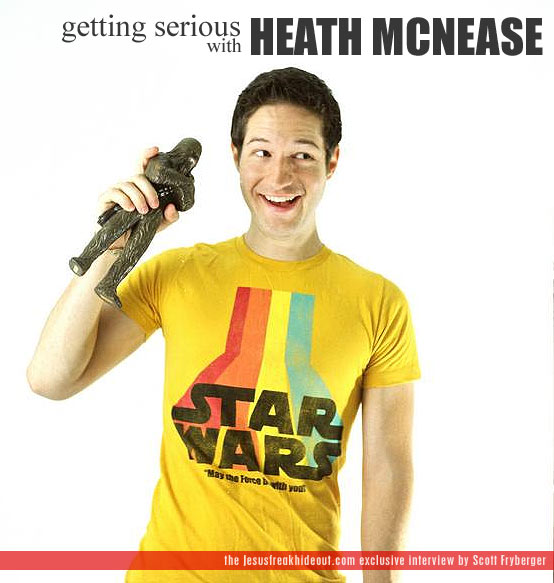 7 Spin Music's hip hop artist Heath McNease returns this Spring with not one, but two new projects - a hip hop release titled
The Gun Show
and his first acoustic project,
Shine On
. JFH's Scott Fryberger caught up with McNease to discuss his latest musical endeavors.
This interview took place on: 5/4/10.
Jesus freak Hideout (Scott Fryberger): I want to start things off seriously. In your song "Disco Biscuits," which sound delicious by the way, you say "Dirty south representin' all day." Are those lyrics accurate? Or in all honesty, is dirty south only representin' for part of the day?
Heath McNease: First of all, bro, if you were from the dirty south you wouldnít have to ask such a question. Anyone from ďthe dirtyĒ knows that to represent for just part of the day would be against nature, against stasis, against humanity. We hold it down like weíre in a library, all day. 229 is in your playhouse.
JFH (Scott): To get more serious, how does a white guy from Georgia get into making hip hop?
Heath: You know, I donít really think the ďwhiteĒ thing really serves as a qualifier anymore. I think hip hop has grown out of the precursor of racial orientation, but I get the question. I was raised on The Beatles, Simon and Garfunkel, southern gospel hymns, etc. It wasnít until I started riding to school with my oldest brother that I got into hip hop. Three McNease brothers sitting in a little Nissan truck listening to Bone Thugs Ní Harmony and Nate Dogg. Thatís where it started for me. I was just bitten by it. My love for it grew the more and more I was exposed to more lyrical hip hop.
JFH (Scott): Who are some musicians or bands that influence you to create music?
Heath: First and foremost, The Beatles. The Avett Brothers, Aesop Rock, Lightnin' Hopkins, Deepspace 5, Wu Tang Clan, Andrew Bird, Sufjan Stevens, Bill Withers... I could go on and on. But when I listen to bands and artists like that, I feel inspired to write! To just create! To take my shirt off and see what the next step is from there!
JFH (Scott): Do you have a favorite song? If so, what and why?
Heath: "Eleanor Rigby" by The Beatles. Paul McCartney is my idol. He has the ability to do so many things so well, and he is just as relevant today as he was 40 years ago. "Eleanor Rigby" is just such a brutally sad and honest song that gives so much visual information and mood without being excessively wordy. And the melody is just so haunting and beautiful. I canít listen to it very much, because it means so much to me when I hear it.
JFH (Scott): You recently released two full-length albums, one hip hop and one singer/songwriter. Was this an idea of yours?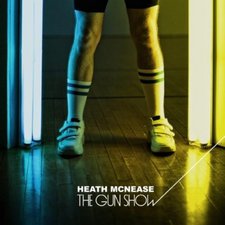 Heath: It was definitely my idea. Iíve been on the road for three years now, 250 to 300 days a year playing shows and my style and approach developed and grew so much within that time. I was playing at coffee shops and leading worship and people had no idea that I rapped. Conversely I was rapping at clubs and venues and people had no idea I was a singer/songwriter. So I just wanted to bring what I do to the forefront for everyone. And how did 7Spin react to the idea? I didnít really tell them until later. They arenít hyper involved in my creative process. They didnít even hear the songs until they were done. They are very hands-off with me when it comes to creativity. And Iím an extreme micro manager. So I wanted its artistic success or failure to rest on my shoulders, not theirs.
JFH (Scott): Do you plan on touring in support of these albums?
Heath: Always touring, kitten. Always touring. It's how I live in the huge mansion I do with the heated pool, bowling alley, and exotic pets!
JFH (Scott): The Gun Show and Shine On were released through digital outlets, but are there any plans to release physical copies?
Heath: Yeah. I think, ideally, it's just cheaper to release digitally. Iím not saying that itís the greatest idea, but the market has taken a hard shift in that direction so we have to cater to it. I will always sell physical copies on the road and the plan is for stores to hopefully get really excited about the success digitally and want to carry it. People can also order physical copies from 7spin.com.
JFH (Scott): On the hip hop album, The Gun Show, you had Playdough, Pigeon John and RedCloud make appearances again. How was it working with three of the best emcees of today?
Heath: You know, I really had my choice (within reason) of who I wanted to work with, but I just really couldnít think of anyone I wanted on the album more than those three guys. Theyíve been so influential in my development as an artist and as a man for so many reasons. RedCloud was the first dude that ever gave my crappy demo a listen. He reached out to me, because God led him to do that. He took me on the first tour I ever went on and he took care of me and made me observe everything. I owe that dude so much of my career. Playdough was the reason I got signed to 7Spin. He didnít just do the lionís share of the production, mixing, engineering and executive production work for the first album; he did it for next to nothing because he cared about me and my career. Weíve grown to be great friends, and thatís still crazy to me because I was just such a fan in high school. He has a great heart. And Pigeon John...well, who does a better live show than John? Heís the freakin' Sam Kennison of hip hop. Dude has no filter and I donít care what people say about that, it's awesome to be honest. They are great dudes and I love their art. So I was blessed to have them work with me...again. Iím thinking next time I might actually have 2 of them on one song.
JFH (Scott): What are your favorite songs from The Gun Show and Shine On?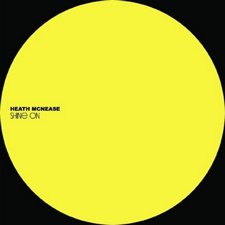 Heath: Impossible to say really. Like a mother with her children. She could never say she had a favorite. Iíve already gotten a ton of feedback about ďMakeshift DoxologyĒ from people in all walks of life. Very affirming that what I felt I needed to write wasnít for me, it was for others. "Pity Party" has drawn the same response as well. People love "Nerd Out" for the novelty reasons. And really artsy cats like "Space Cowboy." I think itís a grab bag depending on who you talk to. ďPavedĒ is probably my favorite song from Shine On because itís the most naked and honest song Iíve ever written. I donít usually write from personal experience, but that whole song is based on moments from my life. Very sensitive stuff.
JFH (Scott): If you had to pick, which of the two albums are you more proud of?
Heath: I think The Gun Show was a labor of force and perseverance. Making that album was soooooo hard. Financially, emotionally, artistically. My hand was in every facet. It was a true labor of love. Iím very proud of those 17 songs. Iím proud that it's 17 songs...72 minutes of real art. No filler. I poured everything I am into it and Iím so proud of what God did through it. I remember every second of every recording, writing and editing experience and how painstaking it was. Because I was there from start to finish. No Nashville co-writes, no Hollywood razzle dazzle, it was all me and the help of my really close friends in music. Now, Shine On was far easier to execute, but it was 100% emotional catharsis. Just getting out some really stark thoughts and ideas. Simplifying ideas so they can live somewhat in the realm of the abstract instead of the perpetually literal. It had some fun poppy stuff that Iíve never done before, but a lot of the bare, ďone takeĒ recordings that Iíve always loved to listen to. It sounds like youíre hearing a performance happen live, because you are. A lot of that album was a one take of me and a guitar and just extra harmonies and instruments added.
JFH (Scott): Do you like writing and performing hip hop or acoustic tracks more?
Heath: Again, it's just a totally different thing. Hip hop is such a release live. It's so fun, so raw, so emotional. You can move people in a way that their bodies and minds really connect with. Thereís not as much method to the rawness of it. And Iíve loved that ability to connect with people in such a lyrical format. Iíve been doing it since I was 18 and it's never gotten old. I feel the acoustic stuff is a way to really strip away the artifice of the ďpresentationĒ of a show and say, "This is 100% unadulterated and unfettered human right now. Iím giving you nothing but my voice and a guitar, and asking you to stay with me, because this is more of me than you will ever hear by talking to me. And it might be more of you than you ever thought someone could understand.Ē
JFH (Scott): How did you discover your guest vocalist on "'Til The Fever Breaks," Alisa Turner?
Heath: Peter Khosla is the owner of 7Spin and he is also Alisaís manager. He wanted to put her on a hip hop track of mine, but I thought that idea gets a little played out. So after I wrote ďFever Breaks," they thought it would be a good fit. I had already recorded the song. She just threw the vocals and piano down months later when she came through the studio. She really brings a lot of truth to the table. Sheís been doing this music thing a lot longer than me, so it wasnít about discovering. Peter was looking for a way to make it work. Her music is great, and I think she speaks to a segment of young girls who are dealing with a lot of issues in a way that male artists just canít adequately communicate.
JFH (Scott): The acoustic songs are naturally more intimate than the hip hop songs, but "Paved" seems really deep. Care to cast any insight on the song's deeper meaning?
Heath: Sure. When I was in kindergarten, I lived on a dirt road. One day, Mom was bringing me back from school and there were dudes paving the road. I remember feeling, even as a kid, "Why didnít anybody ask me if this was okay? Could they not have at least told me it was going to happen so I could have said good bye to it?Ē Itís a small metaphor for a lot of life. I say in the song ďIíd like to take every bit of that gravel away, some things never change.Ē There are going to be things we canít stop, things we canít avoid. Stuff we canít change. It's not fair and it doesnít have to be fair. We just have to accept it and move on. I talk about a near-death experience in the emergency room where I told my mom ďI donít want to die. Iíve been bad.Ē I was 10 and I was trying to absolve myself and make amends because I thought I was going to die. I had horrible asthma and I just couldnít breathe. The doctors really did save me that night. My brotherís best friend, Lt. Dan Malcom Jr. (who the album is dedicated to in the hard copy form) was killed in duty in Iraq over 4 years ago. I didnít get to go to his funeral, but last February when I was playing in DC, I went to his gravesite at Arlington National Cemetary. It was such a body blow. He was such an amazing man, and Iím older now than he was when he passed. He deserves to be here, but he fought to protect a freedom he deeply believed in. War sucks. Plain and simple. Whether you think we should be at war or not, you have to agree that it sucks, and that nobody deserves such an ill fate. Thatís a lot of the heart behind the song.
JFH (Scott): Was there a specific instance that inspired "Makeshift Doxology?"
Heath: Actually not at all. I was looking at it as a ďdrunk dialĒ to God. Iíve always been the designated driver because I donít drink. People say a lot of stupid things when theyíre drunk, but so much of it is motivated by true honesty. ďThe abundance of the heartĒ. No matter how impractical, it's coming from a genuine place. Iíve always thought my prayers probably sound a lot like a drunk dial sometimes. Selfish, scattered, aimless, thoughtless rants to God about things that donít make a difference in the grand scheme. But letting that person have a brief moment of lucidity at the end, where they can tie it all together and find some true redemption...thatís the part thatís about me. That moment of ďIím tired of who I am. Because all I do is hurt myself and everyone else around me. I will do whatever I need to in order to not be that person anymore.Ē We have all had that moment. Even if we forget about it later.
JFH (Scott): You mentioned in a recent blog that there were some troubles with your label, 7Spin Music. Are you able to talk about what happened?
Heath: Haha. Not at all.
JFH (Scott): After everything that's gone down, do you plan to continue on with 7Spin?
Heath: Yep. Theyíre good people. And Iím with them for another album.
JFH (Scott): Do you have any life advice for the readers?
Heath: Iíd be the last person to ask for life advice. Wow. No pearls of wisdom from me. Just please forgive. Forgive yourself. Forgive your friends. Forgive your enemies. Just be in a place where you can forgive yourself. I struggle with that every day. Find a way to forgive yourself.
Heath McNease's new albums, The Gun Show and Shine On, are available now
wherever music is sold.