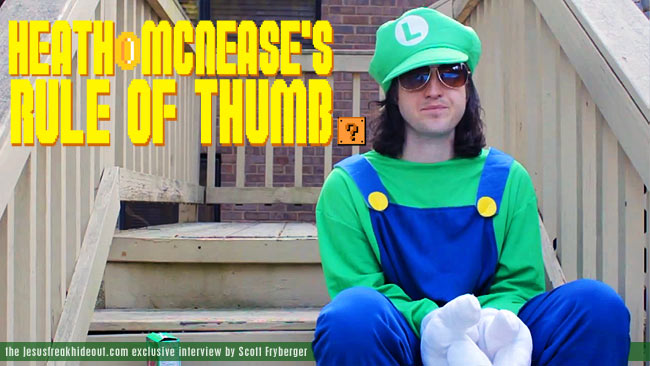 Busy as always, Colquitt, Georgia's finest,
Heath McNease
, popped out his second singer/songwriter album in the earlier half of the year, and is now poised to drop his very first mixtape. Heath took some time to answer a few questions from Jesusfreakhideout's Scott Fryberger about both the album and the coming mixtape.
This interview took place on: June 28, 2011
Jesus freak Hideout (Scott Fryberger): Back in February, you released your second singer/songwriter album in less than a year, The House Always Wins. Were all of those songs written after Shine On was released?
Heath McNease: Yep. Just a collection of songs I'd been working on. Four of them I actually wrote a week before the album recording happened. I was originally just going to do an EP.
JFH (Scott): Did you approach The House Always Wins any differently than Shine On?
Heath: I don't think I will ever really approach any of my acoustic material differently because the songs just happen so fast. They usually just spill out, because it's something that's been bottled up that I just didn't know how to express until the inspiration came for it.
JFH (Scott): Though you do both hip hop as well as singer/songwriter material, I notice you merge them together sometimes, like the song "Come Prepared." Do you purposely merge them like this, or is it completely natural?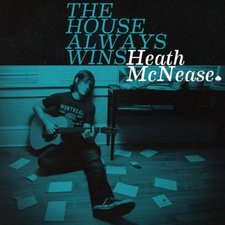 Heath: With a song like that it was natural. On The Gun Show, I was more intentional about trying to merge them. I'd like to do an acoustic/hip hop record where it sounds a lot like "Come Prepared" or "Too Much Love" but has a lot of rapping. But I would only be doing it to try to make money off of a pop hit. haha. It doesn't push boundaries enough for me in terms of looking at it as a full-length rap album.
JFH (Scott): You had For Beats' Sake produce a couple tracks on The Gun Show. How did you like working with him again for your upcoming mixtape?
Heath: Oh he's a great guy, man. We've been homeys for about four years now. I actually turned Playdough and a lot of the homeys onto him years ago. He is just the nicest, most unassuming guy. Always working hard and always there to give you what you're looking for musically. Definitely comes from that Dilla and Madlib school of production while still making a lot of meat and potatoes rap too. Well-rounded guy who just continues to grow and progress.
JFH (Scott): How did you and For Beats' Sake get teamed up for Straight Outta Console: The Nintendo Thumb Mixtape?
Heath: Honestly, I hijacked his idea. haha! The truth is that he sent me and Playdough a folder full of Nintendo beats for a project he was planning on starting called Straight Outta Console. He wanted it to be a huge compilation album. I'd been dying to do a mixtape, so I just jumped at the chance and told him to just let me do all the creative writing and it could be a mixtape instead. He was immediately down and we got to work in the middle of March. It came together quickly. He is just as important to this project as I am. He was the heart and soul of it. I just took his amazing music and wrote stupid raps to it, which was liberating for me, because there's never been a time where I wasn't intimately involved in the music/beats/production of the album.
JFH (Scott): Video game nerds will especially love this mixtape, as all the beats are sampled from old school Nintendo games. What are some of the games used?
Heath: Oh man...Super Mario Bros. 3, Battle Toads, Doctor Jekyll & Mr. Hyde, Super Donkey Kong, Aliens, Krusty's Fun House, Bomberman, Tetris, Mike Tyson's Punchout, etc. Sooooo many.
JFH (Scott): What are some of your favorite video games, past or present?
Heath: I honestly don't play anything new, really. My all time favorite is The Legend of Zelda: A Link to the Past. I love Tecmo Bowl, Mario 3, Kung Fu, all of the games in the Mega Man series, Double Dribble, Castlevania, Metroid... dude, just so many.
JFH (Scott): Which of the beats were the most enjoyable to rap over?
Heath: For Beats' Sake did a Castlevania sample that has a really staggered rhythm that I turned into a song called "Chopstlevania." It was a blast because the pattern was just so fun and freaking original. Paperboy was a blast, because it's just such a ridiculous concept... and I love that game so much. "Tanuki" was absolutely meant to be. That's when I knew this project was gonna be a winner.
JFH (Scott): Do you think you'd ever do another project like this with games from other consoles?
Heath: Me and Tom (For Beats' Sake) have already talked about doing multiple installments of this mixtape series where we just do more NES samples. Then do a [Super Nintendo] mixtape. Then maybe Sega one day. We'll see. This one's gotta move some units and generate some freakin' interest first, haha.
JFH (Scott): Is there any guest production aside from For Beats' Sake?
Heath: Fab Da Eclectic does the title beat, "Nintendo Thumb remix" with KJ-52. And Davey Rockit is doing all the scratches. He's one of my favorite DJ's and beatmakers. I'm blown away by the talent involved with this project.
JFH (Scott): I understand there's a large guest list as far as guest emcees, such as Playdough and Manchild in "Style Points." Who else can listeners expect to hear verses from?
Heath: KJ-52, Okwerdz (Grind Time), RedCloud, Fred B., Sev Statik, Sivion, Cas Metah, maybe more. I can't even remember haha.
JFH (Scott): I recall you mentioning that you wrote your lyrics a little differently than you ever have before. What was different this time around?
Heath: Just the freedom of knowing it wasn't for a label. Knowing it wasn't gonna get picked apart by churchy entities. Knowing I could say the word "freakin'" and not worry about how it might be perceived. Knowing I could be silly and make "mama" jokes and just have a good time not editing myself, not trying to be philosophical or life-changing. Just trying to rap because I love rap. This is by far the most fun I've had rapping in years.
JFH (Scott): For legal reasons, Straight Outta Console is going to be a free download. But where will people be able to get it?
Heath: Bandcamp and Sphereofhiphop.com as well as a few blogs here and there. But Bandcamp is where I will really be pushing it. And I am pressing physical copies for the road.
JFH (Scott): What can people do to get the word out about the mixtape?
Heath: Man, social media is great, but it has to be about more than that. If a person really cares, I think it's important to share that passion by physically talking with people. Emailing, texting, calling, sitting with them and showing them videos or having a listening party. Dude, just invite your friends over to play video games and have a listening party when the album drops. It's the perfect backdrop for a summer hangout. That's why I made it to release on July 4th.
JFH (Scott): I really appreciate you taking the time to answer my questions. Is there anything else you wish to add for all your fans?
Heath: Man, just thanks as always for the support. Come see me on the road so I can give you a hug in person and tell you guys how much you mean to me.
Heath McNease's new project, Straight Outta Console: The Nintendo Thumb Mixtape, releases July 4