Acoustic folk artist Jason Gray recently released his sophomore album Everything Sad Is Coming Untrue following a bout of writers block. JFH's very own Jen Rose had a chance to talk to the Centricity Music singer/songwriter about the album, his writers block, and even his favorite books...
This interview took place on: 9/28/09.






Jesus freak Hideout (Jen Rose): First of all, those uber-deluxe album packages are awesome! How did that idea come about? And have you had any takers on your mini-van yet?
Jason Gray: You know, we just wanted to offer some special packages for fans and as we started dreaming, we got a little carried away. And yes, we've had some takers on a number of the packages - like the one where you have dinner with the Grays at our house followed by watching Nacho Libre in our living room - but no takers on the mini-van package. Yet! The packages are still available and in my online store, so if readers here would like one of my shirts, a guided tour of the Spam museum, my mini-van, or a day of para-sailing in Maui there are still some uber deluxe packages available (and no, we're not joking).
JFH (Jen): I understand that you went through a long period of creative block before this album. What was it like going through that as a songwriter? Did you wonder if you'd ever be able to write again?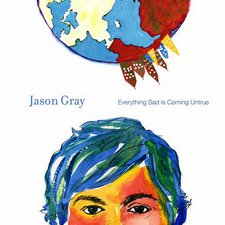 Jason: Yes, it was scary. The songs are like the gas in the tank of what I do - they fuel my ministry. No songs and you start to feel the engine sucking fumes. I wondered if God had different plans for me and yet when I would minister in a concert setting, it seemed so clear that this was still what God had given me to do. So I waited. And waited. Bit my nails. And I think God began doing a work in me, helping me to see some of my blind spots, revealing some core things that I needed to address. There's nothing like a crisis to get your attention and God certainly had mine. I think out of this season I learned a good deal about myself and how much the fear of men was ruling my life. I think that I wrote some of the best songs of my career when I came out on the other side of the writer's block. I was also blessed to work with some great co-writers who helped lead me out of my desert wanderings.
JFH (Jen): Was there this breakthrough moment where you found yourself on the other side of writer's block, or was it a gradual process? And what was the first song you wrote after that? How did it feel to finally have something new written?
Jason: It was more of a gradual process... but there definitely was that "first" song that broke the stalemate. It ended up on the record and is one of the more introspective and personal songs I've ever written. It's called "The Golden Boy & The Prodigal" and is about the dual nature in all of us. We tend to despise the prodigal in all of us, though he's the very one that Jesus died for. The Golden boy in us is generally a myth, a façade we create to look righteous to those around us. We're so desperate to look like the kind of people who don't need Jesus and this is a little of what I was trying to explore in this song - this idea of how hard we are on the one that Jesus loves, namely, ourselves.

I think what makes this song significant was that I tried to clear my mental bleachers of all the people who were demanding I write a certain kind of song. There were radio people there, and marketing people, and religious people who are easily offended and peer artists whose respect I desire. All these competing voices were raising such a ruckus that it was hard to hear the songs that were wanting to be born. So with this song, I wrote it just for me, just to tell the truth, knowing that it wouldn't be "useful," meaning that it wouldn't meet any of the expectations of the critics in my mental bleachers.

To my delight, I've been proven wrong and many have told me that it's their favorite song on the record. It's definitely one of the songs that I'm most proud of - especially from a lyrical standpoint. I mean, c'mon... I worked the word "doppelganger" into the lyric!
JFH (Jen): Do you have a favorite song on the new album?
Jason: I have different songs that are favorites for different reasons. From a writer's standpoint, "The Golden Boy & The Prodigal" is a high water mark for me lyrically. "I Am New" is probably my favorite from a live standpoint - it's always the song that seems to connect with my audience in a deeply emotional and hopeful way. "More Like Falling In Love" is the funnest and strongest pop song I think I've written - which doesn't come naturally for me! So that's one that I feel really grateful for. But "Everything Sad Is Coming Untrue (Part 2)" is one of the few songs I've written that makes me cry. So I guess I have a lot of favorites! Honestly, on account of the writer's block I'm grateful for every song on this record.
JFH (Jen): I admit, I'm a book nerd, and I got really excited the first time I heard "Help Me, Thank You," because I picked up on the Anne Lamott reference right away! And the album's title comes from Lord of the Rings... so I take it you're a big reader. How do your favorite writers influence your songwriting?
Jason: You found me out! I'm a book hound for sure. Books are generally where I get my ideas for songs. My song ideas come as concepts that I feel passionate about, some idea that seems like it would be important to bring to my audience. A line like Lamott's seems tailor made to become a song. In fact, there was another verse we wrote that gave her a shout out: "I learned them from my sister Anne / I held the words here in my hands / two simple prayers that any child could pray.... Like butter for my daily bread or mercies for the bumpy road ahead / I know come what may / either prayer will lead the way..." I recorded an acoustic version of the song with this verse reinstated for the bonus disc of the Special Edition of the new CD. I'm so happy you caught the reference! Frederick Buechner is a huge influence in all of my work, too.
JFH (Jen): Speaking of, what are you reading right now?
Jason: Well speaking of Buechner, I just recently finished re-reading his collected sermons. But right now I'm reading Anne Rice's novel about Jesus as a little boy. It's a fascinating take on what it might have been like for Jesus, both fully human and fully God, to grow into his consciousness as the Son Of God. So far it's a very reverent and careful book that looks at a part of the life of Jesus that few have dared to explore. It's called "Christ The Lord Out Of Egypt." And yes, Anne Rice is the author who formerly wrote vampire novels before her conversion to Christianity.
JFH (Jen): What was the biggest thing you learned in the process of making this album?
Jason: Well... This record required a good deal more trust. I recorded it entirely down in Nashville and I live in Minnesota. So, for instance, I sang down all the tracks and then basically had to go home without hearing back what I'd done. They said they had what they needed and I had to leave it in their hands and trust them. I'm usually very involved every step of the way and at various points I had to hand it over to Jason Ingram and Rusty Varencamp and entrust it to them. This was a little scary for me since I'm a control freak, but it was ultimately good for me. And they didn't let me down! I didn't have to trust that much - I was there for all the tracking and post-production, but still not being in the room during mix-time, etc... I had to let go of a little control which is always a good thing.
JFH (Jen): What has God been teaching you lately?
Jason: How insecurity is the root of the worst parts of my personality. It drives the worst of me: my worst assumptions about others, criticism, defensiveness. I'm trying to learn how to let my confidence be rooted in the grace of God.
JFH (Jen): One more. I think it's a pretty deep and important question anyway... if you could have any superpower, what would it be?
Jason: Maybe mind-reading. I would love to know what's on my wife's mind and have a sense of how she sees the world so I could be a better husband.