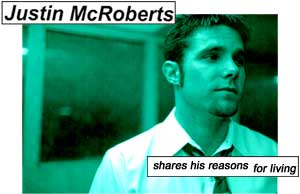 You may have caught his live show with
Five Iron Frenzy
and
The Ws
. You may have caught him at a festival or even this year's Creation East. Maybe you'll end up seeing him later this year open up for
Caedmon's Call
. But acoustic funnyman
Justin McRoberts
isn't just a witty guy with heart-felt music. Recently, Justin took the time out from recording his next album
Father
, to answer some questions.
This interview took place on: 6/10/00.
Jesus freak Hideout: How did you get started in music?
Justin McRoberts: I had been working with young life for a few years when, through a number of people, God began to talk to me about music. I had known Frank Tate and the rest of the crew at 5 Minute Walk for a long time and after praying with my wife, my pastor, and 5MW, it became clear that God was wanting to lead me in that direction.
JFH: How would you describe your sound?
Justin: It's a sort of Tom Jones arm wrestling with Metallica officiated by Nat King Cole vibe. Other folks would just refer to my style as acoustic pop rock. Either one works for me.
JFH: What bands have influenced your sound?
Justin: Really, my musical history is odd. I grew up on a strange mix of music. I listened to (and in most cases, still do) bands like the Police, Rush, Huey Lewis (no joke), Guns N Roses, Jane's Addiction, NWA, De La Soul, Diggable Planets, Public Enemy, The Cure, The Smiths... balanced out by a good dose of R&B and classic soul: Marvyn Gaye, Joe Cocker, Cool and the Gang... none of which seem to have any echo in what I do now. More recently, bands like Pedro the Lion, and artists like Jeff Buckley have had a deep influence on what I do with my music.
JFH: Where are you from?
Justin: I was born in Oakland, California, and was raised just east of there in Concord. I have lived my whole life here in the San Francisco Bay area. I even went to college out here at St. Mary's in Moraga. Having travelled a bit now, I can confidently say I am staying here until I die. 45 minutes from the beach, 2 hours from the Sierra Nevadas, 30 minutes from the most visited city in the world (San Francisco), home to seven major league sports franchises and countless quality resturants not to mention the weather... I love living here.
JFH: You have a new album coming out this fall. Can you tell us a little about what to expect on this album? Any changes?
Justin: Yes, I've decided not to sing or play at all on the album and instead plan on replacing all my vocal parts with the Vienna Boys Choir, who incidentally, were our second choice for the part. The young men with the Mormon Tabernacle Choir were unavailable citing theological differences. Actually, the album will be a bit more stripped down. More representative of what one might see at a show.

JFH: On your debut cd, Reason For Living, what prompted you to write "5th wheel?"
Justin: I'm a nerd, a dork, a geek, dweeb, barney, square, knucklehead, moron, spaz, weirdo, and a walking thesaurus. I really do believe life is much more fun when we can recognize that we are needy, forgetful, and often times stupid people. There is humor in our mistakes, which makes life interesting, so long as we don't take ourselves so stinking seriously. God meets us in those mistakes and we see His grace there. Sometimes it just takes one person in a crowd to admit her or she is a loser and then everyone else feels safe to do so as well. That is why I wrote "5th Wheel."
JFH: What is the story behind the song "Michael's Hands."
Justin: As I mentioned above, I worked with Young Life for several years. Mike was a kid I met when he was a freshman at Clayton Valley. I had the wonderful opportunity to be used of God to communicate His unconditional love to this guy. He made a lot of stupid decisions, and ended up in a lot of stupid situations. But God wanted Him to know that no matter what he did, or said, or failed to do or say, God loved him. There was nothing Mike could do and there never will be, that will cause God to give up on him. I wrote "Michael's Hands" as a reminder to myself that the seemingly fruitless labor of loving the unlovable is worth it. It is the life we are called to, to love unconditionally. To love the Godless, to love the homosexual, to love the atheist, to even love the heartless, brainless, gutless racists with the unconditional love of the cross of Christ.
JFH: At your recent show in Hershey, PA, you called your mom on your cell phone from the stage. Have you ever done that before? And what did she say afterwards?
Justin: No, I have never done that before, but I will do it again. She thought it was cute and funny. But when I was an infant and puked on her all the time, she thought that was cute and funny, too.
JFH: It's been noticed that you don't sign autographs for fans. We think it's pretty cool. What made you come to this important decision?
Justin: If I have been called by God to write and perform songs, then my writing and performing is a ministry. If it is a ministry, then I am in much the same position as a pastor or any member of a ministry team like Young Life or Campus Crusade. If I am in that position, then God desires to use me to communicate something of Himself. If God is communicating something of Himself, then it's not about me. If it's not about me, then my job is to listen for Him, do or say whatever He is asking and get out of the way. At what point in this process does signing an autograph help God accomplish His goal? This is one of a few reasons.
JFH: What is your favorite song of yours?
Justin: That's a funny question. Off the first release, I would have to say either "With Your Eyes" or "The Story Stands Alone." Of the newer songs which you haven't heard yet, I am quite fond of a song called "Waiting on Your Love."
JFH: What is your favorite movie?
Justin: The Breakfast Club. I could watch that movie over and over. It is truly a brilliant portrayal of adolescent life, and the unifying power of brokenness.
JFH: What item of yours do you misplace the most? where does it usually turn up?
Justin: My keys, hands down. I lose them almost daily. Usually I don't find them, someone else (most often my wife, Amy) finds them for me. Maybe it's Amy who is hiding them from me in the first place. I'll have to ask her about that.
JFH: What is your favorite thing to do besides music?
Justin: I love to read. I am reading a great short book by Mark Twain right now, have just finished a book by one of my favorite authors Kurt Vonnegut ("Timequake") and am looking forward to reading "Rachel and Her Children" by Jonathan Kozol who is an advocate for socioeconomic justice, racial equality and other basic human needs that somehow slip through the cracks of our overstuffed, comfortable, apathetic and complacent Christian lives. I read a lot. I am a geek.
JFH: Do you prefer Moundain Dew or Pepsi?
Justin: Sobe
JFH: What does the future hold in store for you?
Justin: I will be on tour this fall with Nicole Nordeman and Caedmon's Call. I will the be boarding the space ship "Fullovitt" and travelling to a new solar system where I plan on developing a chain of super-duper Christian bookstores. I will also be spending as much time with my wife as possible.
JFH: The Jesus freak Hideout website was started out of appreciation for good Christian music. We've set a goal to try to use the site to spread Christian music, as well as God's Word, & show others how good Christian music really is. Do you listen to Christian music? If so, what bands?
Justin:This is my current Christian artist listening rotation:
Nicole Nordeman
Five Iron Frenzy
Soul-Junk
Pedro the Lion
Andrew Peterson
Mike Knott
Model Engine

JFH: I really appreciate you taking out the time in your busy schedule to answer some questions for us. Are there any last comments you'd like to make?
Justin: May we look for God in the people and places we hate and find Him there.