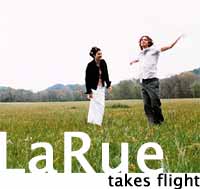 With a sophomore album released less than two months prior,
Natalie LaRue
of the brother/sister pop duo
LaRue
dropped her microphone and took some time out of her busy schedule for an interview. Natalie gives some insight into some of the songs off
Transparent
as well as what they do to unwind after a show.
This interview took place on: 3/7/01.
Jesus freak Hideout: What made you choose your last name as the name for your band?
Natalie LaRue: Well, Phill and I came up with about a million different names and none of them worked. So basically we thought "let's not be creative" and picked LaRue as a scapegoat. But it does mean "the road" in French, so we thought that was really cool because it applies that we walk the road that God sets for us, and its also our last name.
JFH: How did the two of you get started?
Natalie: It was actually our Mom that encouraged us to write our first song. Phill had been playing the guitar for about a year, and I was in Choir and loved to sing. So we tried, and wrote our first song 'Picture Frame,' after that we wrote some more songs and played around basically anywhere we could. That was how we met a producer that really believed in us enough to make a demo. The amazing thing is that my Dad was in Nashville for his job, we were about to move over there to be with him, this was during the time when our producer sent our demo to the record label that we are on now. They really liked it and asked if they could fly down and see us, "Well" we said "you could but we are actually moving over there in like two weeks." So God, as always, definitely orchestrated it in His perfect timing.
JFH: How would you describe your sound?
Natalie: Let's see, our sound... I would have to say we are somewhere in-between rock-alternative-folk-pop, ha ha ha, yeah it's hard to explain.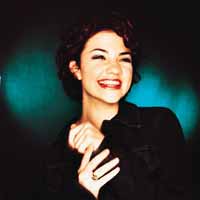 JFH: What artists have influenced your sound?
Natalie: I think this is a really hard question for Phil and myself because we really try not to take off of anyone, but to be unique. But we have always admired the singer song writer types. The kind of music that when you listen to them you can tell they are singing from their own experiences and yet somehow you can relate to what they are saying.
JFH: What do you feel you have learned through your experiences since your debut release that has helped you grown as musicians?
Natalie: I can say that this past year and being in the music industry period has made our eyes open up to so many things. We have learned too much valuable information. I think being on the road is one major way that we grew musically, also being in the studio and being more involved. Being around other musicians is amazing, because there is always something to learn or to be taught, it's quite an awesome experience!
JFH: If you could sum-up what you were trying to tell your listening audience with Transparent in a few sentences, what would they be?
Natalie: I think that we are trying to be completely honest and real with ourselves, our audience and God. And by doing that, sharing our weaknesses, trials, and failures, but also our victory, hope, and joy that we have found in Christ, we may reach the lost and minister to the found. That through life and all its ups and downs, strive to pursue God with everything that we are.
JFH: It's become evident that you have a sincere passion for your generation in society today. Do you feel like God has laid any specific burdens upon your heart to tell your peers?
Natalie: Something that has been truly of God is that because Phill and I never intended to be in music, God laid on our hearts different missions. What has been awesome is that we are able to combine them through being in music together. Phill has a real burden to reach the creative, innovative, and yet very much lost people of the world, to show them that the ultimate creativity is in the Creator himself. My burden is for discipleship in this generation. I want to challenge those young people in the church to have passionate relationships with Christ. To help prepare the bride for her bridegroom.
JFH: What is the story behind "Brianna's Song?"
Natalie: Brianna is our little sister. She is handicapped with cerebral palsy. She is one of the most beautiful people I know. Her faith in God and confidence in who He made her to be, has been a tremendous influence on Phill and I spiritually, musically, and everything else. She is a truly wonderful person, and we wanted to express all that she has done to effect our life.
JFH: What is the song "Jaded" about?
Natalie: "Jaded" is a song talking about a relationship that I was in for a long period of time. God brings people in our life that make us who we are. Sometimes they are here for as long as life, other times they are just for a season. But they always effect our life and leave their mark, whether good or bad. I think there is a lot of emotion in that, and this song deals with some of those emotions.

JFH: What inspired the song "Fallen For You?"
Natalie: In life and living my ultimate desire is to pursue God's awesome personage and have an intimate relationship with Him. To love him passionately with all my heart, mind and soul. This song describes the love relationship that we are able to have with Jesus, and the joy of pursuing Him, and falling for Him. And in the end knowing that He did first.
JFH: What is the hardest thing that you've found about your job as a musician in the Christian music industry?
Natalie: I think the hardest part is that no matter how you look at it, or try to, it is a business as well a ministry. There will always be sides of the business part that are not so great. You will even probably meet people who aren't in it for the right reasons. To try and find the boundary in it all is hard, and to keep the focus on Jesus is even harder.
JFH: If you weren't doing music, what do you think you would be doing instead?
Natalie:I am pretty sure that I would be doing missions, and working with handicapped children, hopefully at the same time! Also, and probably more importantly my big desire is to get married, have babies, and help support my husband in whatever he is called to.
JFH: What is your favorite LaRue song?
Natalie: Can I choose one from both? I think from the first record, my favorite song is "Run to You," and on the new one I would have to say "Like Clay" it simple and yet so much of my heart.
JFH: What is your favorite movie?
Natalie: This is a really tough question for me. (as you can see I am not good at choosing just one of anything) I would have to say either Much Ado About Nothing or Dead poets society or Romeo and Juliet (the modern version).
JFH: What has been your favorite on-the-road moment?
Natalie: I would have to say the times after the concert, when everybody is really tired but super hungry and a place like the waffle house or IHOP sounds soooooo good. We all get pretty goofy around that time, and it feels nice to relax and not think.
JFH: The Jesus freak Hideout website was started out of appreciation for good Christian music. We've set a goal to try to use the site to spread Christian music, as well as God's Word, & show others how good Christian music really is. Do you listen to Christian music? If so, what artists?
Natalie: Yes, I do. I have to admit, a lot more now than I did before I was in the music industry, just because I know now what is out there. Before, I had no idea. I love Switchfoot, Waterdeep, Rich Mullins, Chasing Furies, Jars of Clay, Sixpence, Andrew Peterson, and Bebo Norman. I also have a strange love of hip hop music, I am a huge fan of DJ Maj, Grits, LA Symphony, MG the Visionary, and I admit to a bit of a crush on John P.
JFH: I really appreciate you taking out the time in your busy schedule to answer some questions for us. Are there any last comments you'd like to make?
Natalie: Thanks so much for letting us do this! Hope this is all you needed and if there is anything else that we can do let us know! Grace and Peace be with you in our Lord Jesus Christ.
Natalie LaRue