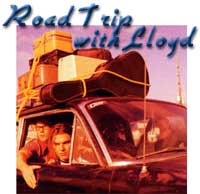 Here we have the awesome new modern rock group,
Lloyd
! Lloyd has a new album out on
Organic Records
, entitled
Thoughts from a Driveway
. We recently got a chance to see Lloyd live and later was able to snag an interview with lead singer and guitarist,
Daryl Youngblood
. The interview was completed on April 7th, 1998.
Jesus freak Hideout: Why the name, "Lloyd?"
Daryl Youngblood: One time when we were touring with our former group, we had been out for almost a month. Eric, our guitarist, had forgotten to make arrangements to feed his pet fish, "Lloyd," and when he returned to his apartment in Austin, he found Lloyd floating atop the tank. So when we couldn't come up with a name for this new project we were doing (we had a gig), we said "Hey, let's just call it Lloyd for now, in memory of the fish, and we'll think of a real name later". Well, we never ended up coming up with any other names, and finally, we started sending out demos, and since we still didn't have a name, we stuck Lloyd on the tapes. Well, the label (Organic) not only loved the music, but they really loved the name, so I guess it kind of was obvious what our name was gonna be at that point.
JFH: Why did you guys change the name?
Daryl: Well, first off all, it wasn't really a name change as much as it is a brand new stand alone project. Rick & myself were the only 2 (out of 5) original members from Imagine This. This was a project that was completely independent from anything to do with IT and it had been kinda of existing on the side for a while. It was spawned from all the experiences, mistakes and lessons learned from the former group. It is a completely different style & mindset in that IT was really a product of a clash between a record label wanting it in one direction and the artist wanting it another. That caused a lot of strife, discontentment and sadness which resulted in 3 out of 5 members quiting within 18 months. Lloyd is the music and points of view we have always felt strongly about coupled with the lessons we learned through all the experiences that God has let us face in the former project. In one way, I guess you could say that without IT there never would be a Lloyd because many of the songs are based on those experiences. This is a brand new project but I really think that anyone who liked IT would love Lloyd.
JFH: How did the band originally get started?
Daryl: Rick & myself have been playing together for many years. When we were younger, we were both introduced to Christian music through our youth pastor. We really felt God saying "this is your life, get used to it" and so we went ahead and never looked back. We eventually met each subsequent member as God let them enter our lives.
JFH: How would you describe your sound?
Daryl: That's the worst question for a writer but if I have to, I guess I would throw it into the modern rock basket. To me it could be compared to everyone from Matchbox 20 to Lenny Kravits to the Smitherines to the Chili Peppers or maybe Seven Day Jesus. I write a lot of different stuff but I would call Lloyd's stuff pretty much a pop/modern rock album.
JFH: What bands have influenced your sound?
Daryl: As for myself I (like most other writers) listen to absolutely everything. Some of the most influential artists for me have been: The Cure, Enya, Lush, The Smitherines, Dan Fogelburg, Sixpence None The Richer, Third Eye Blind, Vangeles, Franz Shubert, Ronnie Milsap, Kings X. etc...
JFH: Why did you name your album Thoughts From A Driveway?
Daryl: Rick & myself have always been serious about 8% of the time and idiots 92% of the time. It seems like as we grew up, the few times we really had deep, meaningful, intellectual conversations was when a group of us were sitting out late, lying on our backs in our parents' driveway, just pondering and figuring out how to solve all the world's problems. Rick made me realize one day that a lot of the ideas behind the lyrics I was writing were based on some of those "driveway thoughts". So what better title for the record?
JFH: What inspired "Forever Song?"
Daryl: I read a newspaper article about a grandad and several of his granddaughters who were killed as a result of a terrible car accident around Dallas. In the article the mother of all the girls who were killed was speaking about the youngest. She said that, days before, the little girl had been saying things like " Mommy, I can't wait to see Jesus" and that soon she would be going to heaven. This troubled the mother and made her wonder why her daughter was saying these things. The little girl had written several notes to God telling Him how excited she was. She had a faith in God that most of us wish we could have. This is a song of what I think the little girl would have sung to her mother before she died to put her mother's mind at ease.
JFH: What is the story behind the song, "Mary Tyler Moore?"
Daryl: I was up late one night watching Nickelodeon & feeling sorry for myself about the way my career was going (as many do). I wasn't looking for God, so He had to get through to me through the sitcom, Mary Tyler Moore. I don't even remember what that particular episode was about, but through it God told me to stop my whining and get back to the purpose He had called me for. The point of this song has nothing to do with Mary. I'm sure she's great and all but this song is about the fact that God is not limited to speaking to us through a church building or a preacher. He will use any means to get His point across, even the most unsuspecting things, like a TV sitcom. Haven't you ever felt God's voice & inspiration in music or even in a song of which the lyrics have no application to what God is telling you?
JFH: What is "Mr. Warner" about?
Daryl: This is a response to the many words of a man named Brian Warner (you may know him as Marilyn Manson). First of all this is not a Brian bashing or slandering song. It is simply intended to bring up the lack of validity in the very platform he uses as a gimmick to taunt his sworn enemy - the Christians. The major paradox here is that the very Bible he desecrates happens to say that no matter how evil Brian may be or present himself to be, he is no more deserving of the Lake of Fire than either me or even a beautiful, young, innocent 3-year-old-girl who loves Jesus and reads her Bible daily. He is absolutely no worse. I think Satan would love for us to think that M.M. is the epitome of evil. But since when has Satan been so obvious? I think people like M.M. are a decoy Satan uses and while we are busy talking about how satanic he is, Satan, the angel of light, is busy using his real tools like adultery, greed, sexual immorality, etc...on our families. This song is not a character assault because I believe that M.M. is simply one of many spokes on a wheel that is falsifying Christianity and making us look like weak, misled, hypocrites. That is the real enemy here. I don't know Brian Warner and I certainly can't judge him because I'm no better than him. Maybe he will even eventually come to know Christ. Yet, I think that before people like this will listen to us, they must have some respect, because sadly enough, I think people like Brian Warner are somewhat a product of our own religious hypocrisy. This song may gain some respect or maybe just feed his fire. I'm sure it will be criticized by some, but I can't sit back and just let them say what they're saying about our amazing God. I, for one, don't believe that God expects us to just let people cause serious injuries to the validity of the Bible.
JFH: When Lloyd is over & done with, as a band, what would you like people to remember you for?
Daryl: Our goal has and always will be the same. There are many people out there who will never have a real chance to have a relationship with Christ for the simple reason that the world has made us look unapproachable, hypocritical, fake & greedy. Sadly, many times this is true. Many people will never even think twice about God for this reason. Our goal is to be part of a system that God is using to re-validate what Christianity really is. To trim away the man-made weeds that hide the rose that is true happiness and agape love of Christ. If we can only be a part of something to cause people, who otherwise wouldn't give it a chance, to start opening their ears and hearts to the possibility that Christians are real, human regular, good people just like everyone else who have just had the most amazing life changing experience of finding a life in Christ.
JFH: What is your favorite Lloyd song?
Daryl: "Listening for Whispers."
JFH: What's your favorite movie?
Daryl: The Out-of-towners (Jack Lemon).
JFH: What is your favorite fast food joint?
Daryl: Mc Donald's (not for the food, for the Monopoly Money game). We want to win the big screen t.v. for our RV.
JFH: The Jesus freak Hideout site was started out of appreciation for good Christian music. We've set a goal to try to use the site to spread Christian music, as well as God's Word, & show others how great Christian music can be. Do you listen to Christian music? If so, what bands?
Daryl: Sixpence, Seven Day Jesus, Fleming & John.
JFH: I really appreciate your taking the time out of your busy schedule to answer some questions for us. Are there any last comments you'd like to make?
Daryl: I've said it all don't you think!!